Analysis
Cincinnati Reds Offseason Outlook
The Reds rebuild has just begun, yet it is already starting to bear fruit at the big league level. Here's where things stand heading into 2023.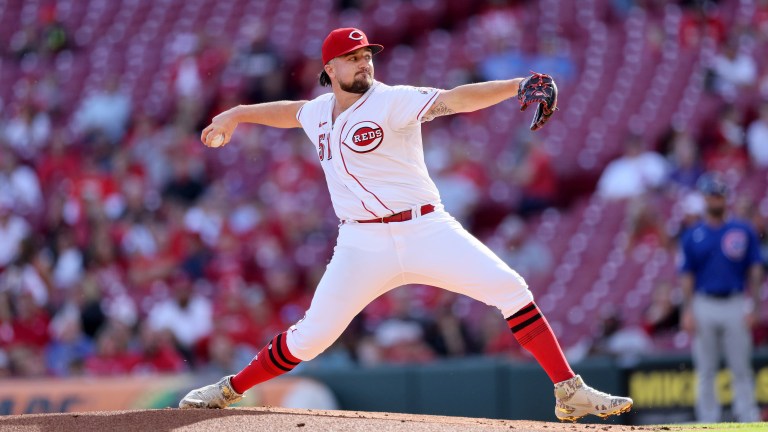 After a season filled with injury, poor performance, and disappointment, the Cincinnati faithful can finally turn their focus to the offseason. The 2022 season was year one of a rebuild. Maybe the worst place to be in sports is year one of a rebuild. Lack of fan interest, combined with middling talent, all wondering when their luck will turn.
The second-worst place to be in sports? Year two of a rebuild!
Thankfully, Cincinnati has enough young promising prospects to not only make the product on the field more intriguing, but, if all goes right, shorten the typically five year rebuild into three or four.
Any team that losses 100 games in a season likely has a long way to go before they can consider themselves contenders let alone competitors. While the Reds go through the growing pains, they can still use 2023 as a year to answer some major questions.
Establish a Plan for the Outfield
TJ Friedl, Nick Senzel, Stuart Fairchild, Jake Fraley and Aristides Aquino are the primary options currently on the roster. Fraley blossomed into perhaps the best outfielder for the Reds slashing .259/.344/.468 good for a 121 wRC+ in only 68 games. Friedl impressed after the All-Star break and earned at least an extended look for 2023.
At the end of the day, Cincinnati still does not have a center fielder or corner outfielders with much of a track record. With the amount of infield prospects nearing their big league debut someone will have to make the move to outfield.
While Matt McClain might be the obvious choice, I have been pounding the table for some time for Jonathan India to move to left field. India has not progressed defensively and has graded out as one of the worst defensive second basemen in baseball. This would allow for the Reds to have an athletic left fielder who has shown the ability to hit major league pitching when healthy.
Center field has been an issue in Cincinnati for years. Finding a player who can hit well enough and field the position has been a challenge. Signing or trading for a center fielder would be my number one priority, but it seems unlikely for 2023. Mike Siani, Friedl, and even Allan Cerda could be options. With 2023 being another evaluation year, center field can be an open competition likely emphasizing the need for a solution going forward.
Move India to left, start Fraley in right, give Friedl a roster spot, and either add a center fielder or be open playing younger players at that position. Senzel has proven he is at best a bench player.
Add a Catcher with Multiple Years of Control
Whether it's via free agency or trade, the Reds should look to acquire a catcher who can be around for more than one season. Let me be clear, I think Tyler Stephenson should still be the number one catcher for 2023 and beyond. Finding a backstop with a bat like his is rare and the Reds should do everything they can to keep him behind the dish.
Stephenson's injuries raise a certain level of concern but not to a level that should shift him off the position. In 2022, the Reds had more or less a rotation of inexperienced or sub-par catchers behind the plate. A huge part of the Reds future is tied up in their starting pitching youth and prospects. Adding a back up for multiple years would allow the Reds to have insurance behind Stephenson while also building rapport with the young pitching staff. Helping these young pitchers develop is crucial to future success.
Cincinnati could still add Daniel Vellojin to the 40-man roster and protect him from the Rule 5 draft if they choose to do so. Vellojin could play the minor league, third catcher role during his rookie season. Other catching prospects could continue to develop as none of the current options seem quite major league ready.
Add a Veteran Starter
Before you make any jokes, no this is not a "bring back Mike Minor" move. The veteran would likely be a one-year deal, although a two-year deal wouldn't hurt. Hunter Greene, Nick Lodolo, and Graham Ashcraft will still be learning and improving in 2023 and adding a veteran to help them along is never a bad idea.
Justin Dunn, Vladimir Gutierrez, Connor Overton, and even Luis Cessa are still in the mix, each coming with their own limitations. Any of those players could be in competition for the fifth spot or minor league depth. Prospects Brandon Williamson, Andrew Abbott, and others would not need to be rushed onto the roster.
A rotation of only rookies, second-year starters, and fringe major league talent is not a recipe for success. If all goes right, this veteran addition could be moved at the deadline like the Pirates did with Jose Quintana this past season.
The Elly De La Cruz Question
The buzz around top-10 overall prospect Elly De la Cruz has lead many people to ask if he should be on the Opening Day roster. The shortstop has a rare blend of size, speed, and power that could develop into a bona fide All-Star. With that being said, I do not think the Reds put him on the Opening Day roster.
De La Cruz will be 21 years old on Opening Day 2023 with only 47 games above Single-A under his belt. Has he proven enough in the minors that he could (or should) earn a spot? Absolutely. But with the number of infield prospects and options above him, I think they keep Elly in the minors to begin the season. A late June or early July call up seems more likely than Opening Day.
I do not think the Reds have the blend of talent with experience to be competitive in 2023. I think they avoid 100 losses and take a step in the right direction. I do think this season will be a more exciting product than last season. India, Stephenson, Sims, Antone, and others should be back from injury. Prospects such as McClain, De La Cruz, Williamson, Abbott, and others will debut and bring a certain level of interest that lacked most of 2022.
This upcoming season will introduce us to much of the Reds future, while also proving where upgrades need to happen. With large contracts set to come off the books after 2023, I hope this time next season I'm writing about splash moves and brighter days ahead.