Analysis
Can Joey Votto Push the Reds Into the Postseason?
The Reds have crept into the NL Wild Card picture behind the incredible play of Joey Votto. Do they have enough?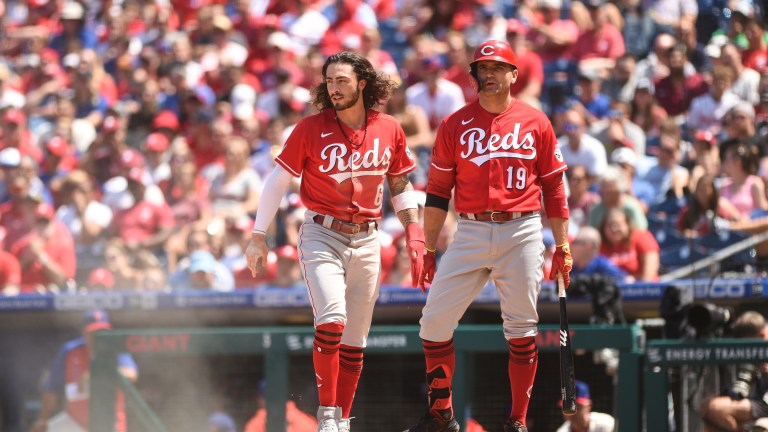 In an NL Wild Card race which includes bigger market teams like the Dodgers, Mets, Padres, and Phillies, it seems like the Reds are not getting enough air time. Cincinnati currently sits just 2.5 games out of a playoff spot, buoyed by an offense that ranks in the league's top five for runs, hits, OPS, RBI, and XBH. The Reds have some limitations, but have been playing good baseball since the All-Star Break. With no team wanting to run away with the second NL Wild Card spot, the Reds have been able to hang around. Can they turn it up a notch to snag the final playoff spot?
Vintage Votto
After the worst 150 game stretch of Joey Votto's career, he has bounced back in a big way in his age-37 season. Votto has seen his average exit velocity rise by nearly six MPH to 93.1 MPH, the biggest jump for any player in baseball and the highest figure of Votto's career. The unsurprising outcome has been way more homers for the lifelong Red. Votto has launched 26 long balls this season, and more than half of them have come since the All Star Break. Since the midsummer classic, Votto is slashing .337/.430/.832 with 15 HR and 37 RBI in 27 games.
The Reds offense wasn't exactly desperate for Joey Votto to recapture his MVP form, but I am sure they'll take it. With Votto clicking on all cylinders, the Reds offense is one that I would stack up with just about any team. Cincinnati is the only team in baseball to have three players with an OPS over .900: Jesse Winker (.959), Joey Votto (.954), and Nick Castellanos (.940). NL Rookie of the Year candidate Jonathan India has upped his OPS to .848, and Mike Moustakas returned to the lineup just over a week ago. The cherry on top has been Kyle Farmer's surprising improvements at the plate, which leaves the lineup with few holes.
Southpaw Struggles
The wild thing about the Reds offense is that despite the team's impressive cumulative numbers, they are one of the worst teams in baseball against left-handed pitching. There is no team in baseball with more dramatic splits.
Vs. RHP: .258/.339/.447, 108 wRC+, .188 ISO
Vs. LHP: .233/.316/.385, 87 wRC+, .151 ISO
For a Reds lineup that heavily relies on left-handed hitters, it isn't surprising that they don't put up the same level of production against left-handed pitching. The problem is that the splits are so dramatic for the Reds that they leave themselves pretty vulnerable. There is a lot of pressure to get to a team's righty ace if you know a solid lefty is waiting for Game 2 or 3.
While Cincinnati has a ton of talent in its starting lineup, the team's bench does not allow for David Bell to mix and match much on splits. Eugenio Suarez is a liability against any pitching, but has been even worse against lefties. Mike Moustakas has historically maintained consistent left-on-left splits, except for this year where in a small sample size he is just 2 for 22 with 7 K's.
Looking at the positives, Aristides Aquino has offered the Reds a power option against southpaws, posting a .906 OPS in 58 PA's. The 27-year-old can play all three outfield spots and serves as a good platoon with left-handed hitter Tyler Naquin. Additionally, the Reds recently activated Nick Senzel from the injured list, but immediately optioned him to Triple-A. A former first-round pick, Senzel has no doubt been a disappointment. The argument for Senzel is that his versatility and athleticism would be of use to the Reds. Despite Senzel's struggles, the 26-year-old has posted a .773 career OPS against lefties in 160 PA's.
Right now, if we bring him to the club, who goes down?" Reds GM Nick Krall said. "There are only so many players that are optionable right now and I think that's the main factor. He had some flexibility. We felt the guys up here were playing well, so we want to keep this group together for right now and keep moving forward."
Shogo Akiyama has options, though he has swung a good bat as of late. Akiyama is 10 for his last 32, yet still owns an OPS of .575 on the season. Given the 33-year-old's $7 million salary and defensive ability in the outfield, the Reds may be hesitant to send down Akiyama. Krall is in a tough spot, but after getting no-hit for six innings by Matt Moore, I'd be looking for any solutions to my team's inability to hit southpaws. That would include swapping a struggling bullpen arm out for another bench bat.
Sneaky Good Rotation
Dramatic as it may sound, Luis Castillo's turn around has saved the Reds season. After a disastrous start to the year, the Reds ace has pitched to a 2.89 ERA in his last 15 starts, yielding just 69 hits in 90.1 IP. Tyler Mahle has made major strides in his fifth season, and is in the midst of the best stretch of his career. Over Mahle's last five starts, he is 3-0 with a 2.40 ERA and 1.07 WHIP.
The Reds have also received a huge boost from veteran lefty Wade Miley. The 34-year-old has pitched to a 3.00 ERA this season despite only racking up seven strikeouts per nine innings. Miley was built for Great American Ballpark. He has recorded a 51% ground ball rate and is among the league's best in exit velocity allowed.
Another dark horse for the Reds rotation has been Vladimir Gutierrez. The rookie is 8-3 with a 3.95 ERA on the season, and has hit his stride over the last month. The advanced metrics may not love Gutierrez (5.20 FIP, 4.45 xERA), but there hasn't been any regression from the 25-year-old just yet. In his last five starts, Gutierrez is 4-0 and has a 3.38 ERA.
At this point, the X-factor for the Reds pitching staff has to be Sonny Gray. After back-to-back impressive seasons in Cincinnati, Gray has struggled through an injury-riddled campaign in 2021. Over his last six outings, Gray has a 7.22 ERA and 1.60 WHIP. The good news is, the stuff looks the same from Gray. His strikeout numbers are on par with years prior, as are his walk figures. Like many Reds pitchers, Gray has been burned by the long ball at home, giving up nine of the 12 bombs he has allowed all season in Cincinnati. If Gray can settle back in, this is a really solid rotation for the Reds.
Bullpen Woes
It has been a bad year for MLB bullpens in general. The Reds are no exception, ranking in the bottom five in baseball for most bullpen figures. The Reds did a pretty good job of addressing the bullpen without making a massive splash, adding Mychal Givens, Luis Cessa, and Justin Wilson to the stable at the trade deadline.
Givens has been fantastic since joining the Reds, pitching 8.1 scoreless innings since being acquired from Colorado. Cincinnati will also soon return its best bullpen arm, as Tejay Antone is set to finish his rehab assignment in the coming days. Antone was dominant before going down, sporting a 1.87 ERA in 33.2 innings with more than 11 K's per nine.
Recent strong stretches from Michael Lorenzen, Amir Garrett, and Jeff Hoffman in relief should also give Reds fans a glimmer of hope. While the bullpen has been a disaster, it seems salvageable. On top of some of the positive aforementioned developments, the Reds could decide to call up top prospect Hunter Greene and place him in the bullpen down the stretch.
Before you Cincinnati natives yell at me, I know that this is probably an unlikely scenario. Greene has been absolutely stellar all year long, and the former 2nd overall pick seems to have clicked on a future ace-type level, in Triple-A. I don't think your imagination has to wander much to picture how dominant Greene could be out of the bullpen. No, this wouldn't stifle his development. If anything, it's a good way to manage Greene's innings, while getting him a taste of the big leagues. The newly turned 22-year-old has already thrown more innings this year (85.2 IP) than he had in his entire professional career dating back to 2017 (72.2 IP).
I have been really impressed by the development of Greene's secondaries as well as his command. I feel really confident in his likelihood of being a frontline starter. The Reds may not be the 2008 Tampa Bay Rays, but Hunter Greene could easily be their David Price.
Can They Do It?
The simple answer is yes. The Cardinals and Phillies are the only remote threat to catch them, and the only team ahead is the Padres. It would be shocking to see the NL East send more than one team to the postseason, and despite the Cardinals' signs of life, the team has a lot of holes of its own. The Reds can only focus on what's in front of them, and the Padres, though incredibly talented, are dealing with plenty of obstacles.
Getting Fernando Tatis Jr.'s bat back in the lineup is massive, no matter where he is playing in the field. At this point, the offense isn't really the problem. Yu Darish, Dinelson Lamet, and Chris Paddack are currently on the IL. Also, Blake Snell has been terrible this season, as has Paddack when healthy, and Ryan Weathers has taken a step back as well. Any team who signs Jake Arrieta on purpose is vulnerable to me. The Reds have questions to answer themselves, but so does every team in the Wild Card picture. Put me on record. I believe in the Cincinnati Reds.