Analysis
Bryce Miller Was Electric in His Debut
Seattle Mariners pitching prospect Bryce Miller dominated the Oakland Athletics in his MLB debut, striking out 10 in six innings of work.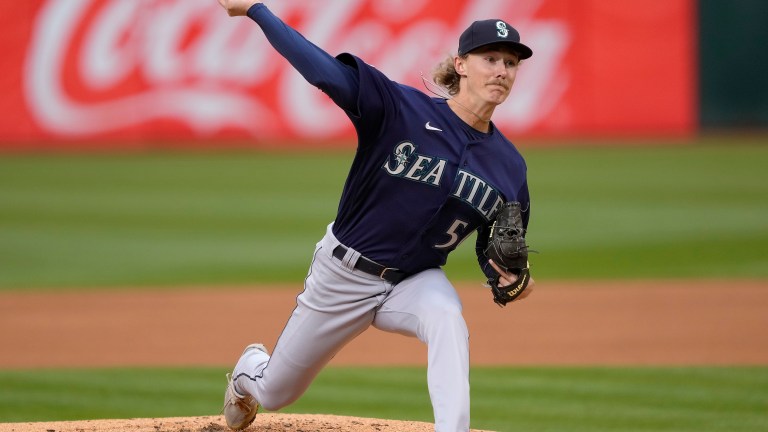 On Tuesday, the Mariners officially announced that top pitching prospect Bryce Miller would get the call-up from Double-A Arkansas to make his MLB debut against the Oakland A's.
That night, the former Texas A&M right-hander had everyone in awe, showcasing far more than anybody could have hoped for in his inaugural start.
Miller spun six innings of one-run ball, surrendering just two hits, did not allow a walk and authoritatively punched out ten batters, all on just 81 pitches. He took a perfect game into the sixth inning until Tony Kemp broke it up with one out on a sharp ground ball single back up the box.
If you simply flipped to this game on your TV, you never would have caught the slightest hint that this was Miller's debut. Not only did he look extremely poised and completely unfazed, but the stuff looked like that of a seasoned big-league arm. After the first batter of his outing, Esteury Ruiz, lined out to right field, Miller recorded five consecutive strikeouts between the first and second frames.
Miller has what was often described as the best fastball in the minor leagues, between its upper-90s velocity and its rise up into the zone. He used his most effective pitch early and often in his first start (70% of the time) and generated 11 whiffs, putting away eight of his ten batters with his heater. He also mixed in a slider, a cutter and a changeup in his outing.
The slider has been Miller's go-to secondary pitch throughout his career in the minors. In fact, he possesses two of them: a hard gyro-slider that he throws at 89-90 mph and a sweeper. He utilized the gyro (which Baseball Savant tracked as a cutter) 20% of the time in his debut outing. He hardly showed off the sweeper on Tuesday, using it just 9% of the time. Ultimately, he proved he didn't need to throw it at a high rate against an A's lineup that could barely put a barrel on his fastball.
Miller's changeup is further down the totem pole in his repertoire, and he only flashed the offering once in Oakland, but the result will make you sit up in your seat. He put 20 inches of arm-side run on the pitch, which froze Conner Capel to conclude his at-bat.
The pure stuff that Miller showed was next level, especially for a guy who had never pitched in the big leagues before. When measuring by Stuff+ (100 being league average), the Mariners right-hander ranked well above average on all four of his pitches on Tuesday night, putting up ridiculous swing-and-miss numbers on his heater. And while he only threw his changeup once, the metrics loved it.
Miller had the silkiest, softest possible landing pad to begin his big-league career after facing one of the worst lineups in all of baseball in front of a crowd of just 2,583 (his last Double-A start brought in 6,330 fans in North Little Rock, Arkansas).
His next trip up on the slab will be a much more rigorous test, as he will make his home debut on Sunday against the defending world champion Houston Astros. There will undoubtedly be ups and downs throughout his rookie season, as there are for any young arm, but the Houston start will provide an even clearer picture of how Miller will handle some of the game's elite hitters.
Nevertheless, the stuff plays. The fastball is as legit as advertised, with his secondaries already showing significant promise as well. Just how dominant Miller can truly become is still to be determined, but following his debut, it seems pretty clear the Mariners have found their long-term solution in the rotation after losing Robbie Ray.