Analysis
Brewers and Twins Present Similar Dark Horse Case in Playoffs
The Milwaukee Brewers and Minnesota Twins are two very similar teams that could both play "dark horse" roles in the MLB playoffs this year.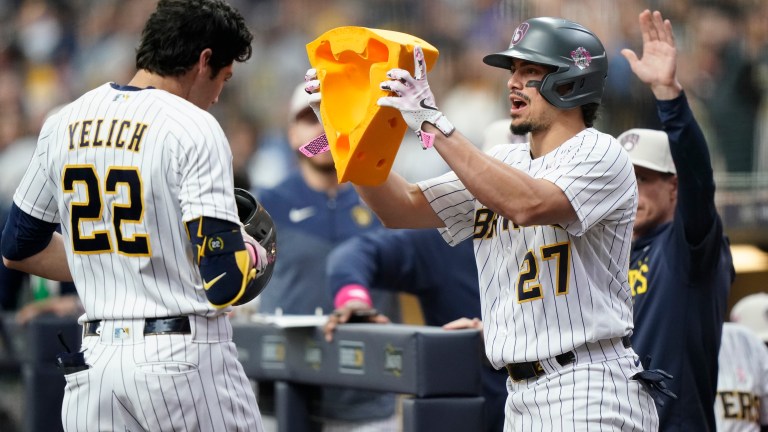 Heading in to MLB's 2023 regular season, both the Milwaukee Brewers and Minnesota Twins were viewed as teams capable of winning their divisions, but neither felt like they were capable of deep postseason runs.
The Brewers, armed with a lethal trio atop their starting rotation in Corbin Burnes, Brandon Woodruff and Freddy Peralta, have never had any issues with their pitching. With Devin Williams at the back-end of the bullpen, things looked set in that regard.
However, their offense had a few more question marks. Could Christian Yelich return to form? Will any of the organization's top prospects in Garrett Mitchell, Sal Frelick and Joey Wiemer be daily contributors to the team?
The Twins faced a similar dilemma. Pablo López, Sonny Gray and Joe Ryan represent three All-Star-caliber starting pitchers with Jhoan Duran on-hand as their closer who throws absolute filth. For them, this year was meant to be all about the injury bug and avoiding it at all costs.
While things have not gone according to plan in that regard, the Twins, like the Brewers, are sitting pretty as we near postseason baseball.
The ultimate underdogs
Both the Twins and the Brewers are always viewed as underdogs in the grand scheme of things. The Brewers in particular are always a club that's overlooked, primarily because of the small market they're in and the fact that they are overshadowed by the St. Louis Cardinals, whose epic collapse has blown the door wide open for the Brew Crew to make a run.
Each of these teams are at a point where a postseason berth is locked down. The Twins have secured the AL Central division title while the Brewers' final threat, the Chicago Cubs, are six games back in the NL Central. Technically the Cubs could still win the division, but their elimination number stands at 1 entering Tuesday.
Through and through, both of the Central divisions have felt massively underwhelming this season, and the numbers back that up. Each of the other four AL Central teams are destined for finishes under .500 on the year and all have negative run differentials. In the NL, the Cardinals and Pirates are currently the only two sub-.500 teams, but the fact remains that there's an argument the Twins and Brewers are only atop their divisions because somebody has to finish first.
Now, the two clubs are set to enter the postseason in the same playoff bracket (3 seed) and each are going to play underdog, as they did all year long in the regular season.
The Brewers
Offense
All year long, the Brewers have thrown together a bunch of rookies and unproven veterans and essentially tried to see what would stick. This strategy has largely been one they've used a ton in recent years, almost always working out in their favor.
Offensively, Yelich has most definitely bounced back and while he is not going to finish near the top of the NL MVP voting, he boasts a .276 batting average, .812 OPS and 121 OPS+ alongside 33 doubles, 19 home runs and 75 RBI. Seeing him return to a near All-Star level of play has been huge and he is once again the heartbeat of the team.
Otherwise, new catcher William Contreras has a 125 OPS+ and gives the Brewers some stability behind the plate that they haven't had since arguably the Jonathan Lucroy days. Frelick has drawn a ton of walks and has a 101 OPS+ through his first 53 career games but both Mitchell and Wiemer have struggled through injuries and inconsistent results at the big league level.
To the shock of many, Mark Canha and Josh Donaldson, two of the newest members of the offensive corps, have been providing most of the team's firepower as of late. Canha, acquired from the Mets in a relatively quiet trade deadline deal, has hit five home runs with 32 RBI and a 129 OPS+ through his first 46 games on his new club.
Donaldson was only just recently released by the Yankees and brought aboard on a minor league contract by Milwaukee. Now he has three home runs and 10 RBI in his first 12 games.
Pitching
As expected, the Brewers' pitching staff has been electric in 2023. Burnes and Peralta (126 and 113 ERA+, respectively) have been as advertised, while Wade Miley (136) and Adrian Houser (100) have also provided some much-needed depth in the rotation. Woodruff has made just 11 starts thanks to injury, but he is still a top-of-the-line starter, as evidenced by his 2.28 ERA in 67 innings.
In the bullpen, a combination of players who were no-names heading into the season have carried the club. Bryse Wilson, Joel Payamps, Elvis Peguero, Trevor Megill and newcomer Abner Uribe have all banded together to make up one of the best bullpens in the game. Heading into Tuesday's games, the Brewers bullpen ranks third in the majors in ERA (3.48), second in Left-On-Base Percentage (75.9%) and third in BABIP (.275).
The Twins
Offense
Despite the Brewers owning a better win-loss record than the Twins, an argument could be made that the latter is a deeper team overall. Offensively, the club has been leaning heavily on players like utilitymen Donovan Solano and Willi Castro as well as youngsters Edouard Julien, Alex Kiriloff, Matt Wallner and Royce Lewis. Each of these players have OPS+ well over 100 (which is league-average) and have all been key contributors throughout the season.
Lewis especially deserves some love, as he has been a massive boost to an already-strong offense whenever he has taken the field. A variety of different injuries have limited him to just 58 games this season, but he hit 15 home runs (including four grand slams!) and drove in 52 with an OPS of .921 in that time. At just 24 years of age, he's going to be a huge asset for the Twins long-term.
As of right now, this Twins offense ranks fifth in the majors in home runs (222), fourth in BB% (9.4) and eighth in wRC+ (107). Strikeouts are a major issue, though, as they lead the league in K%; but to their credit, they've been making their contact count and are one of the more powerful lineups in the league.
Pitching
Funnily enough, the Twins pitching also leads the American League in strikeouts. The starting rotation with López, Gray, Ryan, Bailey Ober and Kenta Maeda has been dominant, with each of the hurlers boasting an ERA+ above 100. Their starters strike out a ton of batters, barely walk anyone and leave runners on base with the best of them.
Above all, Gray has been stealing the show when it comes to Twins starters. In 31 outings this year, the 33-year-old is 8-8 with a 2.80 ERA, MLB-leading 2.85 FIP, 154 ERA+ and has allowed just eight home runs all year, which equates to an MLB-leading 0.4 HR/9. If it weren't for the presence of Gerrit Cole, Gray could've seriously had a shot at his first career Cy Young Award.
In the bullpen, Duran has 57 appearances under his belt with 27 saves along the way. In that time, he has struck out over 12 batters per nine innings and has an ERA of 2.54. Emilio Pagán, Griffin Jax and Caleb Thielbar have stepped up as well, each posting an ERA+ north of 100 and boasting ERAs of 4.00 or under.
Like the Brewers, the Twins have relied upon some names that aren't exactly household ones to carry them to the promised land. Did anyone have Kody Funderburk, Kyle Farmer or Brock Stewart being some of the more productive players on the club on their bingo card?
To round out the regular season, the Twins have some stat-padding to do, as their next six games are against the likes of the Oakland Athletics and the Colorado Rockies. On the other side, the Brewers face off against two divisional opponents in the Cardinals and the Cubs.
Then it will be onto the Wild Card round, where each of these Central division winners will host the sixth seeded Wild Card team in a three-game series. With great rotations to throw out in that series, the Brewers and Twins are both sneaky teams who could not only win a playoff round, but actually go on and make a bit of a run through October.