Analysis
Bailey Falter Is Holding the Phillies Back, and Vice Versa
The Philadelphia Phillies have dropped all but one of Bailey Falter's starts, and the blame goes both ways.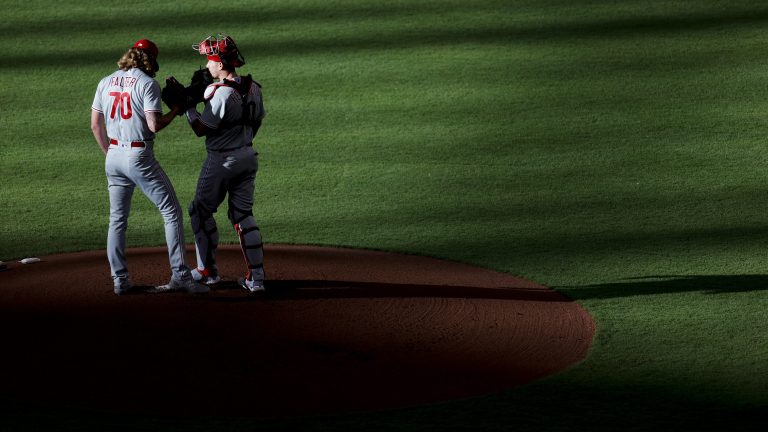 With a 6-3 loss in San Francisco Monday night, the Philadelphia Phillies fell to 1-7 in games with Bailey Falter on the mound. Excluding those eight contests, they are 19-14 on the season; when Falter isn't pitching, they're playing at a 93-win pace.
To be fair, almost any team would look better if you removed their fifth starter from the equation, but the point still stands. Even if the Phillies had won just half of Falter's outings, they would have three more wins (and three fewer losses), putting them on a 91-win pace. Instead, they have fallen below .500.
If one thing is clear at the quarter mark of the season, it's that Falter is not a reliable enough starting pitcher for a contending team. He allows too many baserunners and too much hard contact, and he lacks the strikeout stuff to escape the jams he gets himself into. He's fine as a depth piece or a mop-up man out of the bullpen, but he cannot be pitching every five days for the rest of the season.
Falter has given up 30 runs in 40.1 IP, an average of 6.69 RA/9. That's the highest mark in the National League (min. 40 IP). Only two NL starters, Patrick Corbin and David Peterson, have allowed more runs. Falter's 5.13 ERA is a little less depressing (seven of those 30 runs were unearned), but it's still one of the highest marks in the league.
Yet here's the kicker: for all of Falter's struggles, the Phillies' 1-7 record in his appearances is hardly his fault. While he has given up far too many runs, his offense has also failed to support him. Indeed, even a much better pitcher would still have lost most of those games.
The Phillies are averaging 2.38 runs per game in Falter's outings. That's the lowest run support figure in baseball (min. 5 GS). Take a look at the final scores from all eight of his games:
April 2: 1-2 (L)
April 8: 3-2 (W)
April 13: 2-6 (L)
April 18: 0-3 (L)
April 25: 3-5 (L)
April 30: 3-4 (L)
May 6: 4-7 (L)
May 15: 3-6 (L)
The Phillies currently rank twelfth in the NL with 4.29 R/G. If you remove those eight contests, they would jump up to sixth with 4.76 R/G.
The offense has not scored more than four runs in any game with Falter on the mound. Out of 112 MLB pitchers who have started at least seven games, Falter is one of only two who has gotten four runs or fewer of support in every single one of his outings. (The other is Marcus Stroman of the Chicago Cubs, and even he has gotten more run support than Falter.)
The Phillies need more from their fifth starter, but they also need more from their lineup. Bailey Falter is holding the team back, but unless the offense starts contributing more consistently, it hardly matters if the fifth starter is Roger Clemens or Kody Clemens. You can't win ballgames if you can't cross the plate.