Rankings
Top 10 MLB Relief Pitchers for 2022
Just Baseball's rankings of the top relief pitchers in baseball.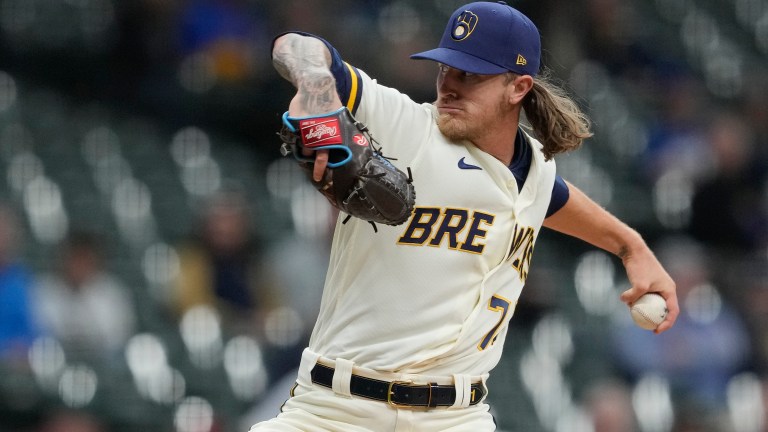 Welcome to our official positional rankings for the 2022 MLB season!
In this series, you'll find our rankings for the best players at each position in Major League Baseball. These rankings are not a measure of performance since 2019; we are projecting the 10 best at each position for 2022.
All types of analysis went into these rankings. We look at every advanced analytic we can to make our lists, but we include intangibles not typically found in the numbers. This is not a perfect list, but no list truly is.
Closers will generally find their names higher on the list, but a few players made the cut without closer experience. We tried to find the 15 arms we wanted most in our bullpen for 2022.
We gave a lot of credit to past success but also used plenty of pitch data to support these rankings. We combine prior accomplishments with the current state of their pitch repertoire to make the best list possible.
Honorable Mentions:
Edwin Diaz – New York Mets
He's been pursuing that All-Star season in 2018 with Seattle. He just hasn't regained that form. Saw it in 2020 with a sub-2.00 ERA but was right back to a mid-3.00's last year. Strikeouts are his jam; Diaz has a career K/9 of 14.4. Even with a down year last year, he was striking out 13 hitters per nine innings.
Kenley Jansen – Atlanta Braves
The big money man!
One-year, $16 million for a 34-year-old Jansen felt a bit steep, but this is a career 2.41 ERA guy that is second among active pitchers in career saves. He's lost the juice on his sinker and cutter, both from a velo and movement perspective, but they both tick up.
Giovanny Gallegos – St. Louis Cardinals
Elite three-pitch mix with the fastball at 94, slider at 86, and changeup at 87. There are more exciting arms in the Cardinals bullpen with Hicks, Cabrera, Helsley, and the healthy Reyes, but Gallegos has been the most consistent and the best.
Garrett Whitlock – Boston Red Sox
The failed starter turned mightily successful bullpen arm acquired via Rule 5 Draft. He figured out what works. Living off a sinker/slider combo with a 14 mph velocity difference will net you a sub-2.00 ERA and a four-year contract extension from Chaim Bloom.
Jonathan Loaisiga – New York Yankees
It was so much fun to watch it click for him in 2021. He had the best full-season ERA of his career by nearly two and a half runs. He halved his career walk rate. He rolled ground balls at an absurd 64% clip. That 98 mph sinker jumps on you like few pitches in baseball. I think the Yanks have their next bullpen ace.
The Top 10
10. Craig Kimbrel – Los Angeles Dodgers (Age: 33)
2021 Stats: 2.26 ERA, 0.905 WHIP, 2.43 FIP, 42.6 K%, 9.8 BB%, 2.2 fWAR, 24 Saves
Craig Kimbrel is the 10th best reliever in baseball, and he might find himself in Cooperstown one day. Kimbrel has a 2.19 ERA for his career; that's the third-lowest ever, behind Zack Britton and Mariano Rivera. He's also ninth all-time in saves and should climb up the list in the next few years.
He has six seasons with an ERA below two, but 2019 and 2020 were terrible. He rocked a 0.49 ERA with the Cubs before blowing up the White Sox in 2021. His inconsistency is what drops him on this list. When Kimbrel is on, he's one of the best of all-time. When he's off, he's frankly unpitchable. He throws in the mid-upper 90s, and the knuckle curve is disgusting. He'll be closing games for the best team in baseball and could lead the entire league in 2022.
9. Jordan Romano – Toronto Blue Jays (Age: 28)
2021 Stats: 2.14 ERA, 1.048 WHIP, 3.15 FIP, 33.6 K%, 9.9 BB%, 1.2 fWAR, 23 Saves
Jordan Freaking Romano has been elite since the start of 2020. In the COVID-shortened season, he allowed just two earned runs in 14.2 IP. In 2021, he struck out 34% of hitters and again held opponents to a batting average under .190. He does it with two pitches; a 98 mph fastball and an 88 mph slider. Both of those offerings keep hitters guessing, and they rarely guess right. With how talented he is, Jordan Romano should be closing games in Canada for a while.
8. Aroldis Chapman – New York Yankees (Age: 34)
2021 Stats: 3.36 ERA, 1.314 WHIP, 3.99 FIP, 39.9 K%, 15.6 BB%, 0.6 fWAR, 30 Saves
Aroldis Chapman checks in at number eight, and you could make an argument for the best in baseball, or you could argue he shouldn't make this list. If you look at Chapman's savant page, it's all red. You look at his stats, and you realize he hasn't had an ERA over 3.50 since 2011.
Chapman gets a lot of blame for blow-ups in the most prominent spots, and for good reason. The thing is, he's always in big spots, always in at the most significant moments with the Yankees and the Cubs. His cumulative body of work is incredible, and his splitter might be even better than his 103 MPH fastball.
7. Blake Treinen – Los Angeles Dodgers (Age: 33)
2021 Stats: 1.99 ERA, 0.982 WHIP, 2.88 FIP, 29.7 K%, 8.7 BB%, 1.8 fWAR, 7 Saves
The turbo sinker! He was the best reliever in the world in 2018 with Oakland, and in 2022, he checks in at number seven.
In 2018, Treinen was at peak dominance. There was a 0.78 ERA, a 0.83 WHIP, and a .158 opponent batting average. He replicated that performance in 2021 with an ERA under two and a WHIP under one and 2021 was a different arsenal for Treinen than 2018. In 2018, he was 50% sinker and 11% cutter. In 2021, he was 28% sinker and 30% cutter. The new Treinen is still a stud, even though the sinker has lost a tick of velocity.
6. Devin Williams – Milwaukee Brewers (Age: 27)
2021 Stats: 2.50 ERA, 1.185 WHIP, 2.82 FIP, 38.5 K%, 12.4 BB%, 1.4 fWAR, 3 Saves
When you think best changeups of all-time, you think Pedro Martinez, maybe Trevor Hoffman, but Devin William's changeup is up there, and he checks in at number six. He throws it more than his fastball, with 43 inches of drop and 17 inches of horizontal movement; it's like a curveball slider and changeup rolled into one.
His breakout season in 2020 was otherworldly. He threw 27 innings and allowed only a single earned run, while striking out two batters in every inning. If he were anywhere else besides Milwaukee, he'd be one of the best closers in baseball, but instead, he's the best eighth-inning guy in the game.
5. Ryan Pressly – Houston Astros (Age: 33)
2021 Stats: 2.25 ERA, 0.969 WHIP, 2.06 FIP, 32.4 K%, 5.2 BB%, 2.4 fWAR, 26 Saves
Pressly is the best reliever on this list that the average baseball fan might not necessarily be familiar with. In 2019, he had the best year of his career to date. In 2021, he bettered that.
Last year, Pressly had a 2.25 ERA and a WHIP under 1.00 while walking fewer than two guys per nine innings. What he uses can be flashy; a 95 mph fastball, an 90 mph slider, and a hard, tumbling curveball in the low-80s. The way he mixes them makes him elite; Fastball 40% of the time, Slider 36%, Curveball 24%. The hitter is always guessing, and it's rarely correct.
4. Raisel Iglesias – Los Angeles Angels (Age: 32)
2021 Stats: 2.57 ERA, 0.929 WHIP, 2.83 FIP, 37.7 K%, 4.4 BB%, 2.0 fWAR, 34 Saves
Our fourth-best reliever just signed an extension to be the Angels' closer for the next four years, and man, did he earn some money. Iglesias has been one of the best relievers in baseball for the past two seasons, putting up a 2.61 ERA, even lower peripheral stats, and he's second in WAR among relievers in that span.
Since 2020, he's third in saves and second in K/9, and he doesn't really walk anyone. He's a four-pitch reliever who fills the zone with upper 90s heat and an otherworldly breaking ball. He's electrifying to watch, and at 32, he still has some prime years in front of him.
3. Emmanuel Clase- Cleveland Guardians (Age: 24)
2021 Stats: 1.29 ERA, 0.962 WHIP, 2.11 FIP, 26.5 K%, 5.7 BB%, 2.2 fWAR, 24 Saves
Clase is a video game character. Last year was his breakout campaign, proving that he was not a fluke. He rolled ground balls at a 68% clip, one of the best in the bigs. Opponents had a .481 OPS against him and an average exit velocity of 86mph. He sat at 100mph with his cutter last year, and that pitch had a 75% ground ball rate. Turn to his slider and opponents his .113 against it. Pick your poison. Each one will kill you.
2. Liam Hendriks – Chicago White Sox (Age: 33)
2021 Stats: 2.54 ERA, 0.732 WHIP, 2.34 FIP, 42.3 K%, 2.6 BB%, 2.7 fWAR, 38 Saves
If you told us our second-best reliever should be number one, we wouldn't say you're wrong, but Liam Hendriks checks in at two. Here are some of the stats he leads in since 2020; K/9, BB/9, ERA, FIP, xFIP, WAR, and too many others to count. He was fantastic in 2021, putting up a career-high in strikeout rate, holding a 2.54 ERA, and leading the league in saves. Hendricks' arsenal is hard, harder, and hardest, featuring a high 90s fastball, a high 80s slider, and even a mid to high 80s curveball that he uses once in a while. Hendricks has been through so many ups and downs, but it's harder to be any higher than he is right now.
1. Josh Hader – Milwaukee Brewers (Age: 28)
2021 Stats: 1.23 ERA, 0.835 WHIP, 1.69 FIP, 45.5 K%, 10.7 BB%, 2.6 fWAR, 34 Saves
The undisputed. He's been in the league since 2017 and has never put up a WHIP over 1.00. In 58.2 IP last year, he allowed three home runs and had a 1.23 ERA. He's got a career 2.25 ERA, 15.4 K/9, and he strikes out 4.5 hitters per every one walk he gives up. Opponents, for his career, are hitting .141 against him. You come at the king; you miss all the time.