Feature
An Open Letter to Vin Scully
One final letter to the great Vin Scully from a die-hard Los Angeles Dodgers fan.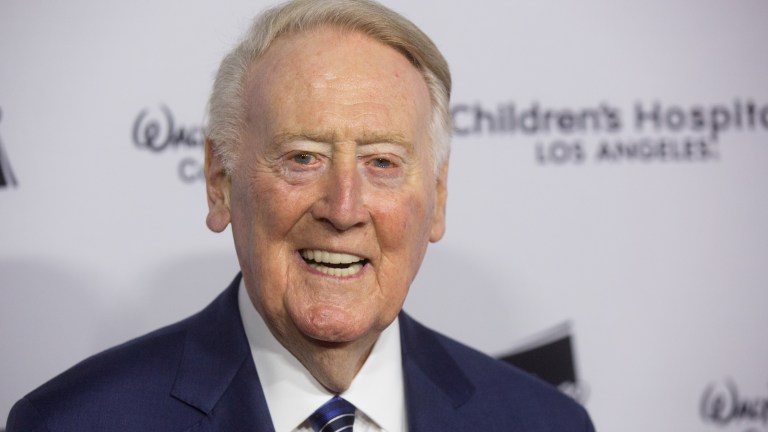 Dear Vin Scully,
A normal article couldn't do you justice considering what you brought to the game of baseball. As a die-hard Dodgers fan growing up, I was blessed with a childhood of hearing your voice every night, tracking every high and low of Dodgers baseball. You weren't just an announcer, you were a friend that was there for me when I needed you the most.
Vin, I hope you realize how many baseball fans you have inspired. I hope you realize how many kids like myself grew up to pursue a passion in sports and broadcasting because you paved the way.
For many of us that work at Just Baseball, we are following in your steps. While discovering our own passions was part of our life journey, it was you that made broadcasting baseball seem like the greatest job on the planet.
The reality is, it is the greatest job on the planet that you happened to be the greatest at doing. Thankful is an understatement for the inspiration you brought us.
Vin, there are so many incredible calls you made during your time as a broadcaster. From being the youngest broadcaster to call a World Series (at the age of 25!) to your time signing off in 2016 in San Francisco, your voice has stood and will continue to stand the test of time.
Mets fans will remember you forever following your famous call in 1986, when Bill Buckner couldn't handle a grounder in Game 6 of the World Series that cost the Red Sox the game.
Braves fans will remember you for your incredible call of Hank Aaron's 715th home run, noting that it was a beautiful thing that a black man was being celebrated after living through a time when that seemed impossible. 49ers fans will remember you forever following your call of Joe Montana airing it out to Dwight Clark in what is now known as "The Catch" that Cowboys fans wish they could forget.
Giants fans will remember you as a man who grew up a fan of their franchise and deeply respected them throughout a legendary career of calling games for their bitter rivals.
Vin, Dodgers fans have a long list of calls they can listen to and replay forever. From calling games on the transistor radio back in Brooklyn to your move with the Dodgers to Los Angeles, you are truly a man that was beloved from coast to coast.
Your epic walk-off home run call of Kirk Gibson from Game One of the 1988 World Series goes down as the greatest call of all-time in the sport. You called three perfect games, including Yankees pitcher Don Larsen's during the 1956 World Series against the Brooklyn Dodgers. You called the perfect game thrown by Sandy Koufax in 1965 against the Cubs. You called Montreal Expos starter Dennis Martinez's perfect game against the Dodgers in the summer of 1991.
You called the games of Roy Campanella, Pee-Wee Reese, Duke Snider, Gil Hodges, Don Sutton, and Don Drysdale. You had a close relationship with legendary managers Walter Alston and Tommy Lasorda. You followed the career of Jackie Robinson and made sure every human being understood the impact he made in the game of baseball and in the world. You called Clayton Kershaw's first no-hitter and Charlie Culberson's walk-off home run was your goodbye to Dodger Stadium.
Even Hollywood couldn't write a script as well as you could, Vin.
Vin, a call I will never forget that you made was on October 1st of 2012. The Dodgers were still in the Wild Card hunt, however, they would need to win their final two games against the first place San Francisco Giants to stay alive.
Trailing 4-3, Mark Ellis stepped up to the plate and smoked a line drive into the glove of centerfielder Angel Pagan to end the hopes of a playoff berth. While pain and sadness hit me the moment that ball hit Pagan's leather, you hit us all with the perfect words to describe what had just happened.
"That's the way this game is. You win, you lose, you celebrate, and you suffer."
Vin, suddenly it all hit me. The beauty of baseball is that it is a perfectly imperfect game. We keep track of numbers to establish who fails the least, expect our team to go out and win every game when even the greatest teams of all-time lost more than 25 percent of the time.
You opened my eyes to the beauty of falling short and finding redemption the following season, which the Dodgers did, reaching the NLCS in 2013 and never missing the playoffs since then.
Vin, you taught me more about how to be a broadcaster than anyone else could just by being you. Your flawless stories about a ball player coming from a rough family background to the stories about a player's favorite car, they never got old. It's funny, Vin, as you grew closer to retirement, we wanted you to tell more and more stories because we all simply couldn't get enough. You were the voice of my spring, my summer, and my fall. I'd sit and spend winter waiting for it all to start once again.
Vin, I know you physically may not be here on this earth anymore. However, a part of you will always be here. From the on-going recordings of your famous calls to the knowledge and stories you shared to those you came in contact with, it is a fact that your legacy will live on forever. You were the voice of baseball, Vin. You were the game's greatest ambassador. You were also our best friend. We always needed you more than you ever needed us.
Vin, above all, I want to thank you. Thank you for being an inspiration to all who looked up to you. Thank you for being there through the lonely nights and hot summer afternoons. Thank you for being there when all I wanted was someone to tell me a story before going to bed.
Thank you, Vin, for being true to who you were as a person inside and outside of the Vin Scully Press Box. I know putting aside the microphone was already difficult enough. Vin, do us all a favor and, while you go rejoin your beautiful wife, Sandi, as well as Tommy, Kobe, and Jackie in heaven, let us take the mic and take some time to tell your story. I can promise you it will be a story that will be passed down for generations to come.
While finding as great of a broadcaster as you is improbable, finding another man like you, Vin, is impossible.
Wishing you a pleasant first day of wherever you may be up in heaven,
Dusty Baker
P.S. It's Time For Dodger Baseball!