Feature
The Greatest Calls From Vin Scully's Iconic Broadcasting Career
The greatest to ever speak into a microphone passed away last night at 94 years old. Here are some of Vin Scully's most memorable calls.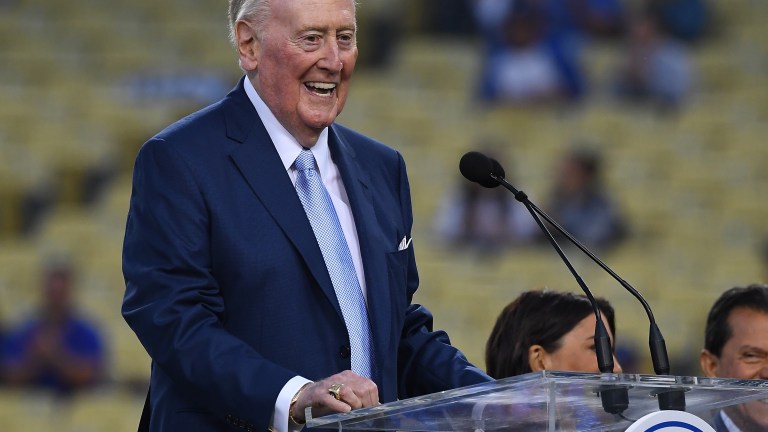 The story of baseball cannot be told without Vin Scully. And nobody could tell a story like Vin Scully.
The sport's greatest announcer passed away Tuesday at 94. His legacy will be eternal. He began broadcasting the Dodgers in 1950 and was a constant presence for a remarkable 67 years.
He saw and called Jackie Robinson and Gil Hodges, Sandy Koufax and Don Drysdale, Fernando Valenzuela and Orel Hershiser, Mike Piazza and Clayton Kershaw.
From Brooklyn to Los Angeles and national telecasts, he was witness to and on the mic for 25 World Series, 12 All-Star games, and three perfect games. He received the Ford C. Frick Award from the Baseball Hall of Fame in 1982 and the Congressional Medal of Honor in 2016—testaments to the quality of his work and a career that transcends baseball with humanity we should all aspire to and a standard that's impossible to be equaled.
Here is the ultimate highlight reel for the quintessential baseball soundtrack.
A Hollywood Ending
As you can imagine, Scully is an icon for generations of Dodgers fans—both in Brooklyn and Los Angeles. The same reverence holds true for players, managers, and fellow broadcasters.
Tributes to Vin poured in during this farewell season. But the ultimate showing of thanks came during his final series in Los Angeles. A sensational pre-game ceremony prior to the opener preceded a stirring Sunday conclusion which proved there is a baseball God.
The Dodgers, who needed a win to clinch the NL West, were down a run in the ninth—until Corey Seager went deep to right field. An inning later, Charlie Culberson ensured Vin's final play-by-play call at Dodger Stadium was a walk-off homer.
It was Culberson's first round-tripper of the 2016 season. How can you not be romantic about baseball?
Not that anyone wanted it to happen, but it felt appropriate that when Scully's passing became public, the Dodgers were in San Francisco facing the Giants. Because of the longtime rivalry that dates back to when both (and Vin) were in New York, because of Scully growing up in New York rooting for the Giants, because it was at the park where Scully concluded his unprecedented career.
Lip-Reading
With all the microphones capturing the sounds around the diamond, it's not often we get to hear the back-and-forth disputes involving close calls. That's when Vin translates the on-field conversation for us—minus NSFW language.
Two specific instances immediately come to mind. The first is a verbal showdown between Red Sox manager John McNamara and Jim Evans following a controversial play at second base in the ninth inning of Game 6 in the 1986 World Series.
The other happened in 2012, when then-Rockies skipper Jim Tracy lost his mind over an umpire's decision over a line drive to center field.
Storytime with Scully
There are many reasons why Scully remained the best in the business, even into his late 80s. It's not just because of the rhythm of his broadcast or his turns of phrase, but also how he seamlessly weaved in stories—sometimes historical, sometimes about those on the field—in between the on-field action.
It's why so many fans brought transistor radios to Dodger home games and why so many stayed up past midnight to tune in via MLB.tv—regardless if its a meaningless affair in July or August.
Back in college and the subsequent years after, I purchased MLB.tv for two reasons: to follow my favorite team (the Mets) and to hear Vin Scully. Most nights were spent staying up late listening to those broadcasts even when I could care less about the outcome.
Once when he announced he was returning to the booth for another season, he prefaced it with, "You and I have been friends a long time." That one-on-one connection between broadcaster and fan is often pursued, yet rarely achieved. That same connection is evident when he brings up those anecdotes for which he so noted.
Go on social media and you'll get countless terrific anecdotes delivered by Vin. Here is one of the best in his later years discussing the history of beards.
Bo Jackson's Home Run—1989 All-Star Game
As the lead play-by-play voice on NBC Sports from 1983-89, Scully got the chance to call the All-Star Game on four occasions. Distinguished guests were on hand for the 60th edition of the Midsummer Classic at Anaheim Stadium. Among them was former president Ronald Reagan—a former play-by-play man who called the first inning with Vin.
Ex-national leaders aside, it was primed to be a showcase for two-sport star Bo Jackson. He didn't disappoint.
Leading off the bottom half of the first, Jackson took NL starter Rick Reuschel deep as part of an MVP performance. Scully's home run exclamation appropriately voiced Bo's entrance onto the All-Star stage.
Don Larsen's Perfect Game—1956 World Series
In the 1953 World Series between the Brooklyn Dodgers and New York Yankees, 25-year-old Vin became the youngest announcer of the Fall Classic.
Three years later, he saw another extraordinary accomplishment as Yankees pitcher Don Larsen did the unthinkable. What remains the only perfect game in the history of the World Series ended on a strikeout of Dodger hitter Dale Mitchell.
For years, this historical moment was accompanied by the tremendous radio call of Bob Wolff. Recently, however, the television broadcast—with Scully voicing the top of the ninth inning—has surfaced in the past few years.
Fernando Valenzuela's No-No
To a city with a rich Mexican heritage, Valenzuela's sudden emergence onto the big-league season as a rookie in 1981 brought joy that particular community.
Valenzuela remained consistent on the mound, becoming one of the winningest pitchers of the 80s. He shut the Cardinals down on June 29, 1990, and the feat was capped on a double play off the bat of former teammate Pedro Guerrero. Incredibly, another ex-Dodger, Dave Stewart threw a no-hitter earlier that evening.
Soon after the finals outs were made, Scully exulted: "If you have a sombrero, throw it to the sky!"
Bill Buckner's Error—Game 6 of the 1986 World Series
"If one picture is worth a thousand words, you have seen about a million words."
An apt statement midst the insanity that followed the Mets' 10th inning rally to avoid elimination and push the series to a seventh game. It was a rally capped by Mookie Wilson's at-bat that ended with Buckner's infamous miscue and a call Mets fans love and Red Sox fans loath.
It was a moment that—in its aftermath—didn't need description. Scully, as was one of his trademarks, let the images and the crowd tell the story.
Viewers on NBC saw exaltation from the Mets and the Shea Stadium fans, as well as disbelief and despair on the other side. It was proof that the best announcers sometimes do more by saying less.
Hank Aaron's 715th Home Run
Aaron's pursuit of Babe Ruth's all-time home run record reached its apex in the early part of the 1974 season. He tied the mark on Opening Day in Cincinnati.
Less than a week later, Aaron and the Braves were home at Atlanta-Fulton County Stadium. Serendipitously, the Dodgers were in town with Scully on his usual assignment.
No. 715 happened on April 8, 1974. Los Angeles pitcher Al Downing delivered a fastball, which Aaron launched over the left-field fence.
As Aaron rounded the bases and was greeted by his teammates and his parents, Scully stepped away from the mic and gave way to the partisan cheers. He eventually interjected to recognize the social significance of this monumental event.
Kirk Gibson's Home Run—Game 1 of the 1988 World Series
The Dodgers were heavy underdogs against the powerful Oakland A's, made more so by the fact that Gibson, the NL's eventual MVP, was suffering from injured legs.
Trailing 4-3 with one on and two outs in the ninth, and virtually untouchable closer Dennis Eckersley on the mound, Los Angeles skipper Tommy Lasorda sent Gibson up to pinch hit.
What happened next was a moment even beyond the concepts of Hollywood. The hobbled Gibson connected on a 3-2 pitch that went into the right-field stands—giving the Dodgers an amazing 5-4 win.
Again doing the national broadcast on NBC, he raised his voice to the level of the moment yet kept it simple. Then he went silent. Nothing was said for about two minutes.
Scully's mastery of the language and impeccable timing came to the forefront with a succinct, accurate, and overall perfect line: "In a year that has been so improbable, the impossible has happened."
That magic Gibson produced (and Scully described) carried over for the remainder of the series, as the Dodgers won the title in five games.
Sandy Koufax's Perfect Game vs. Cubs in 1965
The Gibson home run was the best moment Scully was a part of. But this was his finest performance.
Sandy Koufax, already with three no-hitters in his rear-view mirror, was heading to the mound in the top of the ninth—having yet to allow a Cub to reach base. And thus came about 10 minutes of perfection—both from the mound and the microphone.
Charles Einstein's book, The Baseball Reader, transcribes that ninth-inning radio call verbatim. Einstein puts it this way: "As you read Scully's spontaneous description, it will become hard to believe that this wasn't written, but indeed the unrehearsed spoken word instead."
This game was not on television, yet Scully immaculately painted the picture of the drama and building tension better than anything that could have been seen.
Do yourself a favor, especially in his honor, and listen to this call. It's the master of his craft at his most masterful.