Analysis
Adolis García Has Reached Star Status for the Rangers
Fresh off his second All-Star appearance, Adolis García is making a name for himself as one of the best outfielders in baseball.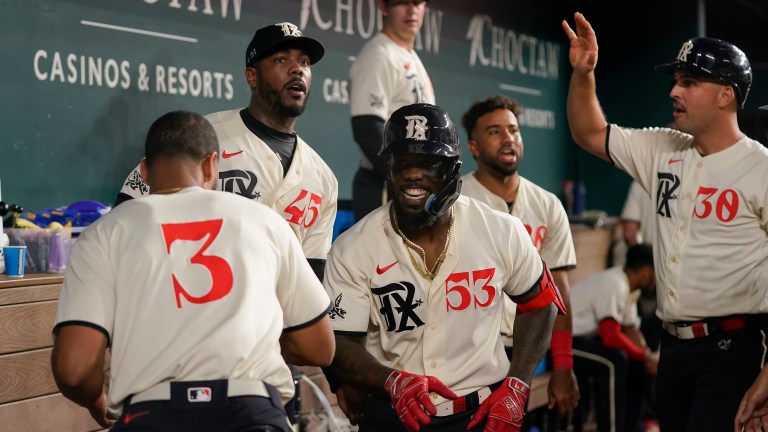 It's no secret that the Texas Rangers have one of the best offenses in baseball, led by an insanely deep group of bats that have made the lineup a terror to face every night. They've gotten production all over the lineup, but one of the driving forces all season has been this new version of Adolis García.
The Rangers outfielder has been a productive power hitter for the past few years, with 31 and 27 home runs, respectively, in 2021 and '22. He's taken his game to a whole new level in 2023, with his league-leading 80 RBIs and 24 home runs in just 93 games as the primary run producer in the heart of the Rangers' lineup.
The All-Star starter has experienced an uptick in every metric this season and has arguably been the best hitter on the Texas roster aside from Corey Seager, who missed a bunch of games with an injury.
García leads the qualified hitters on the roster with a 134 wRC+ after finishing last year with a career-high 112 mark. He's also currently at an .860 OPS, over 100 points better than his previous best, set last year as well.
García has always shown pop but has seen his power rise even more this season. He's on pace for more than 40 home runs right now, with an impressive .525 SLG and an expected slugging of .546 as well.
His power has been so evident, and potentially, he could tap into even more. García has always hit the ball hard, but his hard-hit rate has risen over 2% this year and is just barely under 50% at 49.6% right now. A barrel percentage of 16.4% is astronomical, as he's crushing the ball all the time.
Even with an increase in power this year, García's plate approach has improved and has been a primary factor behind his full breakout this season. His chase rate has improved to around league average after being in the bottom 10th percentile in each of his first few seasons. This has led to a 3% decrease in his strikeout rate with a 3.1% increase in his walk rate. The depth of the lineup has played a factor, but it's evident that García has made a concentrated effort on his approach.
Another major adjustment this year has been performance against breaking balls. Last year, García's worst two pitches by run value were sliders and curveballs, on which he registered -5 and -2, respectively. This year, Adolis has clobbered sliders with a +12 run value and has done well against curveballs with a +4 run value.
An impressive facet of his production has been his nearly equal splits against right-handed and left-handed pitching. He hasn't had any problems against pitchers of the same side, and 20 of his 24 home runs have come against such pitchers. He's also just continuing to get better as the season progresses rather than showing any regression to this point. His .877 June OPS was excellent, and he's now at a phenomenal .977 mark so far in the month of July.
The clutch gene that García clearly possesses has been on full display as he seems to deliver every time he needs to for Texas. With runners in scoring position, he's slashing .309/.354/618 with 57 RBIs in just 110 at-bats in such scenarios. 57 RBIs in 110 at-bats…read that again.
On the other side of the ball, García's top-notch arm strength has remained on display this year, with all of his defensive numbers being on par with what we've grown to expect from him. He's nabbed plenty of runners on the bases and is a reliable fielder in the corner. He's even robbed a few home runs while hitting them all the time this year!
The Rangers' offense does not flow the same without García, and he's becoming one of the best outfielders in the American League with his performance this year. His power has always been there, but he's become a well-rounded star at the plate and the driving force behind the best offense in the American League.
I believe he's earned superstar status, and the Rangers will need him to continue this elite production in order to make a serious run in the playoffs this October. Some would even say he's an X-factor, and the big step he's taken this season has played a huge part in the Rangers' success.