Analysis
A Cast of Unsung Heroes Has Kept the Twins Afloat
While the Twins' stars have faltered, a cast of unsung heroes has kept the team alive in the division race.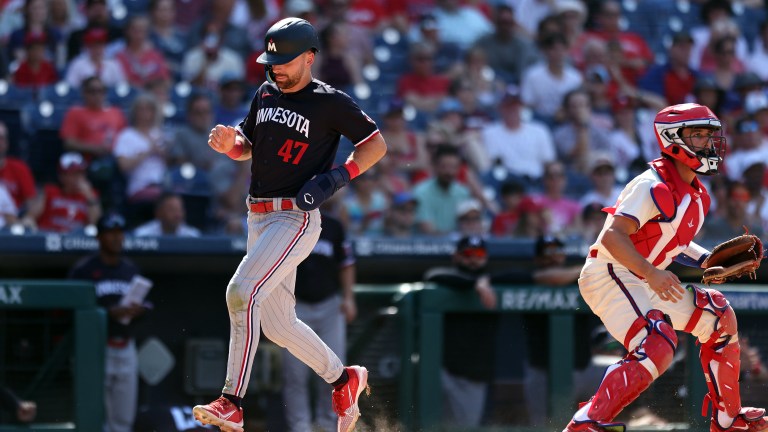 Coming into the season, I thought the American League Central was the Twins' division to lose. With a solid lineup and pitching staff, they looked to be the most talented team in the division. That seems to be confirmed, given the current standings, but not for the reasons I initially suspected.
The players that everyone thought would be the stars of this team have drifted into the background. Instead, players that were originally thought of as role players have become much more than that. It is thanks to them that the Twins still have the divisional lead.
This is an ode to those underappreciated players who have carried the Twins thus far through the season. It is also a cry for help, pleading with the team's fallen stars to begin to piece something together in time for the playoffs.
Unsung Heroes
Ryan Jeffers
Ryan Jeffers has been one of the best offensive catchers in the league this season. The top four catchers (min. 200 PA) ordered by wRC+ are Mitch Garver, Sean Murphy, Ryan Jeffers, and Will Smith.
Catcher was a question mark for the Twins entering the season, and as a result, they signed Christian Vázquez. Vázquez has played solid defense behind the dish but is one of the worst hitters in the league. For a team that has struggled offensively all season, Jeffers has been a pleasant surprise.
Jeffers has hit .271/.369/.466 this year, which is good for a 133 wRC+ in 82 games. The unfortunate thing is a lot of his expected stats do not line up with his production. He currently grades as one of the luckiest hitters in baseball. Still, as the old adage goes, sometimes it is better to be lucky than good.
With a rise in strikeouts, chase rate, and whiff rate, it is best to take his .271 batting average with a grain of salt. He has popped a 117.4-MPH maximum exit velocity, which is the highest of his career by over four miles per hour.
As far as counting statistics go, over a 162-game season, he is on pace for 20 home runs, 65 RBI, and 27 doubles. It is really hard to imagine where the Twins would be without the offensive production that they have received from Jeffers. They are going to need him to keep it up through the rest of the regular season and the playoffs.
Edouard Julien
This man Edouard Julien might be the most underrated rookie in all of baseball. He is balling and deserves his flowers.
Among rookies with at least 200 plate appearances, Julien is tied for fourth in wRC+ at 132. After Minnesota suffered the loss of Royce Lewis earlier in the year, Julien has picked up a lot of the production that was lost. He is walking a lot and has been a good table setter this year.
Julien has started the majority of his games batting first or second. He has filled a valuable spot in the lineup. With Buxton and Correa struggling this year, the top of the order has needed the production Julien has provided.
Defense was a question mark for Julien when he came up, but he has played an average second base thus far. Average defense at second is palatable with this kind of offensive production.
Max Kepler
Here is a spot where I unfortunately have to eat some crow. I was in the camp pushing to trade Kepler; I thought his best days were behind him. I should have known better because if Kepler is anything, it is consistent.
Since 2016, Kepler has been a two-WAR player every year except the short 2020 season and 2019, when he caught fire and flirted with four. A big reason for Kepler consistently being a solid player is his high-quality defense. This year has been no different; Kepler has played very well in right field.
This is also shaping up to be one of the best offensive seasons of Kepler's career. If he stays the course, he is going to finish with his second-best marks in OPS, wRC+, and home runs, as well as a career-high in batting average.
After playing rather poorly in May and June, Kepler has really turned things around.
Donovan Solano
Donovan Solano is hitting close to .300 and doing his best Luis Arraez impression this season. The Twins knew that they were going to have to replace a lot of production after trading Arraez to Miami. I don't know if anyone thought it was going to come from Solano.
I know it may sound like it, but this isn't a hyperbole. For the Twins last season, Arraez hit .316/.375/.420, which was good for a 131 wRC+, a .795 OPS, and 3.1 fWAR. This season, Solano is hitting .294/.376/.416 with a 123 wRC+, a .792 OPS, and he's on pace for 1.6 fWAR. There is a gap when it comes to the WAR, but Solano is doing his best to replace the production of Arraez at the plate.
I thought Solano was a perfect trade chip for the Twins at the deadline this year. They ended up not moving him and now look to rely on his production this postseason.
Bailey Ober
Bailey Ober has built up a reputation this season as one of the most underrated pitchers in all of baseball. I am sure someone is thinking it right now, so yes, Ober was sent down to Triple-A St. Paul after some rocky starts, but he has still been pivotal for the Twins this year.
Even after a couple of blowup starts, Ober has very impressive numbers on the season. He has made 22 starts for the Twins. In those starts, he has thrown 122.2 innings with a 3.67 ERA and 3.90 xERA. Most importantly, he is walking only five percent of batters faced. Limiting walks has helped Ober find success this season.
To put into perspective just how good Ober has been, let's take out his last four starts, which were less than impressive. If you eliminate those starts, he has a 3.21 ERA and looks like one of the best pitchers in the American League. That sample size also still includes a six-run start against the Royals.
With Kenta Maeda and Joe Ryan both serving time on the IL, it was pivotal that Ober step up and fill the void. He did more than just that, showing that he is a solid big league arm and should certainly play a role in the postseason.
Royce Lewis
Last but certainly not least is Royce Lewis. Lewis is not exactly an unsung hero, as he has garnered a lot of attention this season when he's been on the field. However, as a rookie who likely will not garner much support in the AL ROY race, I wanted to acknowledge just how good he has been.
Gunnar Henderson is the likely AL ROY and has been great this season, and Josh Jung getting hurt was unfortunate. With that said, I firmly believe that if Lewis were able to play 120 games this season, he wins the award.
In his 45 games played in 2023, Lewis is hitting .318/.370/.541 with a 151 wRC+. That is the highest wRC+ of any rookie with more than 100 plate appearances. He also has 11 home runs, 39 RBI, and 1.7 fWAR.
Over the course of 162 games, he would be putting up 39 home runs, 140 RBI, and 6.1 fWAR. For some perspective, that would be 4.5 fWAR in 120 games; Henderson has 3.2 fWAR in 125 games played this season.
Lewis is the most important position player on this team if they make the playoffs. He is damn good and will be for a long time.
Fallen Stars
The previously mentioned players have all been incredible this season and have kept the Twins afloat. The production from those players has been especially important given the lack of production the Twins have received from their best players.
The three players I am about to talk about were presumed to be the Twins' three best players entering the season. Carlos Correa, Byron Buxton, and Jhoan Duran are all incredible players. However, the reality of the situation is that their production this season has left a lot to be desired.
Carlos Correa
Anyone who takes even a slight interest in baseball grew very familiar with Correa over the offseason, as his contract situation took over the spotlight. Due to some injury concerns, the Twins were able to retain a player who is supposed to be one of the best in the league. Correa has not been that kind of player this season.
Most of the questions surrounding Correa were with regards to his health. So far this season, health does not appear to be an issue. He has already played 120 games, which is more than his career average of 118. Correa's issue is that he has been abysmal at the plate.
It is really tempting to say that this is just bad luck. Correa is a career .279/.357/.479 hitter, but this year he is hitting .231/.312/.399, which is alarming. However, his average exit velocity is consistent with his career figure, and his hard-hit rate is near his career high. For what it's worth, he is tied for 25th in wOBA – xwOBA, which is a way to measure luck. This puts him on the unluckier side of things.
On top of not hitting well, Correa is supposed to be a Platinum Glove defender, yet his single out above average would indicate otherwise. That puts him 21st among shortstops in the majors.
This has him on pace to finish with the lowest fWAR of his career. Correa has not been the player that the Twins thought they were signing to a long-term deal thus far. He is too good not to bounce back, but that looks unlikely to happen this season.
Byron Buxton
Unlike Correa, Byron Buxton has dealt with injuries this year. That is nothing new for Buxton, who has only played more than 100 games once in his career. Buxton can't be faulted for his injuries, but he also hasn't played well when he's been healthy.
For some perspective, in his two previous seasons, Buxton played 61 and 92 games, respectively. He also accumulated 4.1 and 4.0 fWAR in those seasons. This year, in 85 games, he has amassed 0.7 fWAR. Part of that is he is not playing the field at all, so he is gaining no defensive value. Nevertheless, he has only a 97 wRC+; he hasn't had a mark under 100 since 2018.
A lot of Buxton's expected statistics, as well as his batted ball data, are not good and have fallen off compared to recent seasons. That helps to explain the .207 batting average, which is borderline unacceptable – especially when he is slugging more than a hundred points lower than he did over the last two seasons.
With Buxton and Correa occupying the first and second spots in the lineup early in the season, this team was struggling to get things going offensively. The Twins need them to be factors as the season comes to a close and the playoffs begin.
Jhoan Duran
Now, before everyone goes and starts getting mad, give me a chance to explain. In 2021, Jhoan Duran was one of the best relievers in baseball. He has been a shell of that this season. While Duran has been good this year, I think one would be doing him a disservice to say it hasn't been a disappointing season.
While Duran has continued to rack up the strikeouts this year and has an ERA of 2.60, he has fallen short in other areas. He is walking an extra batter per nine innings compared to last year. He has also been hurt by the long ball, with his home run per fly ball rate jumping over five percent.
Stranding runners has been a challenge for Duran this year as well. His left on-base percentage last year ranked sixth among all MLB relievers. This year he ranks 81st. His struggles with giving up home runs and being unable to strand runners have hurt both Duran and the Twins.
While a statistic such as fWAR is far from a perfect stat, it does allow for a cumulative comparison of players. Duran ranks 47th in fWAR this season, a tick ahead of teammate Emilio Pagan. Twins fans should be delighted that Pagan is ranked here but horrified that Duran is in the same boat.
Stats, standings, and rankings as of September 6.