Analysis
2022 Bowman Baseball's 1st Edition Checklist Is Loaded
A look at some of the baseball cards you should be targeting in Bowman's 2022 product.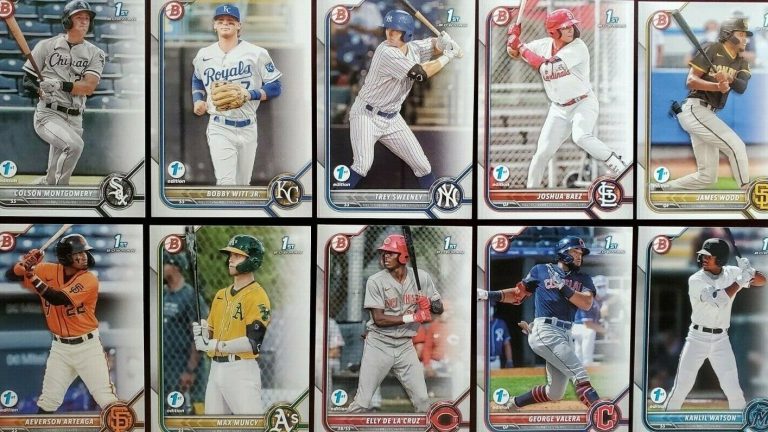 Ahhh, finally, Bowman 2022 has arrived. By now many of you have had your first look at the 2022 Bowman 1st Edition product along with the new wave of prospects that populate the checklist.
If you are like us, you are extremely excited about what this product has to offer and are eagerly anticipating the drop of the flagship product here in about a month. Both of which, you will be able to purchase on the Loupe app with a $20 credit if you use this link! Loupe allows you to connect with various sellers on livestreams with all kinds of product, like Bowman 1st Edition and Bowman Baseball, for instant purchase and ripping!
On our most recent episode of Cardboard Consultants, we walked you through some of the bigger and not-so-big names currently being chased in 2022 Bowman 1st Edition. We also ran through our own preferred means of buying the product – breaks, singles, entire boxes, etc. We wrapped the show up with a brief conversation around redemptions; a discussion about how Topps Chrome cards are still a good buy; and then mentioned the players we targeted this week in our own purchases.
In these weekly baseball card rundowns, I will give attention to one of topics we discussed by highlighting snippets from the show that bear repeating. This week, I'm going to accentuate some of the bigger-named prospects in the 2022 1st Edition release.
All guys we mentioned by name in the show. These are guys that will typically go for a significant amount in player/team breaks, but in most cases also have the greatest chance at becoming superstars at the next level. Below I'll give you a brief comment or two about each player we discussed, link out to other articles that talk about the players, as well as how much their base card is currently going for on eBay.
Curtis Mead – INF – Tampa Bay Rays (Triple-A)
2021 Stats (A/A+/AAA): .321/.378/.533, 15 HR, 38 2B, 141 wRC+, 15.5 K%, 7.4 BB%
A top-100 prospect here at justbaseball.com and one that we believe is destined for an everyday role at the highest level. He had an awesome year last year across multiple leagues, even setting the AFL record for most consecutive games with a hit – 18. You can read more about him in Aram's article from a few months ago where he highlights Mead along with some of the other prospects currently being underrated. His base 1st Edition card is currently going for around $8 to $10 on eBay – buy and stash.
Jhonkensy Noel – 3B/1B – Cleveland Guardians (High-A)
2021 Stats (A/A+): .340/.390/.615, 19 HR, 161 wRC+, 21 K%, 5.9 BB%
Noel is an athletic freak with a simple swing that produces insane pop. His exit velos often break the 110-mph barrier. His K-rate has climbed a bit, but not to the extent that you should shy away from collecting him. We are very high on Noel and would suggest hunting him on your preferred buying platform. If you want to read more, Aram wrote about him as well in the article mentioned above. His current price on eBay is also around $8 to $10 – buy and stash.
Khalil Watson – SS – Miami Marlins (Complex)
2021 Stats (CPX): (9 G) .394/.524/.606, 200 wRC+, 16.7 K%, 19.0 BB%
Watson is one that Aram has laid eyes on personally this Spring. He is another athletic freak with tremendous upside. Watson has good bat-to-ball skills and above-average power. Look for him to stick at SS and progress quickly through the Marlins system. Aram gave a more robust review of his potential here. His base card is currently going for around $35 on eBay – wait and buy later.
James Wood – OF – San Diego Padres (Complex)
2021 Stats (Complex): (26 G) 372/.465/.535, 3 HR, 8 XBH, 166 wRC+, 31.7 K%, 13 BB%
If you watched the episode you heard us reference a multi-box break of 2022 Bowman 1st Edition where Wood was going for over $700 at the time, he ended up going for over $1000! Wood is certainly an exciting guy in the Padres system but no doubt being over-hyped right now. His 31.7 K% in the Complex League is concerning. He's a tall, lanky, athletic guy with some major power, but will take a little while to develop into the stud people are hoping he becomes. His base card is currently going for around $10 on eBay – pass.
Elly De La Cruz – SS – Cincinnati Reds (A)
2021 Stats (CPX/A): .269/.305/.477, 8 HR, 24 XBH, 127 wRC+, 30 K%, 5 BB%, 10 SB
De La Cruz is one of the biggest chases in this product as was demonstrated by his $1000+ price tag in the break mentioned above. As Aram noted on the show, he hits the ball super hard, is a plus plus runner, and even seems to have more upside than James Wood. He has a pretty small frame, only weighing around 150 pounds, but has already hit homers with exit velos above 110 mph. He has real five-tool potential and could end up being all the things that we think Jasson Dominguez is going to be. His base 1st Edition card is currently going for $30 to $40 – wait to buy.
Eddys Leonard – 2B/SS – Los Angeles Dodgers (High-A)
2021 Stats (A/A+): .296/.390/.539, 22 HR, 55 XBH, 145 wRC+, 23 K%, 10 BB%, 9 SB
Leonard is a guy I like a lot and think is a real value play in this product. Aram compared him to Dodgers prospect Luis Rodriguez – but better. We don't think he'll stay at short, but don't view that as a real problem when it comes to his card values. There is the potential for him to be in AA by the middle of the year and with that would come a rise in our prospect rankings. His base 1st Edition card is going for around $7 on eBay – buy and stash.
Other Notables
Other guys that we talked about on the show include George Valera (CLE – $15), Oswaldo Cabrera (NYY – around $10), Euribiel Angeles (SD – $5), Dustin Harris (TEX – $3), Ian Lewis (MIA – $2), and Allan Cerda (CIN – $3). Harris is a guy we could see in the majors pretty soon, and at that price tag it might be worth stashing a few of his 1st Edition cards. It will be exciting to see which of these players has an auto in the upcoming 2022 flagship release, we are expecting that they all will. We recommend targeting all of these players in a break or two, so long as the price is right.
If you want to hear a little bit more about these latter guys you can catch the full episode here. As always, leave us some feedback! And, if you have a player you want us to do a deeper dive on, especially as it relates to these 2022 prospects, leave us a comment either here or on YouTube and we'd be happy to talk about him on our upcoming show!