Analysis
2021 World Series: Seven Important Stats To Know
Some important stats to know on the Braves and Astros ahead of the World Series.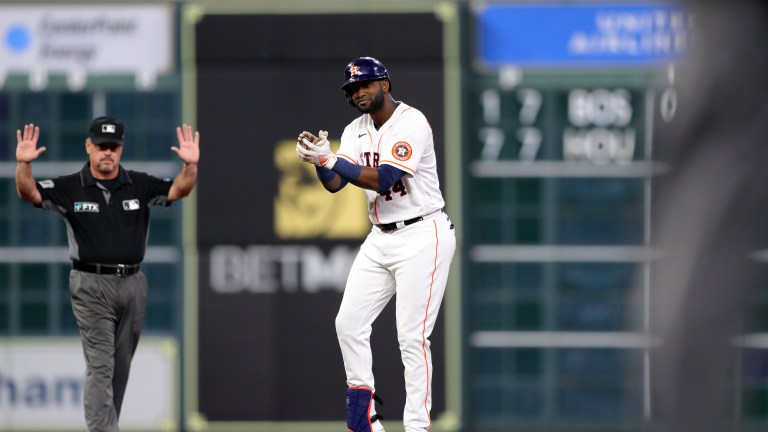 1. No Running on Martin Maldonado
The Braves were able to take advantage of the base paths in the NLCS against the Dodgers, successfully stealing on five out of six attempts against Will Smith, who only threw out 25% of runners in the regular season. It's a different story with Martin Maldonado behind the dish. Among catchers with more than 100 starts this season, he ranks third behind Salvador Perez and Yadier Molina with a 39.6% caught stealing rate. This was evidenced by his perfect throw to nab Alex Verdugo in game 6 of the ALCS. The Braves will surely be more cautious on the basepaths this series.
It would be nearly impossible to justify keeping Maldonado in the lineup if he weren't so exceptional defensively, given his -29 wRC+. Yes, negative twenty-nine.
2. Eddie Rosario is Not a Fluke
The NLCS MVP, Eddie Rosario, has gone nuclear, hitting .474 with a 243 wRC+ in the playoffs and while insane, this hot streak is not a mere flash in the pan. After he returned from injury in late August, he had a 133 wRC+ over the last month of the season. Don't go expecting Rosario to hit a wall just yet, he has plenty of playoff theatrics where this came from.
3. Ozzie Albies Is Slumping
Ozzie Albies is struggling mightily thus far in the playoffs, only mustering a 68 wRC+ and three extra base hits, failing to homer in any of his 42 plate appearances. It seems that Albies is struggling to hit from the left side, only hitting .237 with a 94 wRC+ as a lefty in 2021. Meanwhile from the right side, Ozzie is hit .323 with a 144 wRC+ in 175 plate appearances. Even from an exit velocity standpoint it's clear that Albies is better suited from the right side. He averages 88.7 MPH exit velocity from the left side and 91.7 MPH exit velocity from the right side.
It seems odd that albies would continue to hit from the side that he performs considerably worse from, as he takes 75% of his plate appearances as a lefty. Obviously Albies will not make a change so drastic in the middle of a World Series run, but at the young age of 24, a change could be made for Albies to permanently move to the right side. For now, look for the Astros to attack Albies with right handed pitching out of the pen.
4. Minute Maid Park Isn't a Hitter's Haven
Despite the left field wall being only 315 feet from home plate, the second shortest distance of any left field wall in baseball behind only Fenway Park and its Green Monster, Minute Maid Park does not allow more home runs or doubles to right handed hitters than normal. According to Baseball Savant's Park Factors, right handed batters have a home run park factor of 100 at Minute Maid, which is exactly league average, so don't expect more home runs to fly out of the ballpark than normal in Houston.
As for the new Truist Park in Atlanta, their overall park factor is 102, meaning 2% more runs are scored at Truist Park versus a league average park with a park factor of 100. This is not a very significant value though, so we should not expect to see anymore scoring in Atlanta versus Houston in this series. Both stadiums will play close to league average offensively.
5. Defense Will Be On Full Display
Defensive Runs Saved is one of the go-to metrics for measuring defensive impact, as it quantifies exactly what its name is, how many runs a player or team save. The Astros rank second in Defensive Runs Saved while the Braves rank eighth, so this series is destined for defensive wizardry and highlights we'll never forget.
Baseball Savant distinguishes Five Star Plays as batted balls caught with less than a 25% catch probability, meaning almost impossible to haul in. Chas McCormick of the Astros made 12 five star plays this season, which is fifth most in baseball. He also accumulated 14 defensive runs saved in the outfield, which puts him eighth among outfielders in DRS, which is incredible considering he only played in 108 games. If he had played the entire season, it's not out of the question that he would be ranked first.
On the contrary, the Astros will have to deal with putting Yordan Alvarez in the field when they travel to Atlanta. After playing only 300+ innings out there in the regular season, can Alvarez hold his own?
6. Who's Yor-Daddy?
Yordan Alvarez may just be the best hitter in the ridiculously talented Astros lineup. So far in the playoffs, he's hit .441 with seven extra base hits while walking in 18% of plate appearances all adding up to a 252 wRC+, which in fact is higher than Eddie Rosario's. He gave the Red Sox fits in the ALCS, and a debate opened on whether to pitch to him or intentionally walk him. You can't blame a team for choosing to have him on first base rather than the trotting around the bases.
Historically speaking, Yordan is having a start to a career that may eventually put him in the Hall of Fame conversation. I know that sounds lofty, but wait until you see the names he stacks up with. Among players since 1960 in the first three years of their career, Yordan Alvarez ranks tied for eighth with Mike Trout in OPS with a .948 OPS. The other names above them on the list: Aaron Judge, Fernando Tatis, Juan Soto, Lance Berkman, Frank Thomas, Ryan Howard, and Albert Pujols.
7. The Braves Cannot Hit Lefties
The Braves are thought to have a potent offense, but stick a lefty on the mound and they cower in fear. Their 93 wRC+ against lefties is good for 6th worst in all of baseball. Since the Braves roster went through a major overhaul at the deadline, it's fair to wonder if they improved against lefties, but nope! They had a 92 wRC+ against lefties after the trade deadline. Luckily for the Braves, the Astros do not feature any elite lefty relievers besides Brooks Raley, and I wouldn't necessarily call him elite. With the ultimate ground ball inducer, Framber Valdez, slated to start game 1 tonight, it's no wonder that the Astros are heavily favored at -140.
Random World Series Factoids
There has not been a sweep since the Giants swept the Tigers in 2012.
Four of the last seven World Series have gone seven games.
This is the first WS appearance for the Braves since 1999.
This is Dusty Baker's second WS appearance. He lost to the Angels in seven games as the Manager of the San Francisco Giants in 2002.
Dusty Baker and Brian Skitker are a combined 138 years old. This may be the oldest World Series manager matchup ever.