Analysis
Fantasy Baseball Questions for Each MLB Team
Every team goes into the MLB season with questions. Here are some of the main one's to consider from each team when playing fantasy baseball.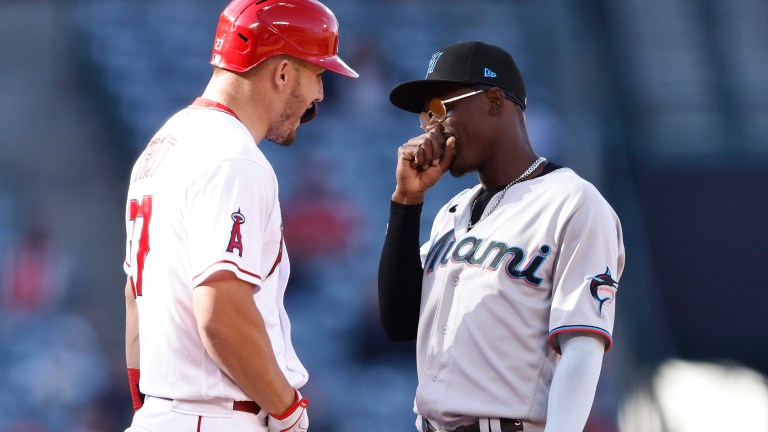 Opening Day is upon us and fantasy baseball is finally here. I wanted to take a look at each team and see what fantasy questions I could pull from each. These are not necessarily the most important questions about each club, just topics I found interesting.
Arizona Diamondbacks
Will Corbin Carroll's value match his ADT of 58?
No one wants to miss out of Corbin Carroll. The talented rookie had 15 hits in 46 at-bats (.370) this Spring, likely convincing owners he's worthy of a top-60 pick. The power, plus hit tool, and insane power stands out. He'll have to be borderline All-Star to match that value – a lot to ask of a rookie.
Atlanta Braves
When goes Vaughn Grissom join the team?
Grissom was a popular draft candidate this season and a potential breakout shortstop. Well, now he's in the minors and Orlando Arcia starts for the Braves on Opening Day. Arcia is no stranger to making the situation a bit uncomfortable for those with Grissom stock. Luckily Grissom has hit well at each level. He just turned 22 and has plenty of time. Do not drop him, hold on, and see how mid-May looks.
Baltimore Orioles
Who loses a role first?
The Orioles have several roster-worthy fantasy players with few true fantasy difference-makers. Prospects are coming up waiting to take at-bats from veterans and someone could quickly get replaced. Jorge Mateo and Austin Hays bring real team value, certain fantasy value, but do not feel like complete locks for everyday at-bats. Felix Bautista was incredible last season but if he struggles this year, how long is his leash? Prospects coming up, too many guys trying to fit into the rotation, and talented yet unproven rookies. Shuffling will happen so make sure you are tracking.
Boston Red Sox
Will Triston Casas be a top 10 fantasy first baseman in 2023?
After a cup of coffee with Boston last season, Casas will be the everyday option at first for the Red Sox. There's no doubt about the swing and approach, which makes me believe he has a chance to finish top 10 at his position. Casas will walk at a high clip and hit for power but we will have to wait and see about his average. Projections have him around .240, I think it will be closer to .265. Is the lineup good enough to help his overall run production? I think so.
Chicago White Sox
Can their top talent stay healthy?
Which player could have a serious bounce back?
Eloy Jimenez, Luis Robert Jr, Yoan Moncada, Tim Anderson, Yasmani Grandal, and Lucas Giolito all either underperformed or struggled with injuries in 2022. Each player has enough of a track record to show they can have fantasy value. If any of these players put up a productive season, I would not be surprised. If all stayed healthy? That's the surprise. I'd rank them in terms of value: Jimenez, Robert Jr, Anderson, Giolito, Moncada, (big gap) Grandal.
Chicago Cubs
Who will be the closer?
A quick glance at the roster will quickly tell you the Cubs do not have an option with much experience as a closer. New acquired righty Brad Boxberger has two seasons of closer experience with the last one coming in 2018. Michael Fulmer is veteran with mixed success and could get a look. Julian Merryweather is an option, the Cubs are high and Brandon Hughes is a southpaw who could make sense in certain situations. Watch this situation closely if you need saves and be ready to filter through until one sticks.
Cincinnati Reds
Can Hunter Greene, Nick Lodolo, and/or Graham Ashcraft take a big step forward?
The Reds rotation consist of three interesting, talented, young players and two big holes. Let's just focus on the top-three. Greene had stretches last season where he looked dominant but hard contact and home runs are a major concern. Lodolo had the best 2022, and when healthy looks like a top of the rotation arm. Ashcraft caught eyes in string training striking batters out after posting a 6 K/9 last season. Will we see more growth, or more growing pains in 2023?
Cleveland Guardians
Will the strikeouts return for Shane Bieber?
We all know about Bieber's velocity being down last season. Sitting 91 mph is not great, but Bieber knows this and shifted to his slider and cutter more instead of the 4-seamer. A pitcher of his talent will find ways to be successful but fantasy owners need strikeouts. After posting a 10+ K/9 the past three seasons, Bieber was at 8.91 K/9 in 2022. If he can return closer to the 12 K/9 from 2021, his value will be right back where it belongs.
Colorado Rockies
Will Kris Bryant be one of the biggest bounce back values?
Year one in Colorado did not go as planned. The product was actually great, .306/.376/.475 with five home runs in 42 games. His health held him back. Bryant is back health and hit four home runs in 39 at-bats this spring. Playing in Coors should help him not only tap into more home runs, but will also help his run production. The Rockies tend to put up a lot of runs at home. I expect a major bounce back from Bryant.
Detroit Tigers
Can Spencer Torkelson provide fantasy value?
The 2020 first overall pick had a disappointing first season. Struggles forced him back to the minors where he did not really find much success. Listen, the Tigers are a mess. There's no reason Torkelson should not get every opportunity to find success this season. He still hits the ball hard, now its about hitting it over the wall. A .235 average with 25 home runs would be a promising sign.
Houston Astros
Just how good will Hunter Brown be?
A brief, 20.1 inning sample of 0.89 ERA pitching showed a glimpse of what Hunter Brown can be. With Lance McCuller's injury, Brown will make the rotation out of spring training. In Triple-A last season, Brown struck out 134 batters in 106 innings and posted a 2.55 ERA. The top 50 prospect has a big opportunity to cement his spot in the rotation. Keep in mind he won't be throwing 180+ innings, so the strikeouts and ERA really have to impress to provide high value.
Kansas City Royals
How much better can Bobby Witt be?
Twenty home runs and 30 steals as a rookie is fantastic. Witt's .254/.294/.428 slash line has room for improvement and I think we see a tick up across the board this season. The Royals lineup has talent near the top, and questions near the bottom. Getting to 100 plus RBI might be a challenge, but Witt can make up for it with power and speed. Is it possible for a .270 season? A 30/30 year?
Los Angeles Angels
How many games will Mike Trout Play?
Is Reid Detmers going to have a break out 2023?
I have to put that Trout question, but I'm sick of it. So let's talk Detmers. He's been one of the hot sleeper names in fantasy after some tweaks and changes led to success late in 2022. This spring, Detmers struck out 27 batters across 20 innings – a rate we have not seen from him in the past. If he can show he's reaching his top 10 pick potential, the Angels rotation drastically improves.
Los Angeles Dodgers
What value does Dustin May have this season?
This season is the fifth year Dustin May will pitch in the majors. He's logged a total of 143.2 innings. After a great covid season and a major injury derailed 2021 and 2022. Now back, just how good will he be? How many innings will he pitch? We know the talent is there and May could really provide value but it's far from a guarantee.
Miami Marlins
How many games does Jazz Chisholm play?
Jazz is one of the most electric players in the game. Hell, he made the cover of MLB the Show and instead of highlighting his swing, they highlighted his swag. A 30/30 talent who's dealt with some injuries during his short career. If he plays 150+ games, his numbers will be insane. The walks and strikeouts are both trending in the right direction and I expect 2023 to be his best year yet.
Milwaukee Brewers
How many saves will Devin Williams have?
Finally Devin Williams will have a full-time closers role. I have little doubt that he will exceed. He is one of the best at inducing soft contact and also puts up a 14 K/9. The Brewers will need to be good enough for Williams to get the opportunities, and if they are, I think he could finish near the top at his position in value. The Brewers success is a major if.
Minnesota Twins
Does Jhoan Duran become the full time closer?
As a rookie, Duran really excelled posting a 1.86 ERA, 2.52 FIP, and almost 12 K/9. His fastball averages 100 mph and he has a curveball to work off of it. Minnesota acquired Jorge Lopez to help shut the door last season, but I think Duran is the guy. If you do not already have shares, go out and see if you can get some.
New York Yankees
Can we count on a Giancarlo Stanton bounce back?
Stanton's 30% strikeout rate and .211 led to one of the worst seasons of his career. Stanton is one year removed from a .273 average with 35 home runs and 97 RBI in only 139 games. He's been a productive fantasy player for over a decade and 2022 was not the start of a decline.
New York Mets
Can David Robertson hold onto the closers role?
After experience a rebirth of his career in 2022 with the Cubs, the Mets acquired Robertson at the deadline as a back of the bullpen option. Well, an injury to Edwin Diaz has Robertson as the primary option to close games for one of the best teams in the league. The 37 year-old might have enough left in the tank. How patient will the team be if he struggles?
Oakland Athletics
Should you pick up Esteury Ruiz?
Acquired this offseason from Milwaukee, Ruiz impressed in spring training earning the center field job. His elite speed makes him an option in super deep leagues, and if he can hit event .245 you'll see him scooped up in smaller leagues. Stealing 40+ bases is not out of the question. Might be worth it to get out ahead of the trend and roster Ruiz and see what happens.
Philadelphia Phillies
What can we expect from Bryson Stott?
In the first half of 2022, Stott batted .188 before turning it around in the second half batting .276. He's kind of a forgotten piece to this lineup, but will have an opportunity to get everyday at-bats at second, a position that is not very deep in fantasy. Personally, I like the trajectory he is on and automatically becomes a watch list/bottom of your fantasy roster option.
Pittsburgh Pirates
Will Roansy Contreras and Mitch Keller become viable fantasy options?
Mitch Keller offseason bullpen sessions leading to preseason hype has become a fantasy baseball tradition. Last season was his best season to date, and a promising second half helped earned him the Opening Day start. Contreras struggled in his first taste of the big leagues but you could see why the Pirates are high on him. Either one could take a big step forward and I wouldn't be surprised. It's been awhile since a Pirates pitcher really impressed, maybe 2023 is the year.
San Diego Padres
Fernando Tatis
I figured there's enough questions around Tatis that his name alone would do the job. Will he be healthy? Will he be the same player? What position will he play? He's owned in all leagues, now it's time to see him perform. His value might be all over the place but let's not forget what we saw before the wild past year or so.
San Francisco Giants
Will Michael Conforto return to his prime numbers?
A strange offseason and injury resulted in Conforto missing all of 2022. His 2021 was one of his worst seasons as a pro, yet he still put up a 107 wRC+. A player with his talent at the plate should not be ruled out as a comeback player of the year possibility. If he does return to his career marks, he would be a steal for many who drafted him.
Seattle Mariners
Which Closer takes over the job?
Veteran Paul Sewald and 2022 rookie Andres Munoz are the primary options to claim the closers role in Seattle. Both are quality arms and a committee approach, at least to start, will take their value down a notch. I'd bet on Munoz eventually taking over. He has legit closer stuff posting a 13 K/9, 2.49 ERA, and 2.04 FIP as a rookie.
St. Louis Cardinals
Which outfielder shows the most fantasy value?
Lars Nootbar, Tyler O'Neill, Jordan Walker, and Dylan Carlson are all in the mix for playing time. O'Neill had a disappointing 2022, but the power ability and speed are hard to give up on. Nootbar is another fantasy break out pick of many after an impressive, yet small, sample size. Walker, a top-five prospect, has the talent but we know how it can be for rookies. Someone from that group is going to put up value, it's up to you to figure out which one.
Tampa Bay Rays
How many innings will Jeffery Springs pitch?
In 2022 Jeffery Springs posted a 2.46 ERA and 3.04 FIP across 135.1 innings and 25 starts. Springs was yet another draft darling as we have all seen the Rays turn guys into value time and time again. After being a bullpen arm for years, just how many innings will Springs get in 2023?
Texas Rangers
Can we count on Jacob deGrom?
You know the story – elite talent with a brutal injury history. A fresh start in Texas just feels better for the mojo. This is about as straight forward as it gets. You get a healthy deGrom, you get a top level talent.
Toronto Blue Jays
Is Daulton Varsho as valuable as the draft says he is?
Power and speed with catcher eligibility made Varsho's draft value jump from 2022. Last season Varsho slashed .235/.302/.443 with 27 home runs and 16 stolen bases. A pull-heavy hitter who doesn't hit the ball particularly hard and doesn't help you with average. We'll see if Toronto allows him to steal more or less than Arizona. I'm much lower on Varsho than most.
Washington Nationals
Which reclamation project earns fantasy value?
Jeimer Caldelario, Dom Smith, and Corey Dickerson are three veterans brought on in hopes of a bounce back and trade situation. A long shot to really provide value, but you can at least get consistent at-bats for your fantasy team from these players. Maybe, just maybe, one hits well enough to get traded and have a large role on a better team helping his value much like Brandon Drury last season.