Analysis
Fantasy Baseball: Prospects to Watch After Jarren Duran's Promotion
Prospect Jarren Duran was just promoted, rewarding anyone who had him stashed on their roster in fantasy. Here are some other minor leaguers to monitor.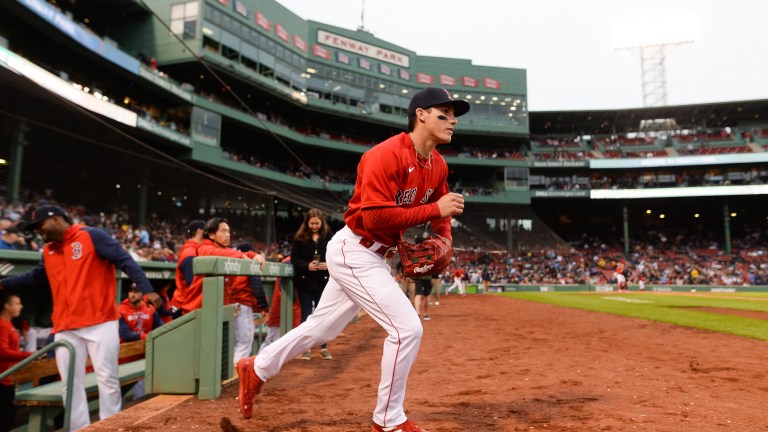 We are officially at the mid-mark of June, and sample sizes have begun to stabilize. Hot starts and unsung hero's have found a home on most fantasy rosters, leaving the waiver wire less attractive. It is time to think outside the box and keep an eye on some minor leaguer's who could boost your lineup.
Patience is key. These options might not get the call immediately, but getting out in front of the trend could pay dividends. I would suggest limiting your roster space to one minor league player.
First, decide if you need a pitcher or hitter. Second, focus on playing time once called up. Will this player get everyday at-bats? Will they be inserted into the rotation for the rest of the season? If you are not ready to pull the trigger on a roster move, add these names to your watch list.
Vinnie Pasquantino – 1B – Royals (Triple-A)
2022 Stats: .284/.377/.620 17 HR 155 wRC+
It is only a matter of time before the Royals fascination with Carlos Santana comes to an end. Santana continues to struggle, while Pasquantino has proved he's too advanced to be stuck in Triple-A. Since joining the Royals organization in 2019, Pasquantino has posted a wRC+ over 150 at each level. The Royals are currently 27th in home runs and could use his power in their lineup.
Playing time should not be an issue. The season is lost and Kansas City will make Pasquantino the everyday first baseman once called up. If Benintendi is moved, a lefty bat will be needed near the top of the order and Pasquantino should slide right in.
In Triple-A he's posted a 12.6% walk rate with a 13.4% strike out rate showing there's not a glaring hole in his offensive approach. An easy add for an 12 plus team league.
Jarren Duran- OF – Red Sox (Triple-A)
2022 Stats: .305/.379/.531 6 HR 11 SB 140 wRC+
You might remember Jarren Duran from his brief stint with Boston in 2021. Since returning to the minors in 2022, Duran has flashed the tools that made him a top prospect. In Triple-A, Duran has shown off his power and speed with six home runs (slugging .531) and swiping 11 bags.
Boston ranks 27th in stolen bases and could use a boost from Duran's speed and athletic ability. Jackie Bradley Jr. currently holds the role Duran would likely fill, but Bradley's inability to hit could push him to the bench as an expensive defensive replacement.
It was actually just announced today that Duran will be promoted to the big league club, so the time is now to grab this speedster before it's too late.
Riley Greene – OF – Tigers (Triple-A)
2022 Stats: .269/.345/.365 95 wRC+
Riley Greene remains on top prospect lists due to an injury that kept him off the Opening Day roster. He's appeared in 13 games since returning from injury and is still getting up to speed. Regardless of the numbers, Greene will be called up to the Tigers very soon.
Detroit is at the bottom of the league in about every offensive category. Injuries and underperforming has lead to a disastrous first half and likely a throw away season. We have seen the organization prioritize at-bats for young prospects like Spencer Torkelson and I expect the same for Greene. Adding an everyday player with some pop who will steal you a couple bags is worth a flyer.
Kyle Muller – SP – Braves (Triple-A)
2022 Stats: 62.1 Innings 2.89 ERA 1.18 WHIP 84 Strikeouts
Atlanta has used 10 different starters in 2022. There is no shortage of young, intriguing options, but Muller is taking a step above the others in Triple-A. In 62.1 innings, Muller has a career-high in strikeout rate at 33.2%, while only walking 8.3% of batters.
The issue with Muller will be opportunity. The Braves rotation has added standout rookie Spencer Strider who could hold onto that rotation spot. Charlie Morton has struggled, but do we really see the Braves changing his role?
Muller is a watch list add and automatic pick up if a starter gets injured or Strider winds up back in the bullpen.
Matt Brash – RP – Mariners (Triple-A)
2022 Stats: 18 Innings 3.50 ERA 1.22 WHIP 30 Strikeouts
No one will question Brash's stuff. Elite movement that fools batters and leads to high strikeout numbers. The issue has always been walks. Brash started five games for Seattle before returning to the minors and working out of the bullpen. In 18 innings he's posted career-highs in strikeout percent at 40.5% while walking 15% of batters.
The Mariners will need Brash again no doubt about it. They will give him every opportunity to succeed and if he puts it together, watch out. If Brash can get comfortable in the bullpen and earn a call up, he could be in line to pick up saves. Diego Castillo and Paul Sewald have been given opportunities and Brash would immediately be part of that mix. Of course, he has to put it all together first. Watch list add for now.