Analysis
Fantasy Baseball: How Each Deadline Trade Impacts Fantasy
Every deadline trade has a carryover effect when it comes to fantasy baseball. Here's your guide for how to respond post-deadline.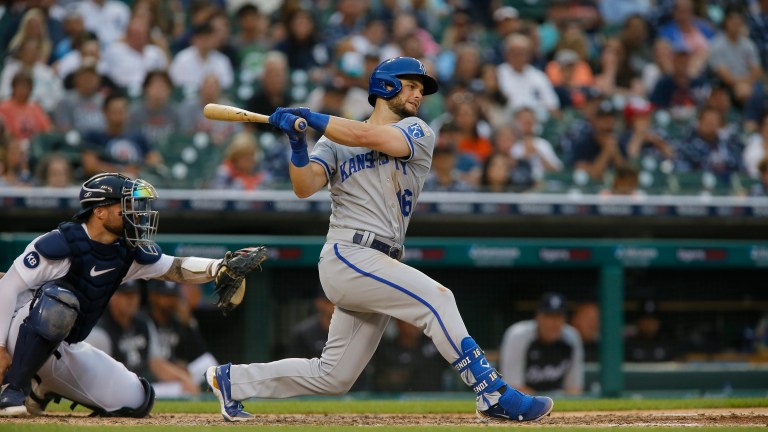 Whit Merrifield Traded to the Blue Jays
Blue Jays Impact: Merrifield finally gets moved out of Kansas City to a contender. He will likely assume the utility role, dropping his already questionable value. His ability to steal a base makes him an option in deeper leagues, especially with his versatility.
Royals Impact: With Salvador Perez back and Vinnie Pasquantino taking reps at DH, MJ Melendez (12.9%) is moved to right field. Melendez will get everyday at-bats hopefully leading to a productive second half. A 11.4% walk rate with 10 home runs and a 107 wRC+ shows that the 23 year-old has plenty of fantasy value.
Fantasy Move: Consider dropping Merrifield in shallow leagues for players with more upside. Melendez moves near the top of the waiver wire options for the second half.
Rasiel Iglesias Traded to the Braves
Braves Impact: The Braves have Kenley Jansen as their closer so it will be intriguing to see how this plays out. If Iglesias is moved to a set up role his value significantly decreases. Time will tell, but Iglesias might need to be traded off your team.
Angels Impact: The Angels need a new closer, and Jimmy Herget (0.1%) could be given the first shot. Herget has a funky delivery with great movement and does not surrender many walks. If the Angels elect to go with a veteran option, Ryan Tepera (1.7%) could earn an opportunity.
Fantasy Move: Watch each teams closer situation closely. If Iglesias is not getting opportunities, look to move him. If an Angels reliver gets more than one save opportunity in a row, he very well could be worth an add.
Noah Syndergaard Traded to the Phillies
Phillies Impact: Syndergaard gets a chance with a team pushing for the playoffs. To this point, Syndergaard has been mostly a deeper league arm or streaming option in 10-team leagues. His 7.20 K/9 and 3.83 ERA makes him a decent option if you need an injury replacement. Other than that, it's wait and see.
Angels Impact: The Angels acquired Tucker Davidson (0.1%) from the Braves who could be slotted into the rotation. Through 15 starts in Triple-A, Davidson has a 4.59 ERA with 10.76 K/9. He's an option, but if Reid Detmers (25.3%) is available I would prefer him for your Angels fix. After a brief stint in the minors, it looks like he is going to stay with the Angels the rest of the way.
Fantasy Move: Add Detmers and see if the changes he made in his arm angel while in the minors continues to lead to success. Keep an eye on Syndergaard. You never know how a chance of scenery can play out.
Jordan Montgomery Traded to the Cardinals for Harrison Bader
Cardinals Impact: The Cardinals need starting pitching and they went out and added two south paws. While I liked the Jose Quintana move, I love the Montgomery move. Through 21 starts, Montgomery has a 3.69 ERA to go along with a 7.61 K/9 and 1.81 BB/9. While he will not offer many strike outs, Montgomery is headed to a much weaker division and can provide solid outings as a back of your fantasy rotation piece.
Yankees Impact: The Yankees added a start in Frankie Montas so the rotation is not adding a prospect who would be available. Bader is currently injured and his fantasy value remains the same. Can swipe some bags, hit for a bit of power, but will not offer much more.
Fantasy Move: The only real move would be to drop Andre Pallante if he is on your team. Bader is a name to monitor but his injury situation could carry him to the end or near the end of the fantasy calendar.
Brandon Drury Traded to the Padres
Padres Impact: Drury goes from the number two hitter and everyday player to a contender that just added Juan Soto. Great American Ballpark played a large role in Drury's turnaround. At home he slashed .298/.354/.561 compared to .241/.309/.462 on the road. He'll like get plenty of playing time, but I could also see him used more as a utility man decreasing his value.
Reds Impact: With plenty of new names set to join the Reds, Alejo Lopez and Jose Barrero are likely the first two options. Lopez brings a bat to ball profile while Barrero, once a top prospect, offers more power. Neither project to bring much fantasy value.
Fantasy Move: The time to trade Drury was probably anytime before the deadline. If you can still get a useful return, I would suggest trading him.
Tyler Mahle Traded to the Twins
Twins Impact: Mahle finally gets out of Great American Ballpark, his greatest enemy. His value should increase significantly as his ERA is more than a point higher at home than on the road. All of his numbers, including strike outs, increase away from Great American Ballpark making him a great option to target in a trade.
Reds Impact: The Reds will likely need to eat innings with minor league starters. Justin Dunn will get a shot (mentioned in Castillo trade) but I would wait and see before picking him up.
Fantasy Move: Target Tyler Mahle in a trade. You should see an uptick in his wins, along with strike outs. I could see Mahle being a big boost for the second half and into your fantasy playoffs.
Mets Trade for Darin Ruf & David Robertson
Mets Impact: Ruf and Robertson make the Mets a better team, but will not do much for your fantasy team. Robertson moves from a closer role in Chicago to a set up role in New York. His value will tank unless you are in a holds league.
Giants Impact: Ruf played more of a platoon role in San Francisco holding some value. I think the Giants will continue to be active before the end of the deadline, so stay tuned.
Cubs Impact: A new closer is needed in Chicago. Rowan Wick (2.7%) has four saves this season and will likely take over ninth inning duties.
Fantasy Move: Drop Robertson in a saves league and pick up Rowan Wick. Keep a close eye on who is getting the ball in the ninth for Chicago.
Joey Gallo Traded to the Dodgers
Dodgers Impact: The Dodgers have been looking to upgrade the outfield (and depth) especially with Chris Taylor's injury. Gallo brings a power bat with a 38.8% strikeout rate. After hitting 38 home runs last season, he only has 12 in 2022. A change of scenery might be a refresh for Gallo who can get back to having fantasy value. In all leagues, he immediately becomes an option.
Yankees Impact: Benintendi was acquired earlier this week making Gallo's fate clear. I do not see much of an impact elsewhere on the roster.
Fantasy Move: All leagues should go ahead and roster Gallo. Even if it is just for a short time. The swing and miss might hurt, but if he can regain form you are adding a major home run threat.
Juan Soto & Josh Bell Traded to the Padres
Padres Impact: An unbelievable upgrade in San Diego. Soto's value is already sky high and it is only getting higher. Both Soto and Bell will benefit from being in a lineup with players who can get on base and hit the ball out of the infield. Once Tatis is added, the Padres will have the most dangerous lineup in baseball.
If you are fighting for a shot at the playoffs, moving Bell would certainly bring back two quality starters and should be considered. If you own Soto, well, congrats.
Nationals Impact: Lane Thomas (1.8%) would be the first move I'd consider. His numbers are down from last season, but everyday at-bats have value. Maybe he finds the grove we saw late last season. Josh Palacios could get moved to the active roster as well. The 27 year-old has a 121 wRC+ with 18 stolen bases in Triple-A.
Fantasy Move: List to offers for Bell as his value will likely never be higher. If you believe he can keep this up, hold on. If you get multiple plus players, trade him away. First base is a rather deep position you can fill easily. Add Thomas to your watch list.
Jorge Lopez Traded to the Twins
Twins Impact: This is a great move for the Twins. Jorge Lopez has been great since moving to the bullpen and holds a 1.68 ERA, 0.97 WHIP, while racking up 19 saves. Minnesota will not have to rely on rookie Jhoan Duran as often in high leverage situations, which could decrease his value. Lopez should see his value increase.
Orioles Impact: Rush over to the waiver wire and scoop up your best guess at Baltimore's next closer. Dillon Tate might get some opportunities but I am targeting Felix Bautista (5.9%). Bautista ranks in the 99th percentile in fastball velocity and 97th percentile in strike out percentage. His stuff plays the part, now it's time to give him the opportunity.
Fantasy Move: Hold onto Lopez, drop Duran, pick up Bautista. Personally, I would even take a flyer on Bautista in a 10-man league.
Jose Quintana Traded to the Cardinals
Cardinals Impact: Quintana has seen a resurgence this season in Pittsburgh. He owns a 3.50 ERA while cutting his home run to fly ball rate down to 7%, much lower than his 13% average the past five seasons. Quintana loved pitching in Pittsburgh where he held a 2.42 ERA compared to a 5.22 road ERA. The advanced metrics are pushing me to look elsewhere until I see a few starts in St. Louis.
Pirates Impact: The obvious choice would be to call up Roansy Contreras (4.1%). The rookie flashed his abilities across nine starts this season with the Pirates, and owns an 11.01 K/9 and 2.84 ERA in Triple-A. His numbers with the Pirates are not amazing, but his upside is.
Fantasy Move: If you are in need of pitching, a flyer on Contreras might make sense. I would not put him at the top of my list, but deep leagues or teams needing a bump in strike outs can roll the dice.
Jake Odorizzi Traded to the Braves
Braves Impact: Odorizzi has struggled with injuries, but when healthy has pitched effectively. His 6.9 K/9 makes him less attractive of an option for fantasy. However, the Braves play the Marlins, Athletics, and Nationals (six times) in September and could be a streamer option late in the season.
Astros Impact: The timing is perfect. Lance McCullers (48%) will be returning from injury soon and should slot right into the rotation. McCullers has a career 10.06 K/9 and 3.57 ERA and will soon be rostered in most leagues.
Fantasy Move: Pick up Lance McCullers. Most completive leagues have McCullers rostered already, but over 50% have him out on the waiver wire. I doubt there is a higher impact arm on the wire at this point.
Original Post:
As contenders scramble to improve their roster and sellers trade off key contributors, the fantasy world waits to see how these moves could impact their rosters. While some players will lose value, call ups or bench bats could gain value with an increased opportunity.
I wanted to dive into each impact trade from the deadline and note how it could have a fantasy impact. This will be updated post deadline as well.
Note: Certain trades will be omitted due to lack of fantasy impact.
Andrew Benintendi Traded to the Yankees
Yankees Impact: Benintendi will be inserted into one of the most dangerous lineups in the league. Since being acquired, we have seen him slotted in the one, six, three, and five hole. Regardless of where he ultimately lands, being in an improved lineup should help him scored more runs and collect more RBIs. Although he's not much of a power threat, Benintendi will be hitting in a much more hitters friendly park than Kansas City.
Royals Impact: Look for prospect Nick Pratto (1.2% owned) to get increased at-bats. The first baseman has been playing the outfield and should gain eligibility there soon. He has a 123 wRC+ through 48 at-bats this season with a 14.5% walk rate. Pratto has shown power in the minors hitting 17 home runs this season.
Potential Move: Pratto moves near the top of the waiver wire list for deep leagues. Opportunity and patience at the plate will help booster a team and his OF/1B flexibility never hurts.
Daniel Vogelbach Traded to the Mets
Mets Impact: Vogelbach has started five of seven games since joining the Mets. Slotting into the DH spot, Vogelbach has a chance to increase his value batting fifth in a lineup as strong as the Mets. His 15% walk rate and .353 on-base percentage will lead to more scoring opportunities. Only question I have is if Vogelbach is viewed as the everyday DH going forward.
Pirates Impact: The name to keep an eye on is Cal Mitchell (0.2%). In Triple-A this season, Mitchell slashed .326/.372/.494 with five home runs and seven stolen bases. The 23-year-old rookie has other competition, but a better bat-to-ball (with less pop) than Jack Suwinski which could help in a few categories. Assuming he improves with increased at-bats.
Fantasy Move: I would add all young Pirates outfielders to my watch list. One of them is likely to claim more playing time than the others and could help your lineup in a deep league.
Tyler Naquin Traded to the Mets
Mets Impact: Naquin will likely be more of a reserve outfielder with spot starts against righties on occasion. His fantasy value remains the same – depth.
Reds Impact: Outfielder Jake Fraley (0.4%) will have a great opportunity ahead. In 2021 with Seattle, Fraley walked 17.4% of the time with nine home runs and 10 stolen bases. Fraley has a patient approach at the plate, can steal a bag, and flashed enough power to not hurt his fantasy value.
Fantasy Move: Fraley will be near the top of my watch list. Not worth adding yet, but if he proves he's healthy and getting at-bats, that's the type of flier you take in much deeper leagues here playing time is key.
Luis Castillo Traded to the Mariners
Mariners Impact: Castillo was the top pitching target at the deadline and the Mariners paid a steep price to acquire him. Moving to Seattle, Castillo will be in line for more wins while also pitching at a much more forgiving ballpark. The Mariners have the hardest remaining schedule so Castillo's abilities will be tested.
Reds Impact: Luis Castillo's departure leaves a large hole in the rotation. Cincinnati will likely call up Justin Dunn (0.1%) to showcase his stuff. There's a chance a prospect could get the call, especially if another rotation arm is moved, but for now Dunn seems to be the likely pick.
Fantasy Move: I do not see Justin Dunn as a fantasy option. In 11 Triple-A starts he's walked 5.19 per nine and struck out 8.76 per nine.
David Peralta Traded to the Rays
Rays Impact: The Rays have battled injuries along with underperforming outfielders all season. Peralta brings a .248/.315/.457 slash line with 12 home runs and a 109 wRC+. As always, playing time can be tricky with the Rays. He's a better option than the majority of the outfielders on the roster which leads me to believe he should get plenty of run.
Diamondbacks Impact: Outfielder Jake McCarthy (0.5%) is going to get an extended look in left. The 24-year-old is slashing .273/.323/.438 with three home runs, four stolen bases, and a 111 wRC+. If McCarthy gets the lions share of playing time, he should be an option in deeper leagues.
Fantasy Impact: I see Peralta around the same value, if not less. McCarthy very well could be in play for deeper leagues. If Arizona lets him attempt some steals his speed can help in a category league.
Josh Hader Traded to the Padres
Taylor Rogers, Estury Ruiz, others traded to the Brewers
Brewers Impact: The Brewers must think they have enough in the bullpen to close out games in October, and they aren't wrong. Rogers can either close or fill in high leverage spots if Devin Williams (38.1%) starts to close out games. Williams becomes a must pick up player and Rogers value could tank if not receiving save opportunities. Ruiz has a chance to gain value in deep leagues if playing time is there.
Padres Impact: Josh Hader's value remains about the same as he's still going to rack up saves. Playing time created from Ruiz departing will likely not be significant for fantasy purposes.
Fantasy Moves: Pick up Williams immediately. If you own Rogers, well, you might need Williams to punch another wall to get consistent save opportunities.
Trey Mancini Traded to the Astros
Three team trade with Houston, Baltimore, Tampa Bay
Astros Impact: Mancini can slot into first where Yuli Gurriel has struggled mightily. Mancini being in a lineup this strong only helps his value and should be a trade target for your fantasy teams. Moving away from the extended wall in Baltimore will do wonders for his power numbers.
Baltimore's Impact: Mountcastle and Mancini were the first base/ DH combo making the trickle down a bit difficult to read. I would guess Santander, if not traded, will move to DH and Kyle Stowers (0.0%) becomes an option in the outfield. Stowers, Baltimore's No. 7 prospect, is slashing .263/.358/.536 with 17 home runs in Triple-A.
He has hit at every stop making him an interesting watch list player with plenty of second half upside. Even if he's not the first call up, keep an eye out for him.
Rays Impact: Jose Siri has all of the tools in the world. Putting them all together is a different story. if anyone can do it, it's Tampa. I currently see it as a non-factor but monitor the playing time and see if he has made any changes at the plate.
Fantasy Move: Trade for Mancini, but don't overvalue him. If you can make a one-for-one from a position of strength it makes sense. Add Stowers to your watch list and monitor the transaction page to see if he gets the call.
Frankie Montas Traded to the Yankees
Yankees Impact: Montas immediately becomes more important in category leagues where his chance to rack up wins is high. However, I would trade Montas if I had him on my team. Pitching in Oakland helped his numbers significantly. A home ERA of 2.36 compared to his 5.01 road ERA in 2022. Expand that to his career numbers of 3.23 ERA at home compared to 4.34 ERA on the road and you can see the concern.
A's Impact: Oakland will more than likely use Zach Logue (0.2%) in Montas spot. Not much fantasy value there. If Luis Medina or JP Sears get a shot things could be interesting.
Fantasy Move: Sell high on Frankie Montas and try to get two players back to solidify your team before the playoffs.
Christian Vazquez Traded to the Astros
Astros Impact: Vazquez has been outstanding this season slashing .282/.327/.432 good for a 111 wRC+. Owned in only 64.3% of leagues, Vazquez is a no-brainer pick up even in a 10-team league. He was hitting fifth and even second at times in Boston but will likely move towards the bottom of the order in Houston
Red Sox: Kevin Plawecki is the lone catcher on the 40-man roster as of this trade. Reese McGuire was later added in a second trade. Regardless of who's catching in Boston they are unlikely to provide much fantasy value.
Fantasy Impact: Vazquez should be picked up in all leagues. Even with the drop in the order, his bat should play.
Tommy Pham Traded to the Red Sox
Red Sox Impact: Pham moving to Boston does not change how I view him as a fantasy player. Two of the past three years have been mediocre to bad with 2021 (102 wRC+) floating around average. He will not be in the three hole like he was at times with the Reds, dropping his value even more.
Reds Impact: Similar to the Naquin discussion from earlier, starting outfield spots are up for grabs. Albert Almora Jr., T.J. Friedl, and Aristides Aquino are all options. Of these names, I would not bother rostering any of them.
Fantasy Impact: Pham's small value gets even lower. I would even drop him in most leagues and chase higher upside youngsters who will get an opportunity.