Analysis
Dynasty Mailbag: Bobby Witt and Bryce Miller for Gunnar Henderson?
Evaluating trades, prospects, and the Detroit Tigers' entire roster in this week's edition of the Dynasty Mailbag.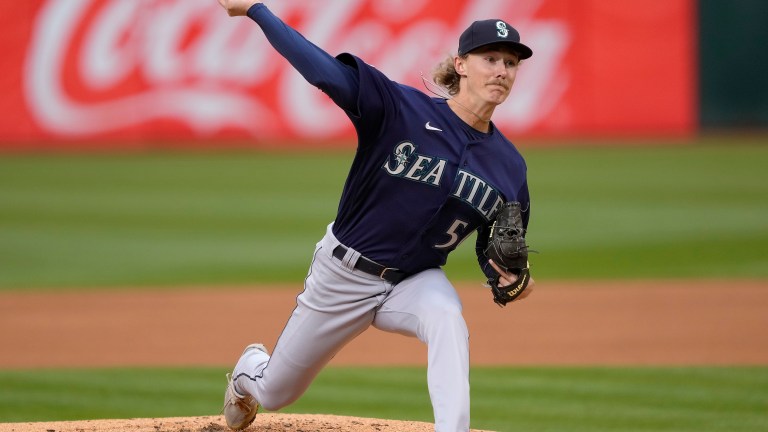 It is with great pleasure that I bring you this week's Dynasty Mailbag. As always, I put out a tweet on Monday asking for your questions, and I'll answer whatever you want. It doesn't have to be super serious around here. With the draft coming and trade deadlines in your leagues coming up, don't forget you can always DM questions you may have if you need them between mailbags.
The real question is whether we should do anything in life. Yes, they should. Don't build up a good young team and try to compete. Instead, consider trading now in preparation for the inevitable rebuild. 
While we're here, why are there Jonathan India trade rumors? Isn't the idea to have a group of talented players? The Reds simply need good players, and India is one of them. They could move him or someone else to left field, as I contend anyone can play that position.
Yoop, no one can be as bad as Al Avila. That man ruined many of my evenings with his terrible roster building and piss-poor attempts at drafting and developing prospects. Few people in my life have let me down more than Al Avila. I hope no fanbase ever has to deal with him being in charge of their team's rebuild. I have never met a more risk-averse general manager who consistently makes poor decisions.
I do think that the price for Gunnar Henderson is rather steep, but I understand why. Gunnar Henderson is starting to show improvement, but you just traded away a shortstop who hit 20 home runs and stole 30 bases last year, and he was on track to surpass those numbers this season. He is currently hitting .244/.282/.425 with 11 home runs and 21 stolen bases. 
Has Kansas City replaced Adalberto Mondesi with a healthier version of himself? I will not be reading the replies.
Furthermore, it should be noted that you traded away Bryce Miller, who has since recovered from two poor starts against the Yankees and the now-improved Texas Rangers. He did get to face Miami, but hey, if you pitch six innings of one-run ball with six strikeouts, you can't be too mad… unless you traded him. Sorry, Yoop.
Gunnar is performing well, having hit 10 home runs and stolen four bases, with a slash line of .241/.349/.465. Ultimately, I would not have made this trade. Instead, I would have tried to acquire another piece. Although Bobby Witt's ratios may be unimpressive, losing a player who has already hit 10+ home runs and stolen 20+ bases before the halfway point of the season, paired with someone who has the potential of Bryce Miller, is tough.
For those who are not in the know, Clay and I probably talk about Hector Rodriguez  approximately once a week, or so it feels. 
I love Hector Rodriguez and the tools he possesses. There has been a power explosion from him this year, as he has hit 10 home runs. Hitting 10 long balls in the Florida State League is a tough task, and then you throw in the fact he is hitting .297/.354/.549 and has even stolen seven bases. I believe this a prospect with 20/20 upside who could be a valuable asset in the outfield due to his strong defensive chops. 
Comps are tough, but I believe Rodriguez has the potential to be an above-average regular player who performs better in a corner but also hits toward the top of a strong lineup. Maybe think along the lines of a good Andrew Benintendi season as what you can expect, with a touch more power. His power and speed combination makes him an intriguing prospect that I would definitely consider placing in the back end of a top-100 list in fantasy and real-life baseball. 
Not a lot of them, that is for sure.
Apart from Riley Greene, the other hitters have a lot of question marks, and that includes Spencer Torkelson. I love Torkelson, and he shows signs of putting things together. He just needs to do it consistently. I would still lean toward keeping him because you probably paid a premium for him, whether that was in FYPDs or trades. 
Alex Lange is a reliable mid-level closer, unless he is traded. He could potentially make 20-25 saves, and in this economy, that would be a great get. Eduardo Rodriguez is a solid fantasy option, which brings our total to four. 
Tarik Skubal is another promising option, and he should be returning soon. When he's at his best, Skubal is a high-strikeout left-handed pitcher who has made significant progress. Perhaps he has the highest potential outside of Greene.
I wouldn't recommend any of the catchers, not even in 30-team leagues. I believe there are better options than Eric Haase. I like Parker Meadows, but that league must be one of the most obscure and challenging to compete in. Many of the players on the Tigers' 40-man roster serve as mere fillers. I do like Reese Olson as a deeper league option because I think he has the potential to be a high-upside reliever.
When it comes to minor league players, major league teams are not required to disclose injuries and often choose not to do so. I am not sure what is happening with George Valera, but he is receiving some playing time in the complex league, which is a positive sign. I hope he gets back to Triple-A quickly and can start mashing. 
Valera is still a better prospect in OBP formats due to his high-walk rates and lower batting averages. He is exactly what Cleveland needs in their outfield: a player who can hit for power and get on base consistently. He is on the Guardians' 40-man roster, so when he is ready, he should be called up.
However, when that will be remains uncertain. It's not as though anyone in that outfield, other than Rich Homie Kwan, is blocking him. May we gather together and hold a prayer circle for Valera to return to Triple-A soon! And then to Cleveland, where he may feel like crying every day because he lives in Cleveland.
No.
I am glad you asked, random stranger whom I don't know and communicate with on a nearly daily basis. 
Since I first learned about Torkelson, I have believed that he deserves every award, including the Cy Young, because he is truly exceptional. But regarding Jace Jung, who is a prospect I was not a fan of… 
However, Jace Jung has been absolutely on fire lately, raising his season batting average to .262 while walking 13.9% of the time. I was not convinced by a prospect who is limited to playing  second base and does not possess a significant amount of power. But Jung is hitting, and that is all that matters, maybe he just needed things to heat up because playing baseball in Grand Rapids early in the season sounds awful. 
If Jung can maintain this level of performance, perhaps he can earn a spot as a low-end regular player. I definitely don't hate the pick as much now as I did a couple of weeks ago. On the other hand, Peyton Graham is looking rough. A slash line of .206/.328/.324 in Single-A for a college hitter is, uhhh, not it.
Right behind my Birkenstock Bostons, which may be the single greatest shoe ever invented.
Without further ado, that's a wrap on this week's dynasty mailbag. Have a great Father's Day to all who are fathers. Have a great not-a-fathers day to all who are not fathers, and remember, pick up Moises Ballesteros, he's the f'n man.