Analysis
Dynasty Mailbag: Belli Bombs Are Back, and Josh Lowe Is for Real
Talking Cody Bellinger, Josh Lowe, and a whole slew of top prospects in the latest edition of Dynasty Mailbag.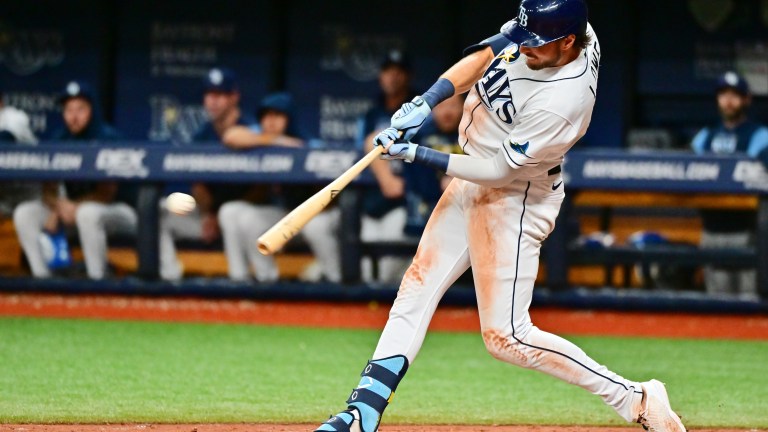 Another week, another rendition of maybe the greatest mailbag in the history of the planet? Like always, I put out a tweet on Monday and waited for the questions to come rolling in. You can always feel free to always DM on Twitter (@RhysBWhite) if you need any help with anything fantasy baseball related in between the mailbags. Without further ado, here we go!
Stats up-to-date as of Thursday, April 27.
Let's start with Adael Amador. The young Rockies prospect is not having the best go of it to start his season. He is hitting .226/.250/.228 in the seven games he has played thus far. I am not changing my stance on Amador just yet. It's only been a handful of games, and this guy's plate skills are just elite. Things will start to pick up for the Rockies' farmhand, and he will continue to soar up prospect rankings. If anything, I think this is a bit of a buying opportunity. Always buy low on prospects like this. His contact skills in Coors have me feeling some sort of way.
Andy Pages is having a fantastic start to the season and is seeing his prospect status soar, in my opinion. He's still the same three-true-outcome prospect that he always has been. He has never had a walk rate below 9% in his career, and this season he is walking 18.3% of the time. An interesting note is that he is striking out less to start his season, as he is only striking out 23.9% of the time. The power will always carry Pages, and the potential is there for a 30-homer season. Pages will always be more valuable in OBP formats, where I think he can walk 10% of the time, and in his best seasons, hit in the middle of a lineup and mash 30 homers. A little side note is that the Dodgers have presumably had many chances to move him, yet they have not done so. Therefore, I would be inclined to think that the smartest team in baseball thinks highly of him.
Things are looking up for Reds fans. Shoutout to Clay! Their farm system is booming, the pitchers are looking good, and Matt McLain is living up to the hype. On the season, he is hitting .320/.457/.627 with six homers and six steals. He is on fire. His value is rising, and while he is hitting well right now, I don't envision him being this guy forever. I think there is a bit of a selling opportunity here. I think you can get a better prospect than him right now in a trade.
Call this man up!!
Bobby Miller is right on the cusp of a call-up, or at least one would think so, especially with all the stuff the Dodgers pull. I do think that with pitching prospects, the best time to sell is right when they are on the verge of a call-up. Miller has been fantastic and has quietly been pitching well in the pitcher's nightmare that is the PCL. A 3.38 ERA with 28 punchouts in 21 ⅓ innings of work is nothing to sneeze at. Miller, right now, much like one of my favorite beers, is living the high life, and it is only a matter of time before he gets THE CALL. He's got fantasy SP3 upside. Just remember, it takes pitchers a while to adjust to the best hitters in the world. I know this is from last year, but this curveball makes me feel things I haven't felt in a long time:
David Festa has seen his value go up in my eyes. He had a jump in stuff in 2022, and now he is putting it all together by punching batters out, controlling walks, and not getting hit hard either. He is firmly a starter for me and someone I am actively trying to include in trade discussions. I mean, pitchers get hurt all the time, and Festa has shown enough that he should be in line for a call-up at some point. His stock takes a jump up if, for some reason, he goes to a team where a starting spot is easy to envision. But who knows? All he needs is a chance. Maybe he doesn't have the highest fantasy ceiling, but he can be a solid back-end fantasy starter for you.
You know what sucks? I like Jordan Diaz, but his start to the season has been cheeks. Much like the rest of the A's organization, nothing is going right with Diaz. He is striking out just south of 40% of the time. His value has to be taking a massive drop. He's not hitting, and he's not hitting for power. He's unplayable in almost any format, unfortunately.
Things are looking bleak for my dear Tigers. Ugh, why can't anything go right with this stupid organization that I love so much? At this point, I don't think you can sell, but definitely bench them and panic. I mean, you can't sell players who have no value and aren't producing right now. In dynasty leagues, you have to hold, but it's getting rough. At least Riley Greene is rocking a sweet mustache these days. *Cries myself to sleep.*
I would say now is the time to sell, but you never know with these Guardians pitchers. Especially after the wonderful start he had on Sunday, in which he struck out eight in 6 IP with a single earned run. There are more arms coming up this year in Cleveland, so getting a starting rotation spot might be tough, especially with Tanner Bibee also having a great debut this week. Plus, Gavin Williams is right on the doorstep. In shallower leagues, I definitely think you can sell. In your deeper leagues, I think you should hold on to him in case he can solidify himself a spot in the rotation. I mean check out this strikeout from Bibee, whew baby!
Oscar Colás has been downright awful to start his MLB career. He is in the bottom 1st percentile for average exit velocity, the bottom 11th percentile for hard-hit rate, and just isn't making enough contact right now. He is fitting into this White Sox team quite well, despite how poorly he's been hitting. I kind of wonder if he is a demotion candidate on a team with some depth, but this is the White Sox after all. I ultimately think he will be fine. He does have a good max EV and has shown enough contact skills in his career that this should be a slight blip on the radar. Maybe a trip down to Charlotte to free his mind and work on his swing will get him right.
The Josh Lowe breakout is upon us, and I, for one, am hyped. Josh Lowe has always had some swing-and-miss in his game, and he will ultimately be platooned against left-handed pitchers. But when he plays, he has been valuable. He has cut down the strikeout rate in the early going of the year, rocking a 19.1% K-rate. He even has four homers and four steals. This guy is well on his way to a 20/20 season if he continues to get playing time. Keep in mind that a Rays hitter is better for daily as opposed to weekly, and yeah, I am all the way in on Josh Lowe.
The Bellinger bounce-back is alive and well – at least it was, until he went on the paternity list like half of his former Dodgers teammates this week. The Dodgers were hosting the All-Star Game around that time, so maybe that's the most romantic time of the baseball calendar. I don't know. And as a result, well, two people… you know, I actually don't know. My parents never gave me that talk. Back to fantasy baseball. Bellinger is currently not playing as poorly as he was in 2021 and '22, and he's hitting .300/.380/.550 with five home runs and four stolen bases. Bellinger is back, I hope, because the game is better when he isn't abysmal. Congrats on the kid if you ever somehow read this, Cody. I am tepidly buying this bounce-back. I am afraid of getting caught with Bellinger, so I would advise selling high and getting a more stable fantasy asset. But that's just me.
I, for one, am just happy that Belli bombs are back in my life.
Great question, and honestly, if I were the O's, I don't know why I haven't made a move for a pitcher yet. I wouldn't be afraid to move any of these prospects, but the hardest one for me to move would be Cowser. I think he is the best prospect of the crop of guys presented here. I would have them ranked as follows:
Colton Cowser
Connor Norby
Coby Mayo
Joey Ortiz
Jordan Westburg
I would honestly be okay with moving a package involving any of Norby, Ortiz, or Mayo. Maybe Ortiz can show something, as he just got the call to play with the big league squad. But to answer your question, of the two, I would probably move Norby and Ortiz because I think you can get a solid pitcher back for those two. Norby might have the most refined hit tool of the bunch, which might help a team looking to move a pitcher. Maybe the Pirates, who are definitely not this good, would be willing to move Mitch Keller, and in that case, I would move any of these prospects to get Keller. Even if I think Mitch Keller is overrated, that's the type of upside the O's should be shooting for.
Alright, I look forward to doing this next week. Tell your loved ones you care about them, and don't film people in the gym. That's my biggest gripe right now. My solution? Ban tripods at the gym.