Rankings
Fantasy Baseball FYPD: First Year Player Draft Rankings
With the season only a few weeks away, and dynasty leagues starting back up it is time to turn your attention towards the stars of tomorrow.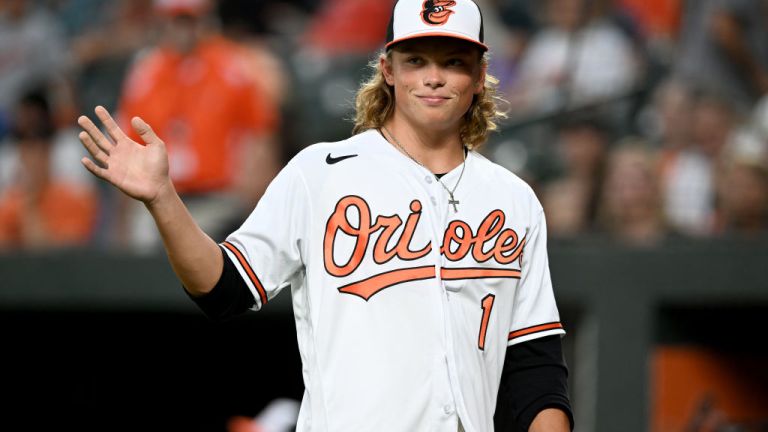 One of the beautiful things about dynasty baseball is that managers are able to think about the present, as well as the future of their roster. We are gathered here to discuss players that will be available in your leagues First Year Player Drafts (or FYPDs for short).
For the most part all dynasty leagues have a FYPD as a way to introduce new young talent onto rosters. Something to note is that one of the most fun parts about playing in a dynasty league is that they are complex. For instance, some of the players from Nippon Professional Ball (NPB) and other professional leagues such as the Korean Baseball Organization (KBO) may not be eligible for FYPDs in some leagues. I play in a few of those leagues, and while I don't enjoy that little wrinkle I note it because those players do make their way onto my list, so just ignore that set of players if your league doesn't allow you to select them.
A little thing about me is I prefer to play in OBP leagues, so my rankings are best applied to those sorts of leagues. As well as that, I like to include tiers because I find for me that's a better way of discerning players as opposed to just straight ranking them. The tiers are as followed:
S-Tier Prospects
A-Tier Prospects
B-Tier Prospects
C-Tier Prospects
D-Tier Prospects
This is a copy of the popular tier system that you may have seen on other pieces of content. I think it best applies here because unlike a real-life prospect list we aren't basing it off the 20-80 scout scale. S-Tier prospects are prospects that top 25 types of guys. A-Tier prospects will be prospects that would fall between 26 and 50 on a list. B-Tier prospects are prospects that would slate in around 51-75. Then there are C-Tier prospects those are the guys that span from about the 75th overall prospect to about 150. To conclude the tiers there are D-tier prospects and these are anyone past about 150th overall on a list.
S-Tier Prospects
1. Jackson Holliday, SS Baltimore Orioles
I think this it is starting to become accepted to place Holliday over Jones in FYPD rankings. Both are great prospects and I can see why you would put Jones over Holliday, but I think Holliday has slightly less question marks. Holliday has a better hit tool, and I think will also run higher OBPs. I am fairly confident Holliday will hit for more power than Jones. I wouldn't be surprised to see Holliday posting .280 seasons with a 10% walk rate with 30 homers, this is obviously a 90% percentile outcome but it's a slightly more appealing package. Hopefully he does touch home in a game 163, because his dad may or may not have.
2. Druw Jones, OF Arizona Diamondbacks
Druw Jones is the son of a possible hall of famer, and is also a good player in his own right. He passed the Diamondbacks right of passage and got surgery on his shoulder and should be good to go relatively quickly in the season. There is a lot of projecting to do with Jones' power, but he is a force on the base-paths and could routinely steal 25 bags. The ultimate upside is a .270 hitter with good walk-rates, 25 homers and 25 steals a season. 
3. Termarr Johnson, 2B Pittsburgh Pirates
Arguably the best pure hitter in the draft, Termarr has all the makings of a fantasy stud. After a rough start in the complex league (small sample-size) Johnson showed why he was so highly touted with a 73% contact rate and a 32% hard-hit rate in SIngle-A. It's a potential .280 bat with 25 homers and he could even pitch in with a handful of steals. I don't go out of my way too much, but I am fairly confident Termarr will be very good for a long time. 
4. Kodai Senga, P New York Mets
The next two players are guys who you should move up your boards if you are in a competitive window and have a high pick. Senga is slated to be the number three starter for the Mets after getting himself a nice $75 Million this offseason to come over. Senga has that devastating splitter that is going to be a problem, and become a staple on Pitching Ninja. There is immediate impact here for your teams as a moderately high strikeout guy, think in the 9.5-10 K/9 range who posts solid ERAs and WHIPs. He's a plug-and-play SP3 for whoever drafts him. 
5. Masataka Yoshida, OF Boston Red Sox
You don't get $90 Million from a team unless you are good right? Projection systems are conservative by nature but when you have projection systems saying you may hit .280-.300 while projecting 15-20 homers, you've got my attention. Oh, and keep in mind these projections are for a guy who is just coming over to play Major League Baseball. He's not a five-category contributor but he should post an elite average, and pitch in everywhere else while hitting lead-off for the Red Sox. If you are a rebuilding team I can understand bumping him down your draft board, but I am fairly confident this guy is going to be a low-end OF2, high-end OF3 for someone. 
6. Elijah Green, OF Washington Nationals
The name of the game with Elijah Green is upside. If you were to transport me to the year 2040 and tell me that Elijah Green has posted a few 30-30 seasons I wouldn't be surprised. But in this scenario if you told me he never progressed past Double-A because of his hit-tool, I also wouldn't be too shocked. The range of outcomes with Green are pretty massive. There is elite power and speed potential here, and that's what we are chasing. I just have questions about the hit tool, and if he can't make solid contact then the power and speed are nice but ultimately won't play as well in the fantasy game.
A-Tier Prospects
7. Spencer Jones, OF New York Yankees
I am not saying he's the next Aaron Judge, but he does have all the ingredients to be the next Aaron Judge for the Yankees. The former Vanderbilt Commodore is massive, as we all know he's 6'7" and he has the sort of power that makes any ballpark seem small. He has the normal issues that taller players have and it's just getting those massive levers in sync. When he figures it out he can be a perennial 30+ homer bat, especially being a left-handed batter who can deposit balls over that comically short right-field porch in Yankee Stadium. He also makes enough contact, and draws his fair share of walks so he should be a decent four-category contributor who hits in the middle of a lineup. I even think he can sneakily steal 10-12 bags a year during his first few years, and anything helps in the steals department. 
8. Chase DeLauter, OF Cleveland Guardians
The former James Madison product started the season as a potential 1-1 candidate and after breaking his foot he ended up in a great situation. DeLauter has some serious tools, as he could routinely have 25 homers and 15 stolen-bases. There are some concerns about the swing-mechanics but the Guardians can fix that. He can catch-up to velocity pretty well for a "small school" bat. I like the upside here and when you mix that in with the Guardians Player Development staff we could see DeLauter explode.
9. Brooks Lee, SS Minnesota Twins
Lee is leaving the friendly confines of San Luis Obispio, which is beautiful, and is now a Minnesota Twin. Lee doesn't have any standout tool but he is a bunch of above-average tools all wrapped into a nice package. There will be years where he hits .270 with 25 jacks and pitches in with 10 stolen-bases. I don't think the upside is tremendous here but the floor is super high. He probably gets a bump up in value as he ends up at third-base because of the dearth of the position.
10. Gavin Cross, OF Kansas City Royals
Cross is a fun prospect, I could very well see him having a bit more upside than I am letting on but he is a Royals prospect so you never know. But the upside here is a 25 homer bat who hits in the .250-.260 range with okay walk-rates and 15-20 swipes. He is more power over hit profile, but I don't think he sells out to tap into that power.
11. Cam Collier, 3B Cincinnati Reds
So I came into making these rankings thinking I was going to love Cam Collier, but I believe this ranking would make me the low guy on him. He did have a sparkling debut when he became a professional, hitting .370/.514/.630 in his 35 plate appearances at the complex level. However, I am just not sold on his ability to make contact. I think the power is closer to above-average so 22-25 homers as opposed to 30, and I think he'll hit like .260 with solid walk-rates. Not a bad player by any means, just I like the guys I have in front of him more. Given the state of third-base maybe you bump him up in your own rankings but I think he will be a solid contributor as opposed to a possible star.
12. Zach Neto, SS Los Angeles Angels
Neto already has spent time in Double-A so if proximity is your thing then maybe you want to move Neto up. Neto won't blow you away with any of his tools but he covers all the bases. He's got five-category contributor and more valuable in roto formats written all over him. He could be a 15 homer, 20 stolen-base guy who hits .260 with good run and RBI totals. Not the sexiest player but he will be rosterable in any format, and could even be the first bat to make it from his draft class.
B-Tier Prospects
13. Drew Gilbert, OF Houston Astros
Gilbert is a fun player, and sometimes it's just fun to have guys you like to watch on your roster. He's got speed, and he will be able to pitch in with a handful of homers here and there. He strikes me as the type to hit at the top of an order so that should result in his fair share of run opportunities. He's got a Brett Garnder skillset to him, should pitch in with 15-18 homers and 20+ stolen-bases.
14. Kevin Parada, C New York Mets
The city boy of this draft, Kevin Parada has all the makings of a stud fantasy catcher. You will never confuse him for Trea Turner or prime Dee Strange-Gordon but he can pitch in 5-10 steals a season while hitting his fair share of homers. The eleventh overall selection just got done launching 28 homers at Georgia Tech before signing with the Mets. I believe he could be a perennial 25-30 homer bat in the majors. With that power he will post solid contact-rates to go along with a patient approach that will give him a bump in OBP formats. His bat is good enough that even if he can't stay as a catcher he will still be a good first-baseman for your roster.
15. Dalton Rushing, C Los Angeles Dodgers
I had the pleasure of seeing Dalton Rushing in person this year as he played at Rancho Cucamonga and this guy rakes. He hit two homers and was a few inches foul of three in a game. He hits the ball hard and gets on-base so in OBP formats the former Louisvile Cardinal will shine. I think his catching days are numbered but a potential 30 homer bat that walks nearly 10% of the time at first-base is an attractive option. He is ranked behind Parada for me because I am more confident in Parada sticking behind the plate.
16. Jett Williams, SS New York Mets
Jett is such an appropriate name for a player with the wheels that Williams poses. Think of him like a C.J. Abrams starter kit where you may question the power but you can't question the speed. He pairs that speed with good bat-to-ball skills and should be an asset in batting average formats and should get on-base at a solid clip as well. The upside here is multiple seasons where Williams grabs 25+ stolen-bases, hits 15-18 home runs and hits in the .270-.280 range. The Mets have also done a good job of developing prep hitters lately, and luckily he isn't a prep outfielder so he might not get traded like PCA and Kelenic.
17. Cooper Hjerpe, P St. Louis Cardinals
Hjerpe is going to get some of that Cardinals devil magic dusted on him and he's going to become a fantasy stud. The former Oregon State southpaw presents a funky look and should post solid strikeout rates. The command will allow him to not post high walk-rates keeping his WHIP under control. He may be a high strikeout SP3 with potential for more. He's the best non Senga pitcher in this draft and he provides about as much floor as you can expect from a pitching prospect.
18. Felnin Celesten, SS Seattle Mariners
The top player coming to us from the international market, Felnin Celesten has a gorgeous swing and a projectable body. Seattle does a fantastic job with their IFA's and I would expect nothing different this time around. There is feel for power and contact here and as he fills out there is going to be a lot to like. He is super far away but the upside here is immense. In my opinion he's head and shoulders above his young peers and in a year or two he could have been a steal for you.
19. Eric Brown Jr., SS Milwaukee Brewers
If funky swings with power and speed are your thing then Brown is the guy for you. Brown has the speed and explosiveness to be a stolen-base threat and has shown the power to possibly be a 20-20 threat at the highest level. It will all come down to the hit tool, which he shows solid bat-to-ball skills currently but I question how he will fare against more advanced pitchers. We shall have to wait and see on that, but this is a good gamble on your end with the way the Brewers have been developing bats as of recently.
20. Dylan Lesko, P San Diego Padres
Who doesn't love a good lottery ticket, and currently that is what Lesko currently is in FYPDs. There is all the upside in the world with Lesko as the stuff is nasty but he is recovering from TJ so you'll have to be patient. The payoff may be well worth it in the end. There is SP2 upside here, but the downside like most prep pitchers is equally as low.
C-Tier Prospects
21. Cade Horton, P Chicago Cubs
Horton doesn't have the longest track record of success but a starter who has reached 98 and should be a quick mover is worthy of this ranking. Horton projects as a high strikeout SP4 type with a nasty slider that should generate solid swings-and-misses. The Cubs have done a solid job with arms as of recently so that is a nice bonus for both Cade Horton and anyone who rosters him.
22. Justin Crawford, OF Philadelphia Phillies
The name of the game with Justin Crawford is speed. It may be 70 wheels and that should be enough to get fantasy managers salivating. If he makes enough contact then he could be a fantasy monster. There is some power here so he's not a Dee Strange-Gordon type, but the power won't blow anyone away, think in that 12-15 homer range. However 12-15 homers with 30+ stolen-bases and solid rate stats atop an order makes a very attractive fantasy asset. I just question if he will make enough contact, but if he does he will make this spot look foolish.
23. Jacob Berry, 3B Miami Marlins
I am not going to lie, I had no idea where to rank Jacob Berry when I started this, so this is where I landed on him. I wouldn't draft him as my first pick in any FYPD because I am terrified of him, but as a second or even third selection I am more on board. I am afraid it's a good batting average with middling power.I don't want to start out on my bosses bad side (sorry Aram) but the Marlins aren't exactly the place I want hitters to be drafted to. I hope I am wrong, just at this point I am not drafting Jacob Berry.
24. Jordan Beck, OF Colorado Rockies
When he isn't giving fans the bird, Jordan Beck is an exciting player who in Coors could be even more exciting. Beck possesses the power to routinely hit 25+ homers and hit in the middle of any lineup. He does get a bit over-aggressive at times but the Coors factor should really help raise his batting average. He's your classic corner outfield masher, and in Coors that profile gets a whole lot more attractive, I mean he's not a corner outfielder but CJ Cron is drafted highly for the same reason, big power and he's in Coors.
25. Jud Fabian, OF Baltimore Orioles
After spurning the Red Sox last draft, Jud Fabian is now with their division rival. Fabian has as much upside as anyone on this list, just it all comes down to will he hit enough and will he tone down the swing-and-miss. I think Baltimore gets him to cut down on his in-zone whiffs and that could be enough to kickstart the hype train. There is plus power here with possibly plus speed. This is a potential 20-20 bat as long as he can get his hit tool from well below-average to just slightly below-average. He will be a solid contributor because of his on-base abilities.
26. Jace Jung, 2B Detroit Tigers
Jung will probably be a better real-life player than fantasy player because I just think he may end up being an empty batting average guy. I am certain he will hit, I just am not sure about the power and there will be no speed to fall back on. He's just sort of meh if we are being honest if you only view him through the eyes of fantasy baseball. He will have some value, just he's not ever going to be a star and probably is a MIF for your teams.
27. Brock Jones, OF Tampa Bay Rays
I fully acknowledge that Brock Jones may never hit enough to tap into his power or his speed in games but I like him as a gamble. He's a phenomenal athlete and the Rays drafted him, so they see something they like in him and that's enough for me. He's like Fabian in that his upside is as high as anyone on this list, but he also might be nothing more than a bag of tools. If he can even make solid contact then he could be a fantasy stud.
28. Carson Whisenhunt, P San Francisco Giants
Whisenhunt missed all of his college season after testing positive for a banned substance and ended up falling to the second round. He did however pitch and showcase why he was so highly regarded, thanks to his killer changeup and mid 90's heater. There is a solid SP4 here in the fantasy realm with upside for more if his stuff can elicit more swings-and-misses. He'll provide solid k's and shouldn't hurt your ratios.
29. Brock Porter, P Texas Rangers
Draft prep pitching at your own risk, I probably won't end up with too many of them this FYPD season. But I do like Porter, it's amongst the best pitch mixes from a high-schooler in the draft. The upside here is immense, he just has to navigate every minefield that comes with being a prep pitcher. The arsenal is crazy here with Porter, all of his pitches may very well end up being plus and he could end up being an SP2, it's just going to take some time, patience, and some injury luck.
30. Brandon Barreira, P Toronto Blue Jays
Barreira is another prep pitcher with a high ceiling, he's got that fastball that gets up to the mid 90's from the left-side, with a good breaking ball. Toronto has also been knocking it out of the park developing arms lately so there is that in the plus column. Like Porter there is a lot of risk in the profile here so draft at your own risk.
31. Connor Prielipp, P Minnesota Twins
Do you love a good buy-low opportunity, then do I have the guy for you in Connor Prielipp. He was once viewed as a 1-1 caliber selection before he had to get TJ, and now he's looking like a possible bargain in your FYPDs. If the stuff fully comes back (and it does most of the time these days) then we are talking about a good slider and the chance to rack up K's. We will have to wait and see on the durability, but a solid SP4 with upside for more is definitely in the cards.
32. Kumar Rocker, P Texas Rangers
I think this makes me the low guy on Kumar Rocker, and that's whatever. I just don't know how to properly rank him. I think he's going to be a solid SP5 type in fantasy, but I am not sure there is much more value than that. He should move relatively quickly, I think at the moment I will let someone else take the chance on him, and at this price that will probably happen well before I am willing to take him.
33. Ethan Salas, C San Diego Padres
In some rankings Salas is the top IFAbut you have to ding him a little bit because he is a catcher that is a ways away. He's big and strong so there is power to dream on here. I don't envision any speed but expecting speed from your catcher is a fool's errand in my opinion. If you draft him, or any IFA you will have to exercise extreme patience.
34. Dylan Beavers, OF Baltimore Orioles
Beavers is one that is going to take some selling on for some but let me try. He's got some serious juice in his bat and is decently athletic, so that should translate to that power and speed we are chasing. I just have questions about his ability to make enough contact, and the quality of contact. What he does do is offset that with a good eye, so he will help in the OBP department.
35. Xavier Isaac, 1B Tampa Bay Rays
Isaac sort of came out of nowhere to be a first round pick, but it's not hard to see why the Rays liked him. He's massive at 6'4" and weighs in at 240, but what he does do is hit the ball hard and far. He will be a nothing burger in the speed department, but he could become a middle-of-the-order masher for you.
36. Cole Young, SS Seattle Mariners
Every year a few guys blow pro scouts away when they enter proball, and Young was one of those guys this year. It's not likely to be anything more than 15-18 homer pop but he can steal a bag, shows a mature feel for hitting, and should hit atop a lineup. Not super relevant in fantasy baseball but he will stick at shortstop.
37. Jacob Melton, OF Houston Astros
Melton is a hit over power prospect but he shows off some speed as well. This isn't a no power guy, just someone who during his peak seasons might tap out at 20 homers. He's in a good organization to maximize his talents.
38. Mikey Romero, SS Boston Red Sox
Romero is pretty famous out here in SoCal as a good defensive shortstop with the ability to make a ton of contact. There is speed here and I am projecting on the power to come, if it does this presents a bargain. As things stand he maybe ends up as a 15 homer 20-25 steal guy.
39. Shintaro Fujinami, P Oakland Athletics
Fujinami is a ready-made starter that you can get later in your drafts. The problem is that he is in Oakland so while the ballpark should help a little bit there will be nothing in the way of run support. A more competitive team in FYPD drafts probably bumps up their board because of the instant impact he will provide. I don't view him as anything more than a streamer that should be used in good matchups, too bad he can't pitch against his own team.
*This starts a little grouping of IFAs that are all ranked together because I think they are all about the same value wise, just depending on what you are looking for. It is hard to get video of these guys so the blurbs will be shorter because I am less confident with these guys.*
40. Brandon Mayea, OF New York Yankees
Mayea has a bit of everything and could contribute in all aspects of the fantasy game, but won't blow you away anywhere. Think like 20 homers, 10-12 stolen-bases, maybe a .260 average.
41. Joendy Vargas, SS Los Angeles Dodgers
Vargas is your projectable shortstop build, standing at over 6'2" with some room to add weight. He may ultimately shift off of shortstop but if he does it's because he added more power to his profile. Plus the Dodgers do well with IFAs so that is a plus.
42. Brailer Guerrero, OF Tampa Bay Rays
The Rays liked him enough to splash some cash so that's enough to get my attention. He's a bit more physically filled out so maybe he's a corner outfielder who possibly develops into a middle-of-the-order bat.
43. Enmanuel Bonilla, OF Toronto Blue Jays
Much like Guerrero, I trust the Rays slightly more than the Blue Jays. Middle of the order masher type, who could help in the HR and RBI department. I am not sure about how his speed will age as he gets older and more physically mature.
44. Peyton Graham, SS Detroit Tigers
Peyton Graham has some interesting tools for a college middle-infielder, with above-average speed and power. The question becomes will he ever hit enough at the pro level to tap into that power. If he does hit enough, think along the lines of what Jeremey Peña just did 20 homers with 10 plus stolen-bases.
45. Jacob Misiorowski, P Milwaukee Brewers
Misiorowski has some serious upside, the stuff is nasty, and will get whiffs. The issue is he also has no idea where his stuff is going. If Milwaukee can get his command to passable, then we are talking about their next success story. If not then he's almost unusable with that command even in a bullpen role.
46. Landon Sims, P Arizona Diamondbacks
Arizona has become a place you want to draft their pitchers because they do a great job of harnessing stuff. Look at Brandon Pfaddt, Blake Walston, Ryne Nelson and there will be more to come. Maybe Landon Sims is the next in line, with a premium fastball and breaking ball. There is some concern he ends up as a reliever because of command issues, If he does, he could become a top 10 closer with that stuff if given that role.
D-Tier Prospects
47. Reggie Crawford, P San Francisco Giants
Crawford is a real wild-card he had TJ so we (I mean I but if I put we it makes it sound cooler and more legitimate) have no idea where to properly evaluate him. He does have pretty crazy stuff from the left-side. He has touched 100 and should be a fun piece of clay for the Giants, who have done well with pitchers in the past.
48. Sterlin Thompson, OF Colorado Rockies
Any hitting prospect has to drool at the thought of what they could do in Coors. This is to not poo-poo what Rockies hitting prospects are doing but keep in mind that outside of Double-A they play in some pretty extreme hitting environments. Which results in some inflated numbers, so keep that in the back of your mind if you just statline scout. Thompson is more of a contact orientated approach, which may play up in Coors.
49. Jonathan Cannon, P Chicago White Sox
It felt like Jonathan Cannon has been draft eligible for a few years now, and finally a team took him. I like Cannon for what it's worth, it's not a sexy fantasy profile but it could be a solid back-end package who doesn't hurt your ratios and posts solid k totals.
*Another solid clustering of similar profiles of players, the prep pitchers. There is extreme risk, but the reward might be worth it this late.*
50. Walter Ford, P Seattle Mariners
The Mariners may have a battery in Walter and Henry Ford, and it should be sponsored by Ford, that would be cool, they could call it Built Ford Tough. Anyways Walter Ford has really good stuff, is just now focusing full-time on pitching and is in a great organization. There is SP2 upside here if he can harness the stuff and limit the walks, I am excited to see him at some point this year in person.
51. Owen Murphy, P Atlanta Braves
Another two-way guy that will be focusing on pitching full-time. The stuff isn't as explosive with Murphy but the command at least profiles to be better right now. He is a classic cold weather player so being able to play full-time could mean he takes a massive jump this year.
52. Jackson Ferris, SP Chicago Cubs
Ferris got paid like a first-rounder by the Cubs so the organization is high on him. He's got as much upside as any of this crop of pitchers, and has some projection left on the frame.
53. Noah Schultz, P Chicago White Sox
The last of this little cluster of prep pitchers, Shultz is in the org I trust the least to develop. Who is the last homegrown arm the White Sox have developed…I shall wait. That said Schultz has good stuff and just as much upside as the other three arms ahead of him, and the same risk.
54. Tyler Locklear, 3B Seattle Mariners
Locklear hits the ball really hard, that's one thing he does do and he will need to do that to be a valuable fantasy asset. He provides no speed. He shouldn't hurt you in the rate stats like BA and OBP but his calling card will be his power. He could even be passable at third which may help given the dearth at that position.
55. Ivan Melendez, 1B Arizona Diamondbacks
The Hispanic Titanic has been a favorite of mine since someone in a team mentioned this dude with crazy power in 2021. And well much like Locklear, Melendez's carrying fantasy trait is his power. We are talking about 30 homer power if it all comes together. I do question how he will fare against pro pitches because he feasted on college arms. I hope he is good because that's an 80 nickname.
56. Ryan Cermak, OF Tampa Bay Rays
Think of Cermak like a less tooled up Brock Jones, and that's why he is down here. Instead of a 25-20 upside that I think Jones has, Cermak is in the 20 homers and 10-12 stolen-base bucket of players. I question if he will ever hit enough to tap into that power and speed but at this price he's worth the gamble.
57. Tucker Toman, 3B Toronto Blue Jays
Toman might not provide the speed we are all craving but I think at third he will provide the power we want. The ultimate upside I see from him is he will rattle off a few 25-30 homer seasons during his peak years. The Blue Jays are a good org to get the most out of him.
58. Cayden Wallace, 3B Kansas City Royals
Wallace also probably won't be getting much plaudents for his stolen-base acumen but he can hit the ball and hit it hard. I do hope Kansas City's new front office doesn't ruin him the way they have ruined other prospects in the past. He could develop into a solid CI option.
59. Daniel Susac, C Oakland Athletics
The A's are on a quest to have as many catching prospects as they can. Susac is the most recent addition, and for a catcher I think he can be a league average bat with some power. At the catching position that is so valuable, just people are less inclined to roster catching prospects which I get.
60. Rayner Arias, SS San Francisco Giants
San Francisco has done a good job with IFAs, so I am gambling that their track record continues with Arias. There is room to add muscle on his frame which could result in 25 homer power at maturity.
61. Gabriel Hughes, P Colorado Rockies
Normally pitching prospects that go to Coors are complete write-offs for me in FYPDs but I like Hughes. The stuff is pretty crazy, and while the altitude can diminish the stuff in home starts I think there is a chance he can be a solid option. He could even shine away from Coors. If he can withstand the tough Rockies minor league ballparks then he might just be a solid SP4 for your fantasy team.
62. Roman Anthony, OF Boston Red Sox
Anthony has serious power, but the question ultimately comes to how much he can hit to tap into that power. That leftie power, which probably ends up being plus-plus in Fenway could be crazy, but if he can't make more consistent contact then the point is mute.
63. Sebastian Walcott, SS Texas Rangers
Walcott has a nice swing with some room to add more power as he physically matures. He probably moves off shortstop at some point but that's a later issue and maybe a non-issue if that means he can start hitting for power in game.
64. Blade Tidwell, P New York Mets
Blade is a great name, and he landed in a relatively good situation. He's got an upper 90's fastball that got whiffs with, a slider that misses bats and a solid changeup. He's got all the ingredients of a solid starter for you, but also has the stuff to be a nasty reliever who gets swings-and-misses which has value in deeper leagues.
65. Ian Ritchie Jr., P Atlanta Braves
There are the ingredients here for a solid fantasy starter. He's got some projection left in his frame, he already shows an ability to miss bats and doesn't walk everyone. He is a high school pitcher so that demographic is littered with misses, draft prep pitchers at your own risk.
66. Justin Campbell, P Cleveland Guardians
A Guardians pitching prospect is always worth keeping an eye on in your FYPDs. They work magic on their pitchers over in Cleveland. He has a chance to be an SP5 for you who posts solid ratios and moderate strikeout totals for you.
67. Nazier Mule, SS/P Chicago Cubs
I am a massive fan of Masyn Winn and there is a non-zero shot that Nazier Mule is the next Masyn Winn. Now it's not likely but similar profiles, high-octane arms who can play short. Mule has a bit more power than Winn did as an amateur. I will be interested to see how the Cubs use Mule as they have never let a guy two-way.
68. Ben Joyce, P Los Angeles Angels
The 105mph man, Joyce, has some serious stuff. This is about as high as I am willing to entertain a relief-only prospect. The upside is top 5 closer in baseball with that stuff, and he could be up relatively soon. He may be up in the second-half of 2023.
69. Henry Bolte, OF Oakland Athletics
Bolte is a classic power-speed profile who there are serious questions if he will ever hit enough to tap into that power and speed. If he does manage to make enough contact, then we are talking about a perennial 20-20 threat. If not he can be dropped rather quickly.
70. Peyton Pallette, P Chicago White Sox
So Pallette hasn't pitched since 2021 after getting TJ before the 2022 season, so there is some unknown here. The White Sox did take him highly and we should start to see some returns on Peyton Pallette rather soon. Just like every SEC arm that gets TJ the year before they are drafted you will see Pallette drawing Walker Buehler comps. I don't think he is that, but from what he did show in '21 he can get swings and misses with his stuff and that's good enough. In a bullpen role he could even be fantasy viable.
71. Thomas Harrington, P Pittsburgh Pirates
Harrington seems likely to stay a starter and with his mid 90's heater that gets swings-and-misses and good secondaries. Think of a high strikeout SP5, he should be relatively quick to the majors as well so that is a bonus. He's advanced, shows a good changeup and has a nice homeball park if he makes it to the majors. He could even be up when the Pirates aren't abysmal so there is a chance for some wins as well.
72. Robert Calaz, OF Colorado Rockies
This is an upside play for me, and a bet on the organization…I know weird being confident in the Rockies. But to be fair the Rockies have done a good job scouting and developing lately, it's just everything else. Calaz is a million miles away but with the Rockies recent hits on IFAs makes me more likely to be in on Calaz. He's a good athlete and shows some feel for hitting for power, he's worth a flier this late.
73. Bryce Hubbart, P Cincinnati Reds
Hubbart doesn't have the sort of stuff that will blow you away, but what he does have is the ability to get swings and misses with that stuff. There is a solid SP5 in fantasy here if the strides he has shown with his command hold up. He seems destined to remain a starter and there is some value in that.
74. Luis Morales, P Oakland Athletics
The A's and spending money are not two things you see very often, so the fact that they splashed the cash on him is refreshing. This is purely a lottery ticket this late in drafts, we haven't seen him in a while. He's probably the best Cuban pitcher to come out in a little bit. Whether he remains a starter or a reliever is very much in the air.
75. Max Wagner, 3B Baltimore Orioles
In Baltimore's player development system I trust. If Baltimore drafts a hitter I tend to like them because there are a few things Baltimore likes, it's guys who don't chase, make solid swing-decisions and hit the ball hard. I think there is some untapped potential here with Wagner as he had 358 plate appearances in his entire collegiate career at Clemson. But despite that the Orioles took him in the second round, and this late in your FYPDs, that's enough for me to take a gamble.