Rankings
Top 10 Shortstops in College Baseball
This list features a mix of young and experienced players at shortstop, a position jam-packed with talent and potential.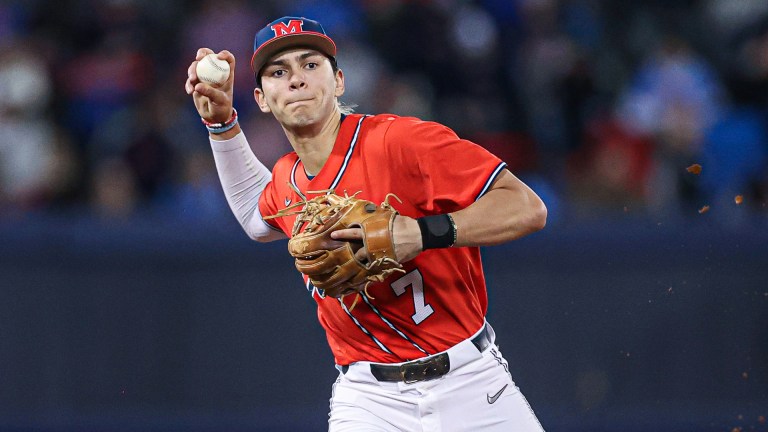 After looking into college baseball's top pitchers, it is time to check out some hitters, with no better place to start than shortstop. One of the most talented positions in the sport, this list features a mix of experienced and young players, all of whom have produced at just about every level, including a handful in the prestigious Cape Cod League. Let's start with some honorable mentions.
Honorable Mentions
Nick Goodwin – Kansas State: Many evaluators are buying stock in Nick Goodwin after a productive spring and summer in the Cape Cod League. Goodwin is a very well-rounded player and has the chance to stick at shortstop once drafted.
Alex Mooney – Duke: A top prospect coming out of high school, Mooney made it to campus and immediately impressed. He showed an advanced on-base ability during his freshman year, along with a strong line-drive approach. Mooney also stole 26 bags in 32 attempts last spring.
Blake Wright – Clemson: Wright's defense is his calling card, with some believing that he can turn into an above-average hitter at the next level. Last spring, he produced a .999 OPS with 11 home runs and nine doubles. Wright, if productive this spring, could turn himself into a day-one pick by July.
10. Luke Keaschall – Arizona State
Ht: 6-1 | Wt: 190 lbs. | B/T: R/R | Class: Junior | Draft Yr: 2023
Keaschall is a part of an exciting transfer class crafted by Sun Devils' head coach Willie Bloomquist this offseason. A California native, Keaschall spent the past two seasons at the University of San Francisco, where he slashed .312/.427/.489 with 29 doubles and 12 homers. He has spent the past two summers in the Cape Cod League, where he has impressed scouts with his hit tool and on-base ability. Despite bouncing around the field over his collegiate career, Keaschall figures to be Arizona State's starting shortstop in 2023.
9. Cody Schrier – UCLA
Ht: 6-1 | Wt: 200 lbs. | B/T: R/R | Class: Sophomore | Draft Yr: 2024
Schrier was viewed as a top prep shortstop coming out of high school, but a big bonus ask saw him make it to campus in 2022. Despite being banged up later in the season, Schrier was impressive during his 59 games, where he owned a .875 OPS with nine home runs. Solid across the board, Schrier's power could turn into a big-time weapon. His size and stature could land him at third base long term, but for now, Schrier offers a well-rounded skillset on defense.
8. Marcus Brown – Oklahoma State
Ht: 6-0 | Wt: 190 lbs. | B/T: L/R | Class: Junior | Draft Yr: 2023
One of the best defensive shortstops in the game, Brown has done nothing but hit over his first two seasons at Oklahoma State. Brown turned two doubles as a freshman into 15 last spring, with many believing that he has more in the tank for 2023. While he hit a bit of a wall in the Cape Cod League, the Arkansas native has a good chance to be the best shortstop in the Big 12 conference. Brown is projected as a day-one pick in this summer's MLB Draft.
7. Christian Knapczyk – Louisville
Ht: 5-9 | Wt: 165 lbs. | B/T: L/R | Class: Junior | Draft Yr: 2023
Personally, Knapczyk seems consistently underrated, despite him hitting on every stage. Last spring, Knapczyk slashed .346/.480/.465 with more walks than strikeouts. He also was unstoppable in the Cape Cod League in 2021, producing a .813 OPS. Although he looks like the Cardinals' starting shortstop in 2023, the five-foot-nine Knapczyk will almost certainly face a move to second base at some point soon.
6. Mitch Jebb – Michigan State
Ht: 6-1 | Wt: 185 lbs. | B/T: L/R | Class: Junior | Draft Yr: 2023
Despite producing big offensive numbers in the Big 10, Jebb pushed his name up draft boards industry-wide with his performance in the Cape Cod League this summer. Over 38 games for Hyannis, Jebb slashed .356/.429/.490 and struck out just 24 times. For Jebb, this was no different from what he has done for the Spartans, owning a career .848 OPS. On defense, the Michigan product may end up at second base, but his hit tool and speed will presumably shoot him up draft boards this spring.
5. Tommy Troy – Stanford
Ht: 5-10 | Wt: 197 lbs. | B/T: R/R | Class: Junior | Draft Yr: 2023
Another performer in the Cape Cod League, Troy was crowned the "Most Outstanding Pro Prospect" after he hit .310/.386/.531 in 30 games for Cotuit. Troy figures to be a key contributor for a Stanford club that has been consistently ranked within the top five going into 2023. The California native turned a solid freshman season into a breakout sophomore one, producing a .939 OPS with 15 doubles. Troy is regarded as a "high-floor" player, with solid tools across the board, and he figures to be a first-round pick this summer.
4. Maui Ahuna – Tennessee
Ht: 6-1 | Wt: 175 lbs. | B/T: L/R | Class: Junior | Draft Yr: 2023
You won't see more "video game-like numbers" than what Ahuna did last year at Kansas. The Jayhawk transfer slashed an unbelievable .396/.479/.634, good for a 1.113 OPS. Like many this offseason, Ahuna decided to transfer, giving Tennessee the perfect shortstop option. The Hawaiian infielder can handle shortstop at the next level with an above-average arm and glove. Maybe his most impressive tool is his speed, making him a demon on the base paths and giving him outstanding range. If nothing changes, Ahuna will be a first-round pick this summer.
3. Matt Shaw – Maryland
Ht: 5-11 | Wt: 182 lbs. | B/T: R/R | Class: Junior | Draft Yr: 2023
Shaw possesses some of the most power in college baseball, slugging a non-pedestrian 22 homers last spring. The Massachusetts product then followed up his strong season with an MVP campaign in the Cape Cod Baseball League, slashing .360/.432/.574 with five bombs. Defensively, Shaw is pretty average and his 5-11 frame may land him at second base in pro ball. The pop complimented by a low strikeout rate makes Shaw a name to watch this spring and beyond.
2. Jacob Wilson – Grand Canyon
Ht: 6-3 | Wt: 190 lbs. | B/T: R/R | Class: Junior | Draft Yr: 2023
In my years of watching and following baseball, I don't think I've ever seen someone strike out just seven times over a full season. Wilson did so this last spring, while also hitting 12 homers and getting on base at a .418 clip. The son of longtime MLB shortstop Jack Wilson, Jacob seems to do everything right at the plate. He makes contact, uses the whole field, and has a really good eye, along with some sneaky power. While he is an average defender at shortstop, Wilson moved around for Team USA and on the Cape. He will be a top-ten pick this summer.
1. Jacob Gonzalez – Ole Miss
Ht: 6-2 | Wt: 200 lbs. | B/T: L/R | Class: Junior | Draft Yr: 2023
Gonzalez is really good on both sides of the ball, with a sure-fire chance of him sticking at shortstop in the pros. With the bat, Gonzalez offers a smooth swing and operation, along with above-average power. Over his first two seasons for the Rebels, the California native produced a .984 OPS with 30 homers and 107 RBIs. This power is impressive by itself, but the fact that he walked more than he struck out makes his upside that much more exciting. Gonzalez will be selected within the top ten picks in this year's MLB Draft.