News
Ole Miss Sweeps Oklahoma To Win First Ever College World Series Title
For the first time in program history, the Ole Miss Rebels have won the College World Series, beating the Oklahoma Sooners 4-2 on Sunday.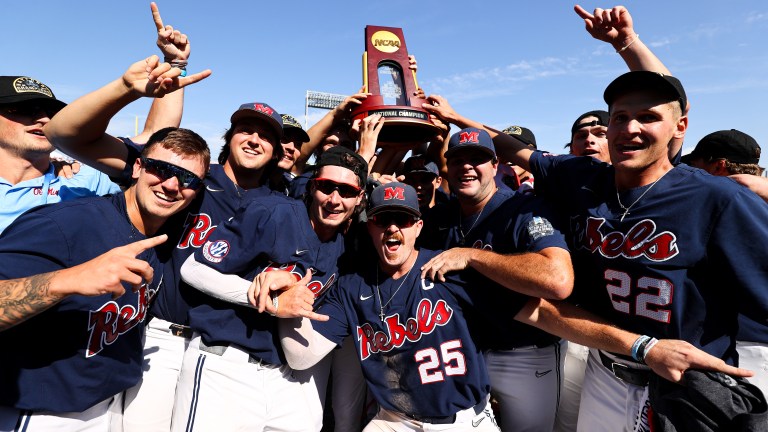 Not often do you hear about a Cinderella story with a team that had been ranked No. 1 in the country at one point. But the Ole Miss Rebels were the last team to be given a berth in the postseason, and boy did they take advantage of the opportunity.
Cade Horton and Hunter Elliot were on the bump for Game 2 of the finals, and the freshman found themselves in quite a pitching duel. Both scoreless through the first five, the game's first highlight was one that got taken back, as John Spikerman got called for runner's interference by first base. Jackson Nicklaus went on to score, but the run got wiped as a result of the interference, and Nicklaus had to go back to third. Elliot got out of the jam, keeping the Sooners off the board.
The next half inning, Jacob Gonzalez hit a towering shot to right and gave the Rebels their first lead of the game. However, Oklahoma didn't quit, with quite the two-out rally in the seventh.
A double by Jimmy Crooks and a walk by Wallace Clark brought Jackson Nicklaus to the plate. A shallow fly ball to left field was too difficult for Jacob Gonzalez to track down, resulting in a game-tying hit that put runners on second and third.
Coach Mike Bianco took out Elliot and brought in another freshman, Mason Nichols, but it would not get better from there. Nichols went on to hit a batter, and then walked Kendall Pettis on four pitches with the bases loaded, to give Oklahoma a 2-1 lead.
Cade Horton got into the eighth, but was taken out after a TJ McCants single with one out. In came trusted reliever Trevin Michael, but the sixth-year senior couldn't get the job done. Back-to-back singles by Justin Bench and Jacob Gonzalez tied the game up at two runs apiece, and two wild pitches gave the Rebels back the lead and some cushion.
What was looking to be the closing of the door to force Game 3, instead flipped to three more outs until the clinching of a national championship.
Ole Miss closer Brandon Johnson got the nod for the ninth, and struck out the side, giving the Rebels their first College World Series title ever. Coach Mike Bianco, who was rumored to be on the hot seat heading into the last leg of the regular season, now sits atop of college baseball after his 22nd season in Oxford.
The Omaha trophy returns to the state of Mississippi for the second-straight year. Ole Miss sweeps Oklahoma, 4-2.