News
Ole Miss Advances to College World Series Final
Ole Miss and Oklahoma meet in the Men's College World Series Final this weekend.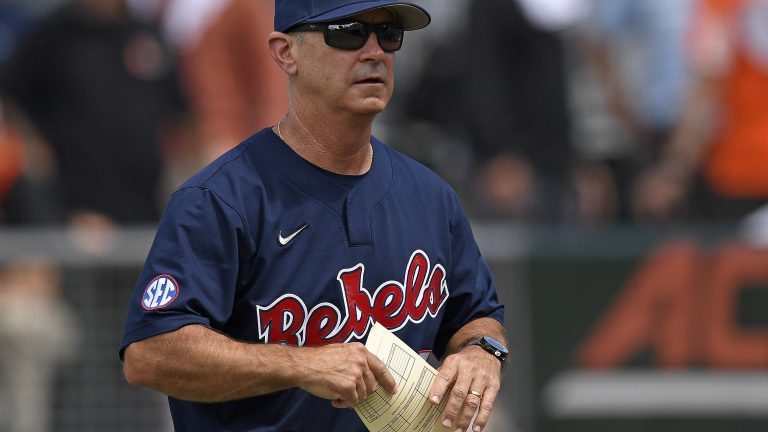 After a thrilling 3-2 win over the Ole Miss Rebels on Wednesday night, the Arkansas Razorbacks forced a Game Three that would go on to feature two red hot pitchers with a bid for the College World Series final on the line.
Ole Miss' Dylan DeLucia had the game of his life when it mattered most. The ace, who went 7 2/3 innings of one run ball in the opener against Auburn, somehow managed to one-up himself with a complete game shutout.
DeLucia doesn't overpower hitters, with his fastball in the low-to-mid 90s. Rather, he shut down the Razorback offense with his effective three pitch arsenal.
The junior only struck out seven batters, with the defense behind him making a few tough plays to hold on to the lead. DeLucia allowed just four hits and no walks, as Mike Bianco let him throw 113 pitches to get the job done. The Hogs did get two on in the first, but that would be the closest they got all game.
Arkansas' Connor Noland also was electric on the mound, but will be forgotten in the shadow of DeLucia. Noland went eight innings on just 84 pitches and struck out seven, but gave up two runs.
Oles Miss' Kevin Graham brought in teammate Justin Bench with a double down the right field line in the fourth. Then, the less musically-inclined Calvin Harris brought in senior captain Tim Elko with an RBI single in the seventh to make it 2-0.
Noland unfortunately got credited for the loss, but he ended his season with a 1.61 ERA over 22 1/3 innings in his three starts since the regional tournament.
Ole Miss now heads to the Men's College World Series final tonight against Oklahoma, but Dylan DeLucia will be unavailable until the potential Game Three scheduled for Monday night. The Sooners have the "rest" advantage, with their top starters set to pitch, but I'm sure I speak for everyone when I say, boy did we not expect to see this matchup.