Analysis
Dark Horses to Win the College World Series
Here's who has a shot to unseat the top dogs and become the kings of college baseball.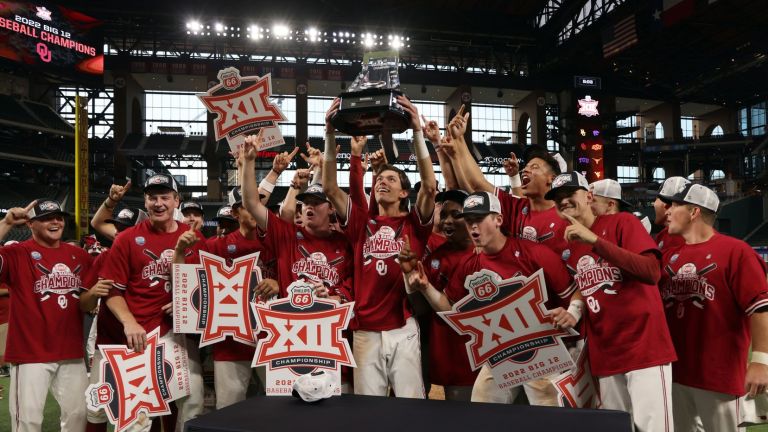 Every year there seems to be a team that surprises the country with their play in the College World Series. Much like basketball, when it gets to the tournament, all bets are off; everyone is on an even playing field. In my last article, I looked at the favorites to win the College World Series, but now let's check out some underrated schools that have the power to do it.
Louisiana Tech Bulldogs (42-19)
Offense
The Bulldogs kicked off their season by beating #2 ranked LSU 11-6. From then on, Louisiana Tech had a midweek win over #14 LSU again, a big series win over Old Dominion in late April, and won the Conference USA tournament. While there are a select few hitters that are doing better than others, most of their success has been a group effort.
Let's start with senior shortstop Taylor Young, whose 1.138 OPS, .505 OBP, and .633 slugging percentage all lead the team. Young also hit 21 doubles, four triples, and slugged 11 home runs while also swiping 26 stolen bases. Paired with Young on the left side of the infield is Logan McLeod, a slap hitter that ranks fourth on the team in batting average.
In the outfield, Cole McConnell (.944 OPS/22 2B) and Steele Netterville (.939 OPS/14 HR) combine for the majority of Tech's offensive production. Netterville has been batting third while McConnell has been hitting fourth recently, giving the heart of the Bulldogs' order extreme stability.
Pitching
The Bulldogs don't have a huge pitching staff, but their guys have given them quality innings all season long. Their best starters have been senior righty Ryan Jennings and left-hander Jonathan Fincher. Jennings has stuck out 90 over 84.1 innings while holding a 1.17 WHIP. Fincher doesn't strike out a ton, but he rarely walks batters, with just nine all year.
This bullpen may be one of the more underrated ones in college baseball. It all starts with senior closer Kyle Crigger, whose 1.79 ERA ranks first among Bulldogs pitchers. Despite striking out 74 hitters over his 65.1 innings, Crigger has only allowed 14 walks, something teams look for in dominant relievers.
Other contributors out of the pen include junior righty Landon Tomkins, freshman southpaw Ryan Harland, and Jackson Lancaster. Harland has thrown the most innings of the three, and while his future may be as a starter, he has helped this team in his current role.
Keys to Win
Louisiana Tech desperately needs some bats to step up. This includes everyone who has had solid seasons, with the hope that they take the next step in the postseason. The pitching staff has been good, but the Bulldogs need consistency from their starters.
Wake Forest Demon Deacons (40-17-1)
Offense
Wake Forest has an electric combination of power hitters that constitute this very underrated lineup. Redshirt Junior Brendan Tinsman leads this group with 23 bombs, along with an impressive .349/.391/.703 slash. Highly-touted draft prospect Brock Wilken slugged 21 home runs and despite a .266 batting average, ended the regular season with an OPS of .950.
Lefty swingers Nick Kurtz and Michael Turconi also have over ten homers and impressive stats. Sophomore utility man Jake Reinisch hit eight homers and was tied for the team lead in doubles with 14. Up and down the lineup, Wake Forest seems to get contributions from all different types of players.
There are also a few hitters in the heart of their lineup that don't have much power but have been fantastic for the Demon Deacons. It starts with freshman infielder Tommy Hawke, whose .376 batting average leads the team. The next is Pierce Bennett, who only struck out 17 times in 196 at-bats, and had a .367/.461/.526 line.
Pitching
It is crazy to say this after showing you all of the crazy stats regarding Wake's hitters, but their pitching staff may be more talented. It starts with their Sophomore ace Rhett Lowder, who was quietly become one of the best pitchers in the country. Lowder went 11-3 over 15 starts with a 2.61 ERA and an opponent batting average of just .229.
Following Lowder in the rotation is sophomore Teddy McGraw and freshman left-hander Josh Hartle. McGraw has been solid this spring, starting 11 games and pitching to a 4.31 ERA. Hartle, a highly touted draft prospect coming out of high school, has been solid for the Demon Deacons. He has only walked 22 hitters this year, despite his 5.74 ERA and .293 opponent batting average.
Wake Forest's bullpen has been a crazy story this season. Coming into this year, Eric Adler looked like the anchor closer, but he has pitched to a 8.86 ERA in just 21.1 innings. Enter Camden Minacci, who broke out as one of, if not the best, relievers in the country. Through 43.2 innings, Minacci struck out 57 and owned a 1.85 ERA. Other relievers to know include Gabe Golob and Crawford Wade, who don't strikeout a ton but have proven effective.
Keys to Win
There isn't too much Wake Forest needs to change. It is just about playing well versus better competition and finding consistency on both sides of the ball. Watch for this extremely underrated team to do damage throughout June.
Southern Mississippi Golden Eagles (43-16)
Offense
Like Wake Forest, stealing bags isn't a part of Southern Miss' game. Rather, it is power up and down the lineup. Let's start with junior Christopher Sargent, who leads the Golden Eagles with 20 bombs. While he hardly walks, Sargent gives this lineup a power-over-hit bat in the heart of their order.
Two other big boppers to touch on are junior Will McGillis and outfielder Carson Paetow. McGillis hit 15 bombs in the regular season, while also swiping six bags. Paetow has only hit 13 but has also popped 15 doubles and got on-base at a .396 clip.
The Golden Eagles only have one qualified hitter with a batting average over .300, which may be a bit concerning, but they still find ways to produce. That hitter is Dustin Dickerson (.340), who despite having no homers on the year, has slugged 23 doubles. Dickerson also is tied for the team lead in stolen bases with six.
Pitching
The strength of Southern Miss is no doubt the pitching staff. This group of arms may be one of the most consistent and dominant staffs in the country. Sophomore righty Hurston Waldrep leads the pack with his electric fastball and dominant 2.99 ERA in 78.1 innings, while striking out 117.
The remaining rotation spots have been filled by graduate student Hunter Riggins and sophomore righty Tanner Hall. For Riggins, he is more of a surgical arm, lacking overpowering stuff, but has a 2.75 ERA on the year in 88.1 innings. Hall is a bit different, striking out 130 over 93.2 innings pitched, with a 2.69 ERA.
The Golden Eagles' bullpen has found more of the same success. Led by closer Landon Harper (2.27 ERA/11 SV), there are virtually no holes in this core of relievers. Sophomore lefty Dalton Rogers owns a 1.67 ERA, and Garrett Ramsey has an ERA of 2.35 while striking out 44 over 30.2 IP, giving Southern Miss a ton of options.
Keys to Win
This pitching staff is very good and I expect them to be just that all tournament long. The offense can be worrisome at times, so the Golden Eagles will need contributions from everyone with a bat in their hands.
Oklahoma Sooners (37-20)
Offense
The Oklahoma Sooners play a very different brand of baseball. Sure, they have power hitters such as Peyton Graham, whose 16 bombs and 1.070 OPS have given him tremendous draft buzz. However, the Sooners have three players with over 20 stolen bases, prioritizing being aggressive and playing a little bit of small ball.
The leader in stolen bases is also Graham with 30, a testament to how good he is on a baseball field. Experienced outfielder Tanner Tredaway has swiped 23, while also slashing .359/.402/.517 with 15 doubles and six homers. Despite just a .253 batting average, outfielder Kendall Pettis gets on-base at a .453 clip, as well as stealing 21 bases.
Other contributors include utilityman Brett Squires, redshirt sophomore Blake Robertson, and catcher Jimmy Crooks. In his 102 at-bats so far this spring, Squires owns a .324/.449/.549 line with six homers and five doubles. Robertson leads the team in doubles with 22 and has an impressive .982 OPS while walking more than he strikes out. Crooks gets on-base at a .443 clip, while also managing 22 extra-base hits.
Pitching
Here is where the inconsistencies arise for Oklahoma. Sure, 6-6 lefty Jake Bennett has put up a great season, with a 3.60 ERA and 103 strikeouts in 90 innings. However, David Sandlin (5.31 ERA/78 in), Chazz Martinez (4.77 ERA/60.1 in), and Braden Carmichael (8.79 ERA/28.2 in) haven't exactly been good for the Sooners.
The bullpen is anchored by graduate student Trevin Michael, whose 3.46 ERA leads the team among qualified pitchers. Unfortunately, outside of Michael, there hasn't been any a lot of success. The team has combined for a 5.77 ERA, which will make it difficult to make a deep run this year.
Keys to Win
As previously mentioned, the pitching needs to be good. This hasn't been the case for the regular season, but in the tournament, it doesn't matter. The Sooners' lineup is extremely productive, so many believe that they won't have an issue at the plate this month.