Analysis
Favorites to Win the College World Series
These teams enter the tournament with the best chance to win it all.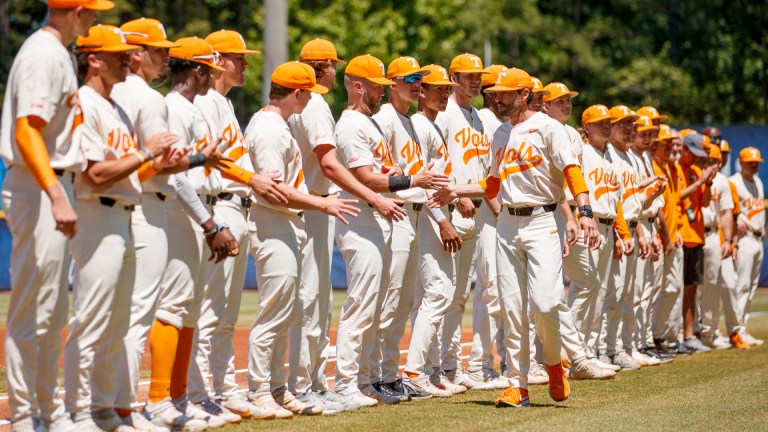 We have made it to the NCAA tournament. Despite some unfortunate snubs, this slate of teams will give fans competitive dogfights every single night. Below, we look into some of the favorites to win the whole thing.
Tennessee Volunteers (53-7)
Offense
Easily the best offense in college baseball, the Volunteers get contributions from every spot in their lineup. Let's start with outfielder Drew Gilbert, whose 1.173 OPS ranked first among qualified Tennessee hitters. A 5-foot-9 lefty swinger, Gilbert tapped into some more power this year, building off of his already sound pure hitting ability.
Sticking in the outfield, Jordan Beck has gotten the most buzz in the Tennessee lineup, projecting as a first-round pick in this year's draft. Beck possesses some of the biggest raw power in college baseball, despite only slugging 14 homers. Another player to keep an eye on in the Volunteers' outfield is left fielder Seth Stephenson, who has swiped 20 bags this year.
Senior infielder Trey Lipscomb leads the team in home runs with 21, showing out in his first full year with Tennessee. Freshman Blake Burke is the future of this lineup, showing superstar potential in his first 40 games. This experienced infield also features first baseman Luc Lipcius, who has hit 16 homers and has swiped 12 bags in his sixth season with the Volunteers.
Pitching
Despite an experienced lineup, the Volunteers' pitching staff features extremely talented underclassmen. Maybe the biggest name is sophomore righty Chase Dollander, who has been dominant and could go very early in the 2023 draft. Dollander is 9-0 with a 2.21 ERA in 12 starts for Tennessee.
A pair of freshmen in Drew Beam and Chase Burns leads the pitching staff in innings, both with ERAs under 2.65. Beam, a 6-foot-4 righty, doesn't strike a ton of people out but has been extremely effective. He rarely allows baserunners with a 0.88 WHIP and just 17 walks in 72.2 innings. Burns is a bit of a different story, striking out a whopping 96 batters across his 72.1 innings.
Maybe the most polarizing pitching prospect in the game, reliever Ben Joyce turns heads on a nightly basis. The junior college transfer features a fastball that sits around 100 and has gotten up to 106, paired with a low 90s slider that produces a ton of whiffs. Out of this talented staff, Joyce could be the first to the big leagues, possibly making his debut late this year.
Keys to Win
The SEC champions may be the best college baseball team of our generation. There isn't a whole lot they need to do outside of playing their best baseball. This lineup has no holes and the pitching staff is the best in the country currently. Tennessee's regular-season record speaks for itself, with the Volunteers being the easy favorite in this College World Series.
Oregon State Beavers (44-15)
Offense
Oregon State outfielder Jacob Melton has been one of the best hitters in the country this season. Through 232 at-bats, the lefty swinger has hit 15 homers, 21 doubles, and has swiped 20 bags. Melton backed up his counting stats with a .375/.439/.694 slash line, good for a 1.133 OPS. This paired with his speed and defense in center field make him a name to watch in professional baseball.
Outside of Melton, no other hitter has slugged over 10 homers, but this lineup's pure hitting ability is unmatched. Sophomores Justin Boyd (1.056 OPS) and Garret Forrester (.961 OPS) anchor the heart of the order, giving the Beavers a promising future after this season. Boyd is another burner on the bases, stealing 23 of 29 bags this year.
Infielders Wade Meckler and Travis Bazzana have been close to unstoppable this spring and plan to continue that in the tournament. An Australian-born freshman, Bazzana is one of the more hyped first-year players in the country. He has proven that this season with a .908 OPS for Oregon State. Meckler is another underclassman with an impressive ability to hit, slashing .350/.457/.488 in 59 games.
Pitching
On the mound, the Beavers feature one of the most talented arms in the nation, Cooper Hjerpe. Now a sure-fire first-rounder, Hjerpe is a crafty lefty that can reach the mid-90s with his fastball. The 6-foot-3 southpaw owns a 10-2 record with a 2.33 ERA and has struck out 140 over 89 innings.
Freshman Jacob Kmatz has put up a great first year, going 8-1 with a 3.89 ERA in 14 starts. Like Tennessee's Drew Beam, Kmatz finds other ways to get people out rather than the strikeout. Other starters include righties Jaren Hunter and Jake Pfennings, who have put up a handful of productive starts.
A strength of this Beavers team is no doubt the bullpen. While some have been better than others, the wealth has been spread over a bunch of talented arms. It all starts with Ben Ferrer, whose 1.79 ERA makes him one of the best relievers in college baseball. Reid Sebby (3.05 ERA) and Ryan Brown (nine saves) have also given this team meaningful innings.
Keys to Win
Oregon State needs their big bats to produce, along with finding hits in the bottom of the lineup. Outside of Cooper Hjerpe, the Beavers' pitching needs to be consistent. Outside of the top two, most starts have been spread throughout multiple pitchers. Whoever steps on the mound in the first will have to give Oregon State some quality innings.
Stanford Cardinal (41-14)
Offense
Coming into this year, Stanford's offense was headlined by outfielder Brock Jones. Despite some early-season struggles, this holds for the tournament. Jones has turned it on, finishing the regular season with 17 homers, 15 steals, and a 1.131 OPS. Flanking Jones is freshman Braden Montgomery, who has hit 16 bombs along with a .301/.361/.617 slash.
This infield is stacked. It starts with Carter Graham, who has slugged 20 homers so far this year. Junior Brett Barrera has also been impressive, with an exciting mix of gap-to-gap power and pure hitting ability. Shortstop Adam Crampton is another name that has had a solid season to this point.
Two of the more underrated names in this lineup are sophomores, Tommy Troy and Drew Bowser. Troy has bounced around the field, giving the Cardinal a valuable utility man who has been getting it done with the bat. Bowser followed up a terrific freshman year with a similar one, despite adding more power.
Pitching
Stanford has a great staff of quality pitchers both in the rotation and bullpen. The ace is senior Alex Williams, who through 15 starts holds a 1.98 ERA and 0.97 WHIP. Williams has been good his entire career at Stanford and should help the Cardinal make a deep run this year.
Sophomore lefty Drew Dowd follows up Williams in starts made with 13, but has had a rough go this season, owning a 5.14 ERA in 63 innings. Another lefty, Quinn Mathews has stepped up this season, splitting time between the bullpen and rotation. Mathews has struck out 99 in 84.1 innings with a 2.67 ERA.
Other than Dowd and Mathews, starting games has been a group effort. In fact, there are only two pitchers with over 10 innings on the year that haven't started a game. They are Ryan Bruno and Brandt Pancer, who both have given Stanford quality innings in relief all season. Sophomore righty Joey Dixon (3.10 ERA/58 in.) is another name to watch.
Keys to Win
The hitting needs to be consistent. Obviously, Brock Jones has been terrific lately, but his success must continue for this team to make a deep run. On the mound is where Stanford is most talented, so quality innings every game are a must.
Virginia Tech Hokies (41-12)
Offense
Outside of Tennessee, the Hokies may have the most power out of any team in this tournament. Among qualified hitters, just one has hit less than 10 homers and the team's combined slugging percentage is at .570. The team leader is sophomore infielder Tanner Schobel (1.159 OPS), who is putting up an impressive season, with 17.
Another sophomore, Jack Hurley (.379/.461/.689), has been extremely impressive at the plate, showing an ability to go gap-to-gap with 23 doubles and 13 bombs. Fellow outfielder Gavin Cross has gotten a ton of draft buzz for this summer, producing a 1.026 OPS in 217 at-bats.
Behind the plate, sophomore Cade Hunter is a name to watch, slugging 15 homers already this season. Virginia Tech has been extremely aggressive on the bases, stealing 71 of 87 bags in the regular season. A big piece of this production has been utilityman Nick Biddison, who has swiped 18 along with slugging .559.
Pitching
Freshman righty Drue Hackenberg has been a great surprise for the Hokies, who needed a true ace coming into this season. Hackenberg put together a huge first season at VT with a 10-2 record and 2.83 ERA across 14 starts. Sophomore Griffin Green has started the same number of games but hasn't had as much success with a solid 4.39 ERA and 1.46 WHIP.
Virginia Tech has quietly had one of the most successful bullpens in all of college baseball. Graham Firoved has picked up the most innings, striking out 61 over 45 innings with a 4.40 ERA. Hawaiian junior Jonah Hurney (2.61 ERA/38 in) has been great and the same can be said for Kiernan Higgins, who has the lowest ERA on the staff at 1.93.
The majority of the remaining starts have been picked up by Ryan Okuda, Jordan Gerber, and Ryan Metz, who has spent the most time coming out of the bullpen. These three upperclassmen are experienced pitchers who strike out a bunch and give the Hokies quality innings each night.
Keys to Win
One of my personal favorites to take down the mighty Tennessee Volunteers, Tech does everything on a baseball field well. The best part? This is an extremely young team and will be a force for the next few years at least. They just need to play their brand of baseball, because it's an elite one.