News
College World Series Tuesday Recap: Aggies and Razorbacks Advance
The Texas A&M Aggies and Arkansas Razorbacks have advanced to the final four.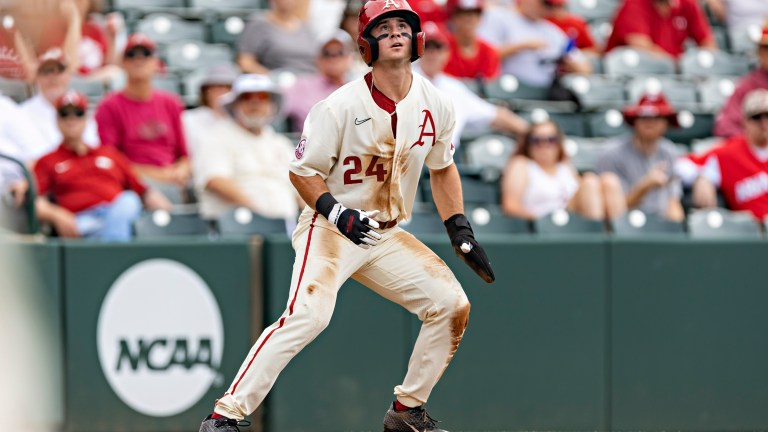 Nathan Dettmer dominates, Texas A&M beats Notre Dame 5-1
After two scoreless innings, the luck of the Irish ran out. Thanks to three walks, a balk, some intense wind, and a crucial error by third basemen Jack Brannigan, Notre Dame found itself in three-run hole. A top-10 defense in the country coming into the day, the Irish completely fell apart, as they didn't allow a true hit the entire inning.
Even Notre Dame's red-hot freshman reliever Jack Findlay wasn't at his best, allowing six baserunners in just two innings of work.
In the fifth, Trevor Werner hit a leadoff home run, forcing Coach Link Jarrett to go to veteran Alex Rao in the bullpen. An RBI single by Dylan Rock made the game 5-0, and ace Nathan Dettmer would take over from there on.
On Friday, Dettmer had his worst start of the season, giving up seven runs through five outs against a lethal Oklahoma offense. He responded on Tuesday, with his best start of the year, going seven innings, allowing only three hits and not a single walk. The 6'4″ sophomore completely set the tone when it mattered most.
A solo shot by Brooks Coetzee would be the only run of the day for the Irish, who came up empty on a potential rally in the eighth. Joseph Menefee got the final six outs, ending a season to remember for Notre Dame baseball.
Texas A&M still has a tough road ahead of them, needing to win two-straight against Oklahoma, starting tomorrow. Aggies eliminate Irish, 5-1.
Arkansas crushes Auburn 11-1, set for rematch with Ole Miss
The Hogs came out of the gate firing. Braydon Webb led off with a double and was immediately brought in by Peyton Stovall, putting Arkansas in the lead before the first out of the game was even recorded.
In third, Chris Lanzilli and Robert Moore had an RBi single and double, but that would be just the beginning for the Razorback bats. The next inning, they would keep piling on thanks to a Michael Turner double and two-run shot by Lanzilli.
Before the game reached its halfway mark, Auburn found themselves down 8-0.
Arkansas starter Will McEntire was lights out over seven innings. He allowed just one run, a homer by Bobby Peirce, and held them to three hits while striking out nine Tigers. He'll be unavailable until the potential best-of-three series in the finals, but posts a stellar 2.59 ERA after Tuesday night.
Every facet of the game was elite for the Hogs. They had a combined 16 hits on the night, with Peyton Stovall accounting for five of them (first ARK five-hit CWS game since Dustin Ackley in 2009). He's now 9-for-16 so far in Omaha, and totals a combined 21 hits over nine postseason games. Lanzilli and Turner each had three-hit, three-RBI games.
You'd think a 16-hit performance would be rather wide spread throughout the order, but the bottom-third of the lineup did not record a single one. Six batters, 16 hits.
Through three games in the College World Series, Arkansas' closest scoring margin was their Monday night deficit to Ole Miss… which was eight runs (17-2, 5-13, 11-1). Though they've played the last two nights, their bullpen remains relatively in tact as a result of these blowouts.
They're scheduled for a third-straight nightcap, and rematch with Ole Miss tonight. Don't be surprised if they get revenge.