List
2021 Cape Cod League Recap: Top Hitters
These hitters stood out big time in the Cape Cod League.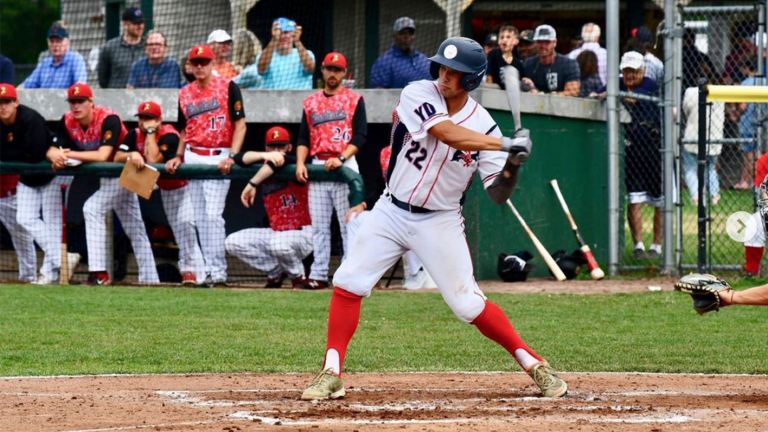 After a cancelled 2020 season, the Cape Cod League had no shortage of talent this year. Ten players hit over .300, coming from all over the country and schools of all sizes. These five players made the biggest impact for their respective clubs.
INF Brock Wilken – Harwich (Wake Forest)
After attending a Harwich Mariners game last month, third baseman Brock Wilken really stood out to me. Wilken showed the power with a homer and flashed the leather by making an unbelievable play to turn two and end the game versus the first place Bourne Braves.
About three weeks later, Brock Wilken is the Cape Cod League MVP. The craziest part? Brock is only 19-years-old and won't be eligible for the draft until 2023. Before coming to the Cape this summer, the Florida product put up a huge season for the Deacons. Wilken hit 17 home runs, setting a Wake Forest freshman record, slugging .617 in 47 games. The MVP didn't lead the Cape in any stats, but the loud tools and 6-foot-4 frame showed evaluators why he was the league's best player.
In the regular season, the East Division All-Star slashed .302/.430/.519, slugging six homers in 36 games. There is still a lot to prove between now and the 2023 draft, but look out for Wilken to be a top selection in a couple of years.
OF Chase DeLauter – Orleans (James Madison)
James Madison hasn't had a first round pick in nearly 14 years (Kellen Kulbacki), but OF Chase DeLauter has a chance to change that. Through his sophomore season, DeLauter hit .385/.488/.657 in 42 games for the Dukes.
After two big seasons at JMU, DeLauter was invited to compete against elite competition on the Cape, and he rose to the occasion. The West Virginia native dominated the Cape Cod League this summer, slashing .298/.397/.589 and leading the league in home runs (tied) and slugging percentage. Young college athletes are expected to "fill out" by the time they get to the big leagues, but DeLauter already looks like a NFL linebacker. He is expected to be one of the best hitters in the 2022 draft, ranking 23 in Prospects Live's Top 100 list. The lefty has also made some appearances on the mound, but obviously projected as a hitter long term.
DeLauter is a physical specimen. At 6-foot-4, 230 pounds, the product of Martinsburg, West Virginia can really bang at the plate. Believers see an above average hitter with easy plus raw power. He has a disciplined eye at the plate that should translate to pro ball well. In the field, it's at least a plus-plus arm in a corner with rangy speed and sound fundamentals. – Prospects Live Staff

Prospects Live 2022 Top 100 Draft Prospects
INF Brooks Lee – Yarmouth-Dennis (Cal Poly)
After a late start on the Cape this summer, Cal Poly infielder Brooks Lee showed why he is one of the top draft prospects for 2022. The switch-hitting shortstop returned to the league in mid-July after playing for Team USA's National Collegiate Team. After a strong high school career, hitting .405 as a senior, Lee decided to honor his commitment to Cal Poly rather than go pro.
Last season, Lee impressed in the PAC 12, hitting .342 and 10 homers in 222 at-bats. Lee has an exciting skill-set, standing 6-foot-2 with plus hitting ability from both sides of the plate. Scouts enjoy his raw power, quick hands, and big throwing arm, which could land him at third base long term. After 88 plate appearances with the Y-D Red Sox, Lee slashed .405/.432/.667 with a 1.099 OPS, while hitting six homers. If Lee stayed for the entire summer, he would have had an opportunity to win the Cape Cod League batting title. Widely regarded as a top ten prospect for the 2022 draft, Lee established himself as an impressive hitter against elite competition on the Cape this year.
OF Clark Elliott – Hyannis (Michigan)
Despite being on the worst team in the league, Michigan outfielder Clark Elliott stood out for Hyannis. After an amazing first half, Elliott was named to the Cape Cod League All-Star Team, and later won the league's batting title. The lefty-hitting outfielder produced a .344/.464/.478 slash-line, equating to a .942 OPS.
While the majority of his hits were singles, Elliot's plus-plus speed made up for it on the base paths. The Illinois native only stole seven bases this summer, but accounted for 19 runs. Elliott is no stranger to success in 2021, hitting .270 and getting on base at a .403 clip for an up-and-coming Michigan program. The 20-year-old will be eligible for the 2022 draft, and comes from an athletic bloodline, as his father played both football and track at Illinois.
Elliott has shown good top-of-the-order skills. He doesn't have a lot of power, but he does a good job of putting the bat on the ball and his combination of hittability and speed makes him an intriguing prospect. – Teddy Cahill, Baseball America

From "10 Players Having Breakout 2021 Summers In The Cape Cod League"
OF Tres Gonzalez – Wareham (Georgia Tech)
Georgia Tech is known for pumping out catchers such as Jason Varitek, Matt Wieters, Joey Bart and soon-to-be Kevin Parada. This summer, a different position made an impact on the Cape, outfielder Tres Gonzalez from the Wareham Gateman. The Dodgers' 37th round pick in 2019 put up a nice season for the Yellow Jackets in 2021, hitting .279/.422/.412 with 44 walks in 56 games.
A smart, mature hitter, Gonzalez put up a monster season this summer, batting .331 and producing a .418 on-base percentage. The lefty-hitting outfielder uses the whole field and rarely strikes out. Gonzalez is a projected middle-to-late round pick in the 2022 draft.