Analysis
Brewers First Rounder Brock Wilken on Chasing Down His Dreams
The Milwaukee Brewers top prospects joined the latest episode of our Behind the Seams podcast to share more about his baseball journey.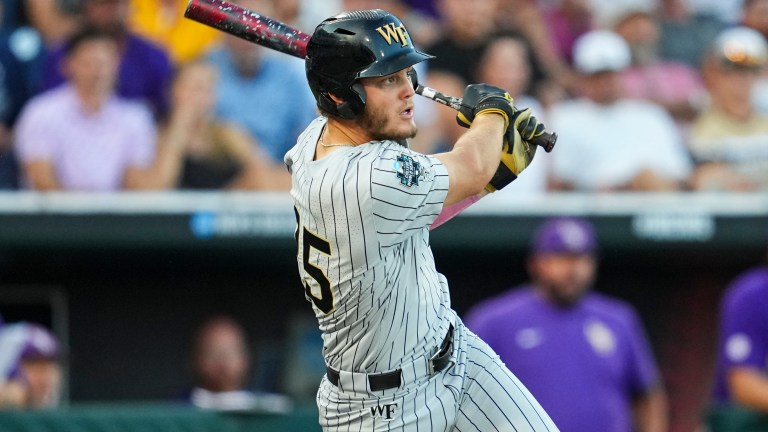 Brock Wilken earned his nickname the BROCKET by hitting absolute tanks with incredible exit velocity during his time at Wake Forest. With 60-grade power and a plus-plus arm at third base, Wilken had many teams ready to call his name on day one of the 2023 MLB Draft. 
His ascent to the top wasn't always easy. Brock had to put in a ton of work and push through being overlooked plenty of times. He sat down with us on our recent episode of Behind the Seams to talk about his journey to professional baseball. 
"I wanted it so bad," Wilken said. "I was willing to do whatever it took to get there."
He wasn't about to let being overlooked in high school stop him from achieving his goals. He kept his mindset and perspective in a positive spot which helped him stay motivated.
"Other people not seeing that can really cause you to go one of two ways," Wilken said. "Either you keep going on the path you're going or veer off wondering why no one else is seeing it and play that pity game. I believe in myself and knew I was going to keep doing this no matter what."
The belief in his ability earned him a scholarship to Wake Forest. He had an incredibly hot start to his collegiate career as he slashed .279/.365/.618 with 17 home runs, 11 doubles, and 44 RBI in 47 games. That freshman year had him skyrocketing up MLB draft boards and the lofty expectations were placed on him going into his sophomore year.
Wilken ran into a bit more struggles his sophomore year. Starting at third base for the Demon Deacons, Wilken found himself chasing pitches a bit more. The power was still there, by the strikeouts were way up. He knew he had to make adjustments and improvements to his game in order to make a complete 180 going into his draft eligible year. Despite the struggles, he never lost confidence in his abilities.
"It all comes back to if you lose that confidence piece, you are not going to get as far as you want to in life and in baseball," Wilken said. "If you have that mindset of I'm better than this guy and he's not going to beat me, whether it is on the field or off the field, that is the biggest piece of advice I can give a guy."
Staying confident paid off. Wilken was in the heart of the Wake Forest lineup where he slashed .345/.506/.807 with 31 home runs, 15 doubles, and 82 RBI. He saw a massive increase in the amount of walks he had and cut down on his swing-and-miss. His improved patience at the plate helped a stacked Wake Forest squad make their way to the College World Series. 
"It was the best year of my life," Wilken said. "That is the pinnacle of amateur baseball. Just being in that moment, playing on that stage, under those lights in front of 25 to 30 thousand, there's nothing like it besides the College World Series. It was such a really cool experience."