List
Baseball Cards: Five Big Movers at the Trade Deadline.
We always see cards skyrocket from players being traded. The trade deadline is the perfect place for those types of things to happen.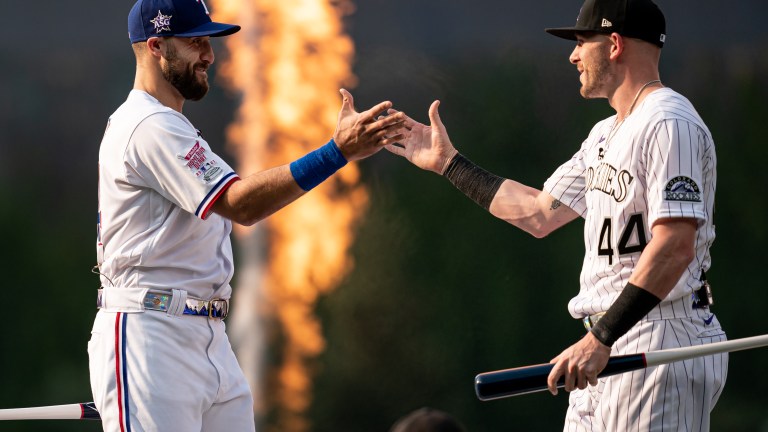 One of the best times to see your card values jump in value is the trade deadline. We are quickly approaching the deadline of July 30th and I can assume that we are all wanting to move a few cards. If you have these five players in your collection, I wager that you see a rise in evaluation in the next few days. If you are looking for quick turns, these five guys will be of service to you.
*Editors Note: Nelson Cruz was moved to Tampa Bay during the editing of this article.
Joey Gallo – Texas Rangers
There is not a slugger in the game that is in more articles this week. Everyone is talking about Joey Gallo and what potential team he will end up with. Unless we see the Texas Rangers do something ridiculous and hold onto Gallo, he will end up on a post-season roster. Gallo has always caught the eye of the media. He has the most walks in MLB and couples that with elite power and impressive exit velocity. He is a plus defender as well and will surely explode in value late in the 2021 season. Gallo cards are fairly scarce on the market as well, so if you have a Gallo RC and are looking for the time to sell, your opportunity is knocking.
Card: 2015 Topps Chrome Update Mega Box #US103
Starling Marte – Miami Marlins
The Marlins will (should) move multiple players at the deadline and Marte is at the top of that list. Things have not gone as expected for the fish this season and they are looking to juice the farm with more talent. Miami isn't far away from being a team that is competent, but it feels far from the 2020 playoff team. The Marlins extended an offer to Marte, but conversations seem to be in drastically different waters. Marte is still an incredible center fielder and if he were to end up in a place such as Boston, or a short drive to Tampa Bay, his value will go through the roof. Expect Marte to rise in value if he finds an everyday role for a competitor at the deadline.
Card: 2011 Bowman Chrome Starling Marte Rookie RC Refractor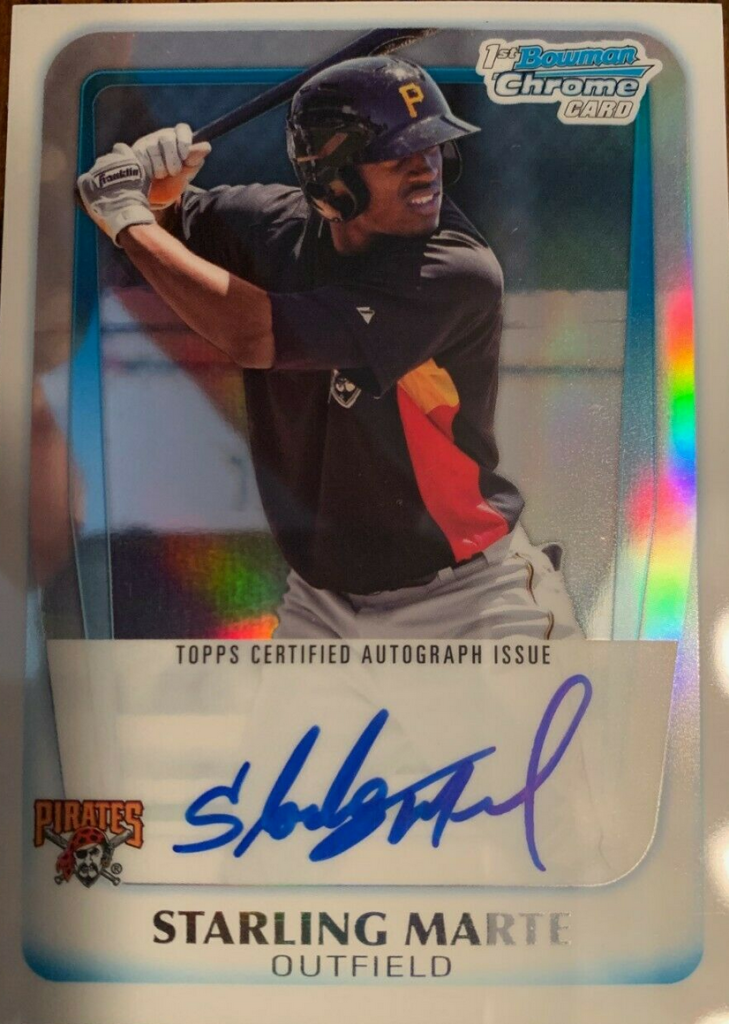 Nelson Cruz – Tampa Bay Rays
*Editor's Note: Cruz and Calvin Faucher have just been moved to the Tampa Bay Rays for Joe Ryan and Drew Strotman.
Cruz is an incredible being. He has become what everyone thought Albert Pujols would be in the latter stages of his contract with the Los Angeles Angels. He is defying time and still hitting tanks. Personally, I have a hard time writing a piece about a player who potentially lost the 2011 World Series for my favorite team, but the Rays will not need him defensively. What Tampa does need from The Boomstick is to drive in runs, which he still does at an elite level. My mind goes back to Cruz hitting missiles at the Trop to put the Rangers in the Series and I think we will see plenty more souvenirs where those came from.
As a small addendum here, Joe Ryan is outstanding. Now would be a great opportunity to buy into his cards before he becomes a stud for Minnesota. Buy with caution though as pitchers never have the same value as hitters in the card market.
Card: 2005 Topps Chrome Update Nelson Cruz RC #UH210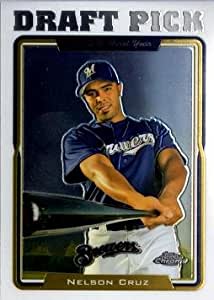 Whit Merrifield – Kansas City Roayls
I believe that Whit Merrifield could be one of the biggest names to skyrocket in evaluation this year. Whit does it all. He plays infield, outfield, hits for average, has power to all fields, and has the potential to steal 50 bags this season. If the Royals decide to move one of their most electric pieces, it might be one of the most underrated moves of the deadline. Merrifield could go to the Yankees and instantly transform the makeup of the lineup. If Whit gets traded, he will likely get eyes on him that have never heard of him before and he could quickly become a household name. Because of the combination of the small-market team he plays for, and the traits that he brings to the table, his cards could fly. Look to buy now, and if he is moved, wait for the playoffs.
Card: 2016 Topps heritage Whit Merrifield Royals #683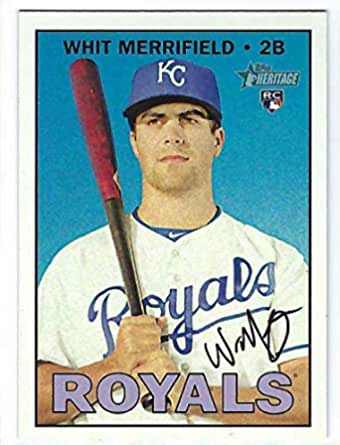 Trevor Story – Colorado Rockies
We leave Story for last in this piece because he will be the player whose cards will pop the most from a move. He is a classic power hitter, but a tremendous shortstop as well. Although he will be a rental and likely hit the open market this off-season, buy his cards now, because the next few months will be outstanding for Story's value. This one is a no-brainer.
Card: 2016 Topps Chrome Trevor Story RC #45