Analysis
2022 Bowman Baseball: Five Most Underrated Prospects To Chase
Some of the most underrated 2022 Bowman Baseball prospect cards to chase on the Loupe app.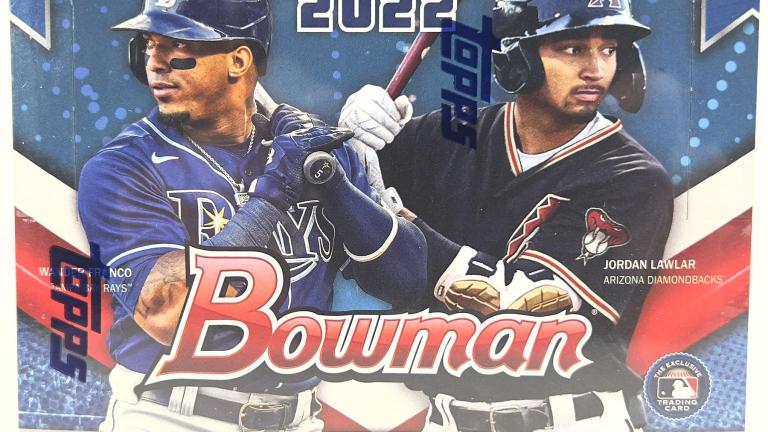 I have spent plenty of time highlighting the top names in 2022 Bowman Baseball and as I continue to see collectors chase many of the same names, it felt like a good time to remind people just how deep this checklist is.
Ever since this product dropped, we have had tons of people reaching out with pictures of their Kahlil Watson, Elly De La Cruz and George Valera pulls, but there are five names who can jump in value very soon in this product.
5. Jhonkensy Noel – 1B/3B – Cleveland Guardians
Monstrous power is the calling card for Noel, who exploded onto the scene last year with 19 homers in 64 games as a 19-year-old. After mashing his way to High-A to finish the year, the Guardians started Noel back at the same level to work on finding a bit more consistency at the plate.
So far this season, Noel has continued to show the power with 10 homers in 41 games, but there is still a bit of swing and miss (30 K%). At just 20 years old with some of the most ridiculous power you'll see in the minors, Noel is still a good card to pull and hold onto. He reminds me quite a bit of possible future big league teammate, Franmil Reyes.
4. Brayan Bello – RHP – Boston Red Sox
I know, I know, nobody likes to collect pitchers. Still, I will scoop up an undervalued arm when I see one and Bello is just that. A preseason Top 100 Prospect for us at Just Baseball, Bello has been everything we hoped and more this season.
The wiry, athletic right-hander carved his way to a Triple-A promotion and has not stopped in Worcester, striking out 26 batters in three starts along with a 3.18 ERA. Not only is Bello fun to watch with his upper-90s heater and wipeout changeup, but he could make his MLB debut for the Red Sox before the All Star break at his current pace.
Again, I know we don't love collecting pitchers in this hobby, but sign me up for a young, electric starter who could help a big market team stay alive in the playoff race this year.
3. Dustin Harris – OF – Texas Rangers
This man just rakes. Harris put up video game numbers last year between Low and High-A, launching 20 homers and stealing 25 bases while hitting .327/.401/.542. Harris hasn't quite matched the same level of production in Double-A so far this season, though the numbers imply that he has been a bit unlucky.
Even with a slower start, Harris is on pace for another 20/20 season while getting on base at a high clip. I can't emphasize enough how difficult the jump from High-A to Double-A is and the 22-year-old is also learning a new position in the process. I love Harris's profile as a well rounded corner outfielder and his strong approach and solid complementary tools give him a safe floor with enough upside to get excited about.
2. Eddys Leonard – SS – Los Angeles Dodgers
After a brutal first week to the season, Leonard has not looked back, slashing .315/.409/.554 for the High-A Great Lake Loons. Leonard is yet another Dodgers prospect who boasts strong bat-to-ball skills and seems to get better in the power department every time you check on him.
Still just 21 years old, Leonard is in the midst of his second stint in High-A and should be due for a promotion to Double-A soon thanks to strong K-BB numbers. If the intriguing infielder continues to develop in the power department, there is a lot to like from yet another Dodgers prospect. Another name to watch with a nearly identical profile is fellow Dodgers prospect, Jorbit Vivas.
1. Lenyn Sosa – SS – Chicago White Sox
It is only a matter of time before this kid is one of the top chases in 2022 Bowman Baseball. After a bit of a down year last season, Sosa has been on another planet, hitting .348/.404/.575 with 10 homers and a minuscule 13.8 K% in Double-A.
Added strength and simplified pre-swing moves have allowed Sosa to frequently be on time as well as make better swing decisions. Any time a prospect doubles his isolated power while nearly halving his K-rate and boasting his walk rate, it becomes almost impossible to deny what is going on.
I am a huge fan of Sosa's tools and an even bigger fan of his adjustments. I expect the success to continue for Sosa and you can expect him to be on our mid-season top 100 prospect update.