Analysis
World Series Best Bets, Game 1, Diamondbacks vs. Rangers, Odds, Predictions for October 27, 2023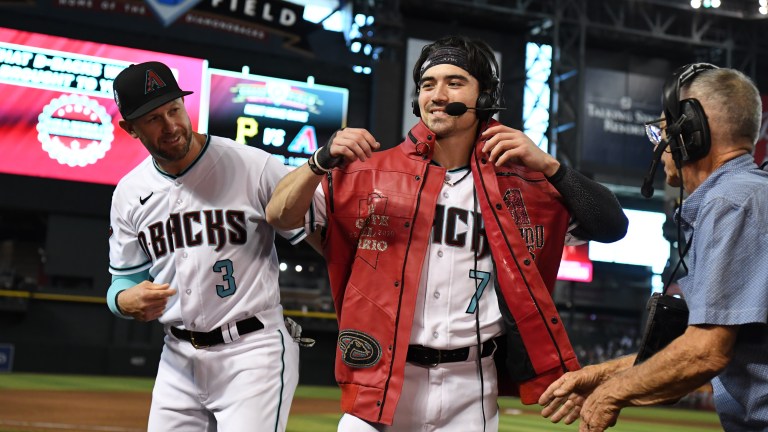 Game 1 of the World Series. We made it.
We are coming off a sweep of Game 7 of the NLCS, with Ranger Suarez exceeding his strikeout total and the game going under 8.5.
Today's bet is more of a value play than anything. The disrespect here is insane.
2023 MLB Regular Season: 154-165 (-11.66 U)
2023 MLB Playoffs: 16-16 (+3.37 U)
Arizona Diamondbacks vs. Texas Rangers @ 8:07 PM EST
Pitching Matchup:
Zac Gallen (ARI): 3.47 ERA, 4.18 xERA, 3.27 FIP, 3.49 xFIP, 3.67 SIERA
Nathan Eovaldi: 3.63 ERA, 4.01 xERA, 3.88 FIP, 3.96 xFIP, 4.18 SIERA
The disrespect here is wild. The Diamondbacks deserved to beat the Phillies. They showed resilience in the hardest environment to win at Citizens Bank Park, winning two straight road games. The bullpen was exceptional, proving they could win without the home run. All they need to do is get on first. They steal bases, they play excellent defense, and they can pitch. They are a fantastic team on a roll. With their ace on the mound, they are +152? What?
Full transparency: my pick was going to be the first five-innings spread for the Rangers. I hoped it would be a plus price, but it's nowhere near that. I like Eovaldi better than Gallen in this spot, but not by what the price says. It's egregious.
The Rangers are big favorites here, both early and late. They should be the favorites; Nathan Eovaldi is an incredible playoff performer, they are at home, and the offense is suffocating. However, this line indicates the Rangers are the clearly better team in this one, which isn't true.
The Diamondbacks won the season series against Texas. They met for four games, two two-game sets, going 3-1 in those games.
Zac Gallen started the first game of the series against the Rangers and was spotted a two-run lead in the first inning as the D-backs jumped all over Jon Gray. Gallen was cruising through four innings before a bad fifth inning knocked him out of the game.
He allowed four earned runs, and the Rangers won 6-4. The same thing could realistically happen here, but Gallen's quality of contact numbers against the Rangers are incredibly appealing.
Through 89 PA against the Rangers current roster, Gallen is rocking a .230 xwOBA, a .290 xSLG, and a .256 opponent average with a 28.1% K-rate and a 3.4% BB rate. That's exceptional, but two hitters have given him fits. Corey Seager and Marcus Semien are the players to watch, as the rest of the lineup is 10-57 (.175 BA). Josh Jung, Jonah Heim, Adolis Garcia, and Nathaniel Lowe are 1-23 against Gallen.
Gallen has not performed well in these playoffs, which is probably why the price is so high. It's hard to know if he can make adjustments here, but he does have something going for him. The Rangers are the best team in baseball, by far, against sliders, a pitch Gallen only throws 3.4% of the time.
Gallen and Verlander have some similarities, and Verlander implanted his curveball and changeup more often than his slider. Verlander pitched to a 4.27 ERA to the Rangers. Gallen won't dominate, but he can keep us in this game.
He can effectively use his curveball and changeup as out-pitches if he can locate his fastball up in the zone. His road issues are prevalent, but it's still Zac Gallen—the same pitcher who almost won a CY Young and had a better season than Eovaldi.
One edge he has over Nathan Eovaldi is rest. Eovaldi has dominantly thrown 26.1 innings this postseason. He's averaged over six innings per start, with his last outing coming on October 22. He'll be pitching on four days rest, while Gallen had the regular five to adjust. Eovaldi might not care about any of that and still look incredible, but this isn't his ideal spot.
Eovaldi has only faced three hitters in Arizona. Lourdes Gurriel Jr is 7-18 (.389 BA) with two home runs. Evan Longoria is 3-12 (.250 BA), and Tommy Pham is 2-6 (.333). The veterans know what they are getting for Eovaldi, so they should have a good game plan against him. Whether it works is another question, but let's not pretend we are about to witness a no-hitter.
After these two starters exit, the Diamondbacks have the advantage. Paul Sewald and Kevin Ginkel have yet to allow a run, and they have Andrew Saalfrank and Joey Mantiply to match up against the lefties in the Rangers lineup. Ryan Thompson can match up against anyone, as well. The Rangers don't have a lock-down bullpen arm outside of Josh Sborz, so if the game is close, the Snakes are alive.
I highly recommend checking out the World Series preview linked at the top. It has all the stats on these bullpens and lineup stats. Instead of regurgitating those stats in every writeup, it's one click away.
I picked the Rangers to win this series in seven games. The Diamondbacks are a dangerous team for their style of play on the field and their attitude. What do they have to lose? Everyone expects the Rangers to win so this young team can play loose and aggressively. The pressure is on the Rangers here. We can't project a great home-field advantage; they lost every game at home to the Astros.
If Eovaldi dominates and Gallen struggles again, so be it. It's the World Series; anything can happen. Anything over +140 is disrespectful, and I'm willing to bet on the Snakes showing why they deserve to be here. They swept the Brewers, a team built on pitching. They swept the Dodgers, a team with an incredible lineup and bullpen. They beat the big and bad Phillies, who everyone crowned World Series champions a bit too early. Why can't they beat the Rangers?
Regarding the player prop market, I would look at Gurriel Jr, Seager, Semien, Marte, Carroll, or Evan Carter. I want to watch how they look in a feel-out game before making any prop bets.
It's game one; let's feel it out with a bet on the Snakes to win one unit. Take this down to +140.
The Pick: Diamondbacks ML (+152) Risk 0.66 U to win 1 U