Analysis
NLDS Game 2 Best Bets, Odds, Predictions for October 9, 2023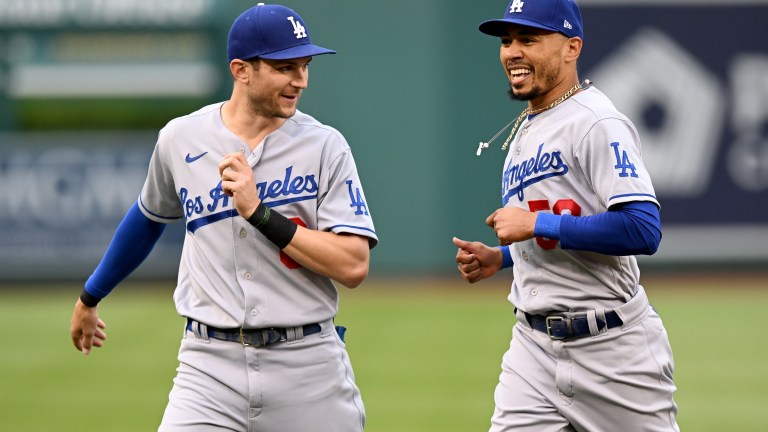 The Twins, again!
The gift that keeps on giving. However, we did lose the under in Baltimore. We didn't just lose it, we LOST it, as there were 19 runs scored. Grayson Rodriguez didn't have it like I thought he would, and the game unraveled from there.
Please don't ask me about the Phillies vs. Braves. This series is putting my brain in a pretzel.
We went up a little bit due to the Twins being underdogs. Let's make some more tonight.
2023 MLB Regular Season: 154-165 (-11.66 U)
2023 MLB Playoffs: 5-5 (+1.88 U)
Arizona Diamondbacks vs. Los Angeles Dodgers @ 9:07 PM EST
Pitching Matchup:
Zac Gallen (ARI): 3.47 ERA, 4.18 xERA, 3.27 FIP, 3.49 xFIP, 3.67 SIERA
Bobby Miller (LAD): 3.76 ERA, 3.45 xERA, 3.51 FIP, 3.75 xFIP, 3.93 SIERA
I could very easily be stepping in one here. It pains me to fade a red-hot team like the Diamondbacks. I cannot fathom the Dodgers going down 0-2 at home.
The Dodgers were the better team during the regular season, and they proved it during the head-to-head matchups, winning eight of the 13 games. The Diamondbacks won five of the first eight matchups, but the Dodgers won the final five games between the two teams. Overall, the Dodgers outscored the Diamondbacks in the 13 games, 72-47. Check out the full preview for the series.
Bobby Miller will toe the rubber in his first-ever playoff game opposing Zac Gallen, who is coming off his first post-season experience. While Gallen is in the midst of his prime, we just saw his first postseason outing against the Brewers in the Wild Card round. He pitched fine, allowing two runs in six innings with four strikeouts and three walks. He started off the game poorly but settled in and worked his way through. If the Dodgers can get to him early, I think they will ride that momentum to a win.
I don't want to overreact to game one. Kershaw only got one out before allowing six earned runs. Emmett Sheehan, a rookie, came in to soften the blow and allowed three runs in 3.2 innings. The score was 9-0 after the second inning, and we got a throw-away game. Kershaw did not appear to have his best stuff, and the Diamondbacks took advantage. There couldn't be a more staunch difference in stuff than Clayton Kershaw and Bobby Miller.
Miller has been a mainstay in the Dodgers rotation since he dominated the Braves in his debut. It's elite stuff, highlighted by an average fastball at 99.1 MPH. For reference, Grayson Rodriguez averaged 97.4 MPH on his fastball. Bobby Miller is a different breed with his high-octane stuff.
It's produced great results thus far, including excellent outings against the Diamondbacks. Through 52 PA against the Diamondbacks' current roster, he's holding them to a .239 AVG, a .323 xwOBA, and a .385 xSLG. He was dominant the first time Miller saw them, tossing six shutout innings. The second time around, he allowed four runs in six innings. His third time around should be a combination of the two, a couple of runs scattered over 5-6 innings.
The Dodgers are plenty familiar with Gallen. They crushed him for five earned runs in 4.2 IP on Opening Day. They didn't face him again until August when they plated six runs in 5.1 IP. His overall stats against the Dodgers' current roster look better than they will against this lineup, as he's dominated players like Wong and Hernandez.
This is also Gallen on the road. This season, he's rocking a 4.15 FIP and 4.26 xFIP on the road compared to a 2.32 FIP and 2.66 xFIP at home. With a history of struggling on the road and going into a hostile environment against a team that's hit him up before, it doesn't inspire confidence that Gallen has a good outing.
The Diamondbacks bullpen has been awesome, but the Dodgers bullpen is better. They were better over the full season, better lately, you can spin it any way you want.
I tried to figure out a less pricey way of playing the Dodgers. I thought about the first five; I thought about the team total. I'm not going to get cute. I haven't given out a play all season beyond -140, but I have to do it in this spot. I think my brain will explode if the Dodgers go down 0-2 at home.
The Pick: Dodgers ML (-155) Risk 1 U
PrizePicks Entry 0.25 U to win 0.5 U
Max Muncy Over 1.5 H/R/RBI
Gallens worse split is lefties, and it's worse on the road. Lefties on the road vs. Gallen have a .335 wOBA, all other splits below .300. Muncy hits Gallen hard, averaging 90 MPH, the highest on the Dodgers against Gallen. Muncy is only 4-23 against Gallen in his career, but his xSLG is .536, and xwOBA is .374, the highest on the Dodgers. He's seen him so many times, and I find it interesting that he has the lowest HR odds among both playoff games. He hit 36 home runs this year, so it's not crazy, but to be lower than Matt Olson, Mookie Betts, Ronald Acuna Jr, Bryce Harper, Marcell Ozuna, Austin Riley, JD Martinez and more sluggers is interesting.
Christian Watson Over 42.5 Rec Yards
I am taking a trip to Monday Night Football for my pairing. +EV on both receptions and yards and Nate Hobbs, the Raider's best corner, will not be playing in this game. Targets were there in the last game, and I expect points on both sides. Deep threats have killed the Raiders, and Love likes to throw the ball downfield. We also have a Davante Adams revenge game, and Watson is the replacement in Green Bay for him. I think he shows out to prove to Packers fans that he's the guy moving forward.