Analysis
NLCS Game 6, ALCS Game 7 Best Bets, Predictions, Odds, October 23, 2023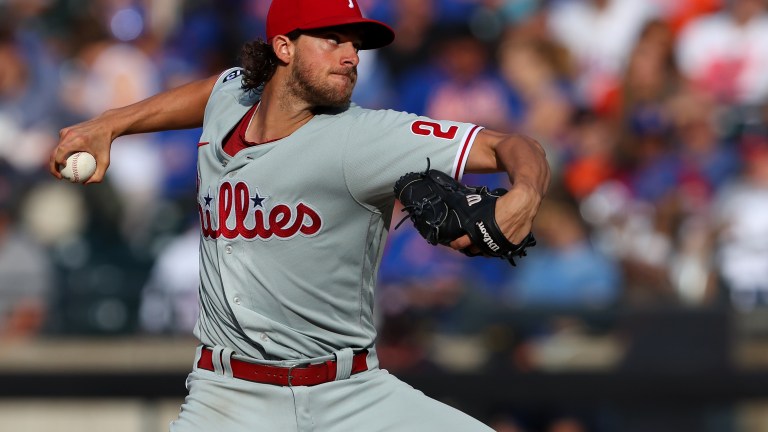 The Rangers! We cashed another plus money play.
The road team continues to dominate in this series; there hasn't been a home victory yet. Does the trend continue, or do the Astros finally get over the hump?
How about the Phillies at the Bank? Can the Diamondbacks shock the world?
Today, I have two game picks and a PrizePicks entry. What a day to be alive.
2023 MLB Regular Season: 154-165 (-11.66 U)
2023 MLB Playoffs: 14-13 (+4.22 U)
Arizona Diamondbacks vs. Philadelphia Phillies @ 8:07 PM EST
Pitching Matchup:
Merrill Kelly: 3.29 ERA, 4.13 xERA, 3.85 FIP, 3.84 xFIP, 4.12 SIERA
Aaron Nola: 4.46 ERA, 3.77 xERA, 4.03 FIP, 3.63 xFIP, 3.75 SIERA
If it ain't broke, don't fix it.
We already saw this matchup unfold in game two, and it went exactly like we thought it would. Citizens Bank put a lot of pressure on Arizona, and the Phillies took advantage early. Aaron Nola turned in yet another excellent start, and Trea Turner went ballistic. We could dive in, go contrarian, find a sneaky angle, or ride what works. Why get cute when the matchup is right here in front of us?
Aaron Nola is on a mission. We were supposed to be at the point of the postseason where he slows down, but that just isn't happening. He's a free agent after the season, so not only is there an incentive to win, but it's also financial. That's a dangerous combo, and he's pitching like he wants $200M.
Nola has been a stud at Citizens Bank Park in the regular season and his postseason career. His splits are vastly different on the road versus at the Bank. He's thrown 18.2 innings this postseason, pitching a 0.96 ERA and 1.70 FIP. He's thrown 44.1 innings to a 3.25 ERA and a 2.88 FIP in his postseason career. At home this season, he's pitched to a 3.29 ERA and 3.40 FIP, compared to a 5.43 ERA and 4.55 FIP on the road. This is, historically, the best version of Aaron Nola.
He dominated against the Diamondbacks, tossing six shutout innings. It backs up his success in the regular season against this current roster as well. I have no reason to believe he struggles except for "anything can happen in the playoffs." He's also not an easy pitcher to adjust to when he's on. He can work with six different pitches that he can throw in any count. So, the familiarity isn't much of an edge for Arizona.
Merrill Kelly will toe the rubber for the Diamondbacks. He pitched okay in his last start against the Phillies, but the long ball got him. He allowed four runs in 5+ innings, but to his credit, he left on base the fourth run when he exited. He did allow three home runs.
Kelly has similar issues on the road as Gallen does. At Chase Field, he rocked a 2.59 ERA and a 3.43 FIP. On the road, those numbers jump, sporting a 4.07 ERA and a 4.32 FIP. He also has similar issues against left-handed bats (4.26 FIP vs. LHB, 3.42 FIP vs RHB).
Kelly has faced the Phillies twice this season. The first time he allowed three runs in six innings, he allowed four runs in five. The quality of contact the Phillies have produced against Kelly is strong: a .578 xSLG and .402 xwOBA. However, a lot of that comes from one man.
Trea Turner. We bet him to get a hit in game two against Kelly, and he sent one 400 feet in his first AB. Trea Turner is now 10-22 (.455) with three doubles and a home run against Kelly. Turner is hitting .329 against fastballs under 93 MPH for his career; this type of pitcher is an excellent matchup for him. He likes hitting changeups and sinkers as well, posting positive run values. Kelly might be Turner's favorite pitcher to face in the league.
At this point, the bullpen advantage appears to be anyone's ballgame. I prefer the Phillies overall, but they have Craig Kimbrel, who will probably pitch whether we like it or not. This play hit easily in game two, and I see no reason we shouldn't go with it again. Turner has a dream matchup, but so do the Phillies offense against Kelly. We know how loud the Bank will be, so let's ride that momentum.
SGP on BetMGM: Trea Turner To Get a Hit and Phillies ML (+105) Risk 1 U
Houston Astros vs. Texas Rangers @ 8:03 PM EST
Pitching Matchup:
Cristian Javier: 4.56 ERA, 4.48 xERA, 4.58 FIP, 5.16 xFIP, 4.76 SIERA
Max Scherzer: 3.77 ERA, 3.28 xERA, 4.32 FIP, 4.02 xFIP, 3.77 SIERA
The two best words in sports. Game 7. I was told on Twitter that it's actually the best word and the best number in sports. 7 isn't a word. Shut up and let me enjoy this banger of a game.
Realistically, nobody knows what will happen in this game. All we can do is follow a profitable formula and hope for the best. In Game 7s, my unit size is always cut in half. I could love something, but the variance will get you in game seven; anything can happen. That's why it's the best two WORDS in sports.
What's that formula? We take the better pitcher through the first five innings. Bryan Abreu is incredibly important to the Astros, and it won't be announced whether he's pitching until game time. This game already has a ton of variance, and they throw that wrench in.
Here's what I do know. Cristian Javier continues to be one of our best post-season pitchers. He was terrible in his last start for his standards, giving up two runs in five innings. He only allowed three hits, but he hung a slider to Josh Jung, who hit it over the fence. That was the worst postseason performance of his career. Crazy, right?
He's thrown 11 IP this postseason to a 1.69 ERA. In 43.1 IP over his postseason career, his ERA sits at 2.08. That's better than any pitcher we have in the postseason. Wheeler has accumulated more innings, so I still give him the slight edge, but we are witnessing a man who does not care about the bright lights and dominates when it's his turn to take the stage.
The problem I've always had with Javier is his margin for error is so small. With a limited pitch mix, those pitches must be plus-plus for him to be effective. However, we see a changeup and curveball thrown more often, giving him a tastebreaker off the slifer. It's important against the Rangers because they are the best slider-hitting team in baseball.
Javier has compiled 160 PA against this Rangers' current roster, holding them to a .327 xwOBA, a .429 xSLG, and a .231 opponent average. Compare that to the 188 PA against the Astros' current roster for Scherzer, and we are looking at a .518 xSLG, a .363 xwOBA, and a .289 opponent average.
I'm not sure what to make of Scherzer. He got through his first inning, and then it unravled. Just because he got a start under his belt, is he now a full go? He went on the IL because of a teres strain in his right arm. "When this injury happened, we were in that-four-to-six-week window [necessary rest]," Scherzer said. He made his first start in week five of his recovery, and now we are on week six. How can I assume he's 100% still?
Here's why this isn't a full-unit bet. For one, it's game seven. Two, this price is vastly different from when we took it in game three. This same line was +118, and now it's -120. Part of that is how the last game ended, and another part is home-field advantage factored in.
As we know, home field is a bad thing in this series. The road team has won every game, and maybe that continues, but I have to trust the better pitcher.
The Astros are inevitable.
The Pick: Astros First 5 Innings ML (-120) Risk 0.6 U
PrizePicks Entry 0.25 U to win 0.5 U
Aaron Nola Over 16.5 Pitching Outs
This line should be 17.5. Nola is a workhorse. I fully expect six innings out of him, considering the Phillies bullpen has been underwhelming lately.
Manager Rob Thompson has proven he will stick with his guys. With game seven being tomorrow, if the Phillies lose, they'll need all hands on deck following Ranger Suarez. Suarez doesn't tend to go more than five innings, so you'd think Thompson's leash on Nola will be longer tonight. If he shuts them down again, he'll easily go over this, but even if the Diamondbacks scatter a few runs, I still think he throws six innings.
Kirk Cousins Over 238.5 Passing Yards
I am showing +EV on pass attempts and +EV on yards. Regardless of how the script of this game goes, Kirk will have to throw. The 49ers are so good at stopping the run, and it will be on Kirk to move the ball through the air.
He's been good this year. He has a 96.7 passer rating under pressure, one of the best in the NFL. He also has some very interesting lines. He's -180 to go over 225.
It's been a common theme that teams must throw against the 49ers. They rank 31st in passing attempts, which means teams are throwing the ball more than any other team except one. I think we have value on this line, considering he averages 260 and is coming off a 184 yard game.
However, it's Kirk. He could realistically stink in prime time, but with so much public money on the 49ers, we gotta assume the Vikings keep this close. I cannot see them keeping it close on the ground, so I'm betting on Kirk to light it up through the air.
ESPN projections also have him at 285 for this game. I rarely look at that, but I thought it was interesting. Let's roll with Kirk to throw 239 yards or higher.
If you don't want to play an NFL prop, consider Kyle Schwarber, Nick Castellanos, or Bryce Harper's props instead. Or, you could double down on Trea Turner.