Analysis
MLB Picks Today, Best Bets, Odds, Predictions for August 4, 2023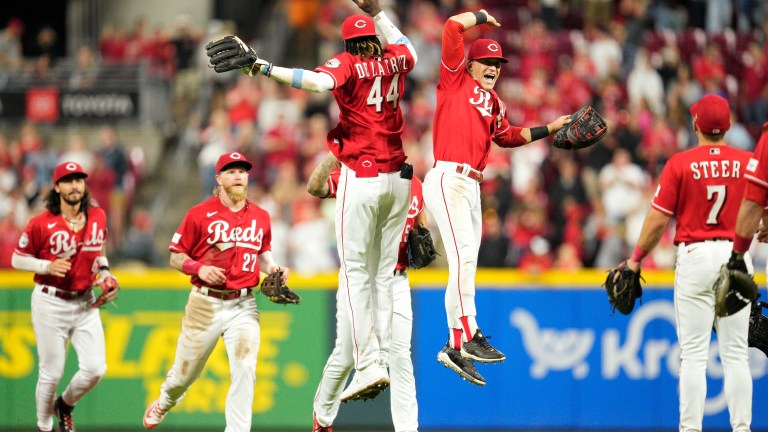 CADE MARLOWE. GRAND SLAM.
What a game! That home run in the top of the ninth saved our day. We won on the Royals early, then lost with the Cardinals late. It was all down to the Mariners, who took an early lead and blew it. The Angels were up 3-1, then the Mariners loaded the bases, and the rest is history. That was our second straight winning day; let's make it a third.
2023 Straight Plays Record: 125-129 (-1.86 U)
I'm using BetMGM lines only this year. Here's a link to get started with a first bet offer of up to $1000.
All prop entries will be on PrizePicks: Here's a link to get a 100% deposit match.
All Bullpen Screenshots are courtesy of Rotowire.
Tampa Bay Rays vs. Detroit Tigers @ 6:40 PM EST
Pitching Matchup: Zack Littell vs. Reese Olson
This game is funny for me. I'm a Reese Olson believer and a Zack Littell hater. There is also something about this Tigers team that makes me want to bet on them, and on top of that, the Rays are in a free-fall.
Littell was acquired from the Red Sox after two rough starts to the season as an opener. The Rays saw something in his split-finger because they've upped the usage by 15% from previous years. However, it hasn't exactly translated to success as his fastball and slider, which take over 73% of his pitch usage, are both getting killed. He's allowing the hardest contact of his career at 51.5%, and they gave him five innings of work for the first time this season.
He allowed eight hits and two runs in his outing, and ERA estimators like him. I know why they like him; his walk rate is incredibly low, at 3.8%. The walk rate is a significant component when looking at peripherals, but everything else doesn't inspire confidence in him for me.
He throws a 94 MPH fastball without any life, sitting in the 11th percentile in spin, and it's surrendered a .370 batting average against. His slider is the same way, it's a hard-breaking ball with below-average stuff characteristics, and it's allowed a .324 batting average against. His peripherals will tell you he's a mid-4s ERA guy with the potential to go lower, but how can I fully trust those when he's only made one start that exceeded four innings?
To compare, Reese Olson also throws a fastball and a slider which take up 65% of his pitch usage. The opponent's batting average against both pitches is .190 or lower. Many of the runs against him have come via the home run, allowing eight of them this season in 49.2 innings. His xFIP is 3.88, telling us he's due for regression toward the mean regarding his high HR/FB rate. If he can limit home runs, he's generally in great shape.
Olson is much better against righties, holding an xFIP of 3.54 against righties compared to a 4.40 xFIP against lefties. The power bats in the Rays lineup are all right-handed, and the only lefties he'll probably face are Wander Franco and Josh Lowe. Luke Raley suffered a knee contusion two days ago, so it's doubtful he will play. That's a big left-handed power bat out of the lineup.
The Rays' offense has been below average against right-handed pitching in the past 30 days against right-handers, holding a 99 wRC+. The Tigers sit at 86. It's worse, that's why they are the underdog, but the Tigers counteract that with the superior starting pitcher.
The Tigers' offense stinks, but they can do well against Littell. The one thing they can do is hit sliders, and Littell's slider is below average. They can also time up a fastball with no life to it.
Everyone is available in both bullpens due to the off-day yesterday. The Tigers should have sold off these key pieces but decided to hold. That's not great for the team's future, but it's fantastic for our bet today. The Tigers bullpen ranks 12th in SIERA, while the Rays rank 23rd. That's a fundamental weakness for the Rays. Pete Fairbanks is fantastic but won't likely pitch unless the Rays lead. They don't have a great bottom end of the bullpen. The Tigers, on the other hand, have plenty of excellent options to go to.
I wanted to back the Tigers due to the starting pitching matchup in some form; then I looked at the model. They have the Tigers capped at -162. I almost spit out the water I was drinking last night. I haven't seen that much of a difference in line in a long time. That's what put this over the edge for me.
For all my line readers out there, the Rays are getting a ton of public money, yet the line stuck. It hasn't moved a cent in the Rays' direction. I think the Tigers will get it done for us today. Play the Tigers down to +125, as I cap them at +110, and the model assumes they win by 40 (not actually, but kind of).
The Pick: Tigers ML (+130) 1 U to win 1.3 U
Washington Nationals vs. Cincinnati Reds @ 6:40 PM EST
Pitching Matchup: Patrick Corbin vs. Graham Ashcraft
I'm riding with the public on this one.
I view this pitching matchup as an incredible mismatch. Also, the Reds are coming off an embarrassing series against the Cubs, while the Nationals just took two of three from the Brewers. I've had success this season, fading the Nationals off a successful series, and I pick my spots with Patrick Corbin. It's square, and I don't care.
Peripherals will never love Graham Ashcraft. He's a soft-contact pitcher without great command with a low strikeout rate. However, when his cutter and slider are working, he's extremely challenging to square up. If he were facing a power-driven team today, I'd be worried about his matchup with how good the weather is. The Nationals have the second lowest amount of home runs in the last 30 days against righties, only one more than the last-place White Sox.
The Nationals are a good matchup for him. They don't want to strike out; they want to put the ball in play. That feeds into Ashcraft's plan, and the Nationals have the lowest Hard-Hit rate in the league.
They can spray some hits but struggle to generate power, registering the seventh-lowest SLG and third-lowest ISO. It's precisely what happened the first time Ashcraft faced them. He allowed seven hits, but just one earned run over six innings.
I think that's important today, considering how good the weather conditions are at Great American Ballpark. It's the number one park for offense today by 7%, calling for home runs. The Nationals don't hit home runs, but the Reds do.
Patrick Corbin also gives up home runs. He's allowed 21 of them this season, and the Reds rank 13th in home runs this season against lefties. I think people see a good Patrick Corbin start and assume he's returning to form, but I'm going the opposite. He hasn't made any changes, and his xERA sits at 6.32, putting him in the fourth percentile. He's throwing slower than last year, and all his pitches have an xwOBA of .360 or above.
The Reds also mashed him the last time he faced them for six earned runs. He's worse on the road by every metric and weirdly worse in night games. Corbin is as close to Wainwright as any pitcher in the major leagues. The Reds will stack righties against him, and he's surrendered a .850 OPS against righties.
The model caps the Reds taking a first-five lead at -125. Even if it didn't show value, I can't resist being on this spot. Everyone is clamoring about Ashcraft being up for 2.5 earned runs, and he hasn't reached that in five starts. Maybe that is a trap, or perhaps it's because the total is at 10.5. Corbin is at 3.5 earned runs and juiced toward the over.
For example, the Blue Jays vs. Red Sox game has a total of 10.5, and James Paxton is -130 to surpass 2.5 earned runs. He's only gone over that once in his last six starts. Is that a trap? Or is the total high, so the earned runs are bound to be higher? The money line price is about 15 cents cheaper, which may explain it slightly. My main point is I'm not reading so far into that.
I'm not trying to convince you to take the Reds; I'm just putting that out there because I see it all over social media this morning. If you like them, take them. I'm certainly on them.
I would play the Reds' first five innings up to -120. Anything above that reduces risk.
The Pick: Reds First 5 Innings -0.5 (-115) 1.15 U to win 1 U
PrizePicks Entry 0.2 U to win 0.4 U
First Leg: Spencer Steer Over 1.5 Bases
Steer is on a heater, and I'm jumping on. He's been tearing the cover off the baseball but was overshadowed by a Cubs offense that's going crazy. In the last 15 days, he has a .894 OPS; in the previous seven days, the OPS has jumped to 1.048. In his few games in August, he is 5-13 with three doubles and two home runs. He's seeing the ball well, and now he faces Patrick Corbin. Steer went 4-4 in that game versus Corbin, and he has a 1.008 OPS against lefties this year. Corbin works down in the zone, and Steer loves hitting the low ball for extra-base hits. He's a good bet to hit a home run today as he leads the game in home run odds.
Reese Olson Under 5.5 Hits
The hits line is interesting because it's the most significant value play among all pitchers on the model at 4.3 hits. He's -125 to go under 5.5 hits. He's projected to go five innings, so the Rays would have to crush him to go over this hits line. If our Tigers bet has a chance, which I think it does, he should go under this, considering the amount of time he'll spend on the mound. We are toast if he's giving up over a hit per inning. It's a double down on how well I think Olson performs today.