Analysis
MLB Best Bets Today: Predictions, Odds for Royals vs. Rockies, Brewers vs. Marlins, Giants vs. Cardinals for May 14, 2022.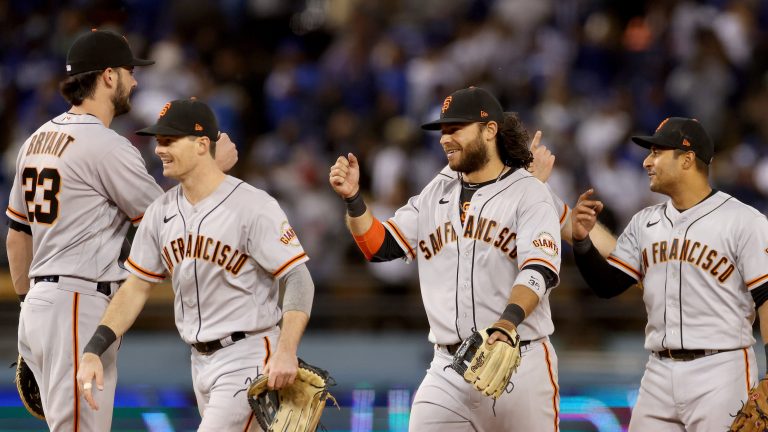 Another losing day yesterday. Since Monday, the funk has continued, as we are now 4-11 in our last 15 picks.
May has been a challenging month in baseball, especially for me. We took the Dodgers, and the Mets spread at home with their aces on the mound, and both teams lost outright.
We did end up winning with the Tigers, which saved us from an even more dreadful day. I'm getting right back on the saddle with three MLB Best Bets to turn our week around.
Peter's 2022 MLB Regular Season Record: 60-45 (57%) +11.86 units
Subscribe to my New Gambling/Fantasy Baseball Podcast: Not Gambling Advice.
Kansas City Royals @ Colorado Rockies: 8:10 PM EST
Carlos Hernandez: (RHP, Royals) [0-2, 7.15 ERA, 1.90 WHIP, 22.2 IP, 10 K, 12 BB]
German Marquez: (RHP, Rockies) [0-3, 6.47 ERA, 1.69 WHIP, 32 IP, 26 K, 10 BB]
Yesterday's matchup between the Rockies and the Royals was insane! The Royals won 14-10 after 31 hits and four errors between both teams. Today, we should see another high-scoring game as Carlos Hernandez toes the rubber against German Marquez.
Carlos Hernandez is a fantastic fade candidate at Coors Field. His fastball is getting torched; opponents are hitting .516 against it. His best off-speed pitch is his curveball, which is one of the most affected pitches at Coors Field due to the altitude. It's challenging to get the same break as he's used to, which bodes well for the Rockies' offense.
Carlos Hernandez has never pitched at Coors Field before, making it likely he gets demolished through the first five innings. He's thrown ten innings on the road this season, allowing nine earned runs on 13 hits. His competition on the road hasn't been strong; he allowed six runs to the Orioles in his last start and gave up three earned runs against the Mariners.
The Rockies have a better offense than both of those teams, but they are rocking a .810 OPS at home. He's never faced the Rockies before, so we don't have any advanced numbers against the current roster.
Marquez has not had the best start to his 2022 season, but he has been significantly better at home. This season, he's been dreadful at any ballpark, but if history repeats itself, we should see some better days at Coors Field. Last season, he posted a 3.67 ERA at Coors Field versus a 5.38 ERA on the road. His current numbers should normalize, as he's not nearly as bad as he's shown. His xERA isn't drastically different, but it is an entire run and a half lower at 5.10.
In 28 plate appearances against the current Royals hitters, Marquez has a .263 wOBA, a .214 AVG against, and a 3.90 FIP. Although those numbers are solid, I don't put much stock into them with the small sample, and the last time he faced the Royals was in 2017.
Hernandez has not faced any of the Rockies hitters before, but after the game is over, I am sure the Rockies will be itching to meet him again. 
In the first game of the series, the Rockies looked like they were playing the Kansas City Chiefs as they surrendered two touchdowns in a 14-10 loss. However, I am considering this a fluke game for the Royals, and I expect the Rockies to come out firing early and often tonight.
The Pick: Colorado Rockies First 5 Innings -0.5 (-120)
______________
Milwaukee Brewers vs. Miami Marlins: 6:10 PM EST
Eric Lauer: (LHP, Brewers) [3-0, 1.82 ERA, 0.94 WHIP, 29.2 IP, 42 K, 8 BB]
Trevor Rogers: (RHP, Dodgers) [1-4, 5.00 ERA, 1.48 WHIP, 27 IP, 21 K, 13 BB]
This afternoon, the Marlins host the Milwaukee Brewers for game two of their three-game series. We have a matchup of two excellent left-handed pitchers in, Eric Lauer and Trevor Rogers. The Brewers won the first game by a score of 2-1, and I'm expecting a similar score in this one.
Eric Lauer has been sensational to begin his 2022 season. He has an absurd 36.2% strikeout rate, and every one of his pitches has risen in velocity and whiff rate. He gets a very nice matchup against the Marlins, as they are one of the worst teams in baseball against left-handed pitching.
Jazz Chisholm has been excellent for the Marlins this year, but his woes against left-handed pitching are documented, and on occasion, he gets benched against left-handers. Four of their right-handed bats, Jesus Aguilar, Avisail Garcia, Miguel Rojas, and Jacob Stallings, all have reverse splits. It means they all have had more success this year against right-handed pitching.
Eric Lauer pitched once against the Marlins last year, only throwing two innings but not allowing a hit. The sample is small, with only 27 PA, but he's pitched to a 1.09 FIP, .182 xwOBA, and a .224 xSLG.
On the other hand, Rodgers struggled to begin the year but showed lots of promise in his last outing, and I believe it will carry over into this start. He was incredible last year, finishing second in NL Rookie of the Year voting with a 2.64 ERA. He looked a lot closer to that pitcher in his previous start, throwing five shutout innings against a tough Padres team on the road.
The Brewers have hit very well this year, but on the road against a left-handed pitcher is their worst matchup. They are rocking a .818 OPS at home and a .742 OPS against right-handed pitching. Against lefties, they sit with a .682 OPS, and on the road, they have a .662 OPS.
Rogers ERA at 5.00 is not what it will be at the end of the year. His 3.95 xERA tells a different story, and it's inflated due to a seven-run disaster against Philadelphia. After a slow start, Rogers is ready to go on a tear.
This matchup screams under, and with these two starting pitchers coming into a groove, I love the first five runs total under.
The Pick: Brewers vs. Marlins First 5 Innings Under 3.5 (-110)
______________
San Francisco Giants @ St Louis Cardinals: 2:15 PM EST
Jacob Junis: (RHP, Giants) [1-0, 1.20 ERA, 0.87 WHIP, 15 IP, 15 K, 3 BB]
Dakota Hudson: (RHP, Cardinals) [2-2, 3.56 ERA, 1.32 WHIP, 30.1 IP, 18 K, 15 BB]
The Giants are playing some of the best baseball in the majors right now. They've won six in a row after suffering a five-game losing streak. They trounced the Cardinals yesterday 8-2, which was their fifth loss in their last six games. Today, the Giants will feast on Dakota Hudson while the Cardinals lineup faces Junis and one of the best bullpens.
Dakota Hudson, on the surface, has some solid numbers this season. I see this as a significant regression game for him, as his baseball savant page is ice cold. He's not producing whiffs or getting batters to chase, and he has 15 walks in 30 innings of work. He's a ground-ball pitcher, so don't expect a ton of long balls, but the Giants should get to him early in this one.
This is a repeat matchup of last Friday, where the Giants won 4-3. Hudson allowed five hits and three runs in under five innings of work, and I don't expect that line to be better in his second consecutive start against them.
In 47 PA against the Giants' current roster, Hudson has pitched to a 6.47 FIP, a .405 xwOBA, and a .517 xSLG. He's only struck out 10.6% of hitters while allowing ten walks in a small sample. I'm willing to bet he struggles today.
The Cardinals lineup today looks bleak. The top is loaded with Goldschmidt, Arenado, Edman, and Yepez, but it drops off a cliff after that. Corey Dickerson is in the five-hole with a .192 batting average, followed by Yadier Molina, Dylan Carlson, Brendan Donovan, and Edmundo Sosa. None of those guys inspire confidence that the Cardinals can write their wrongs of the past few games.
They'll face Jacob Junis today, who's been excellent to start the year. He pitched against the Cardinals on May 8th, allowing two earned runs on three hits over five innings. Through 55 PA against the Cardinals' current roster, he's pitched to a 3.45 FIP, a .269 xwOBA, and a .342 xSLG.
The Giants, on the other hand, have a loaded lineup today. Lamonte Wade Jr is back and off to a hot start, and Brandon Belt has a hit in his last three games. This year, the Giants have been slightly better against right-handed pitching, rocking a .712 OPS versus a .708 OPS against lefties.
Both bullpens have been fantastic this year, but the Cardinals have played four games in a row, using up a lot of their bullpen. The Giants had an off day two days ago, so the bullpen is ready to rock.
I think the Giants are the better team, have the starting pitching advantage and the bullpen advantage, plus a better lineup today. They are one of the hottest teams in the game, while the Cardinals have struggled to piece together any success lately.
I like the Giants to win this game outright at +100 but would take up to -110.
The Pick: San Francisco Giants ML (+100)
__________________________
I've written up a quick guide with critical terms and helpful tips.