Analysis
MLB Best Bets Today: Predictions, Odds for Royals vs. Guardians, Braves vs. Diamondbacks for May 31, 2022.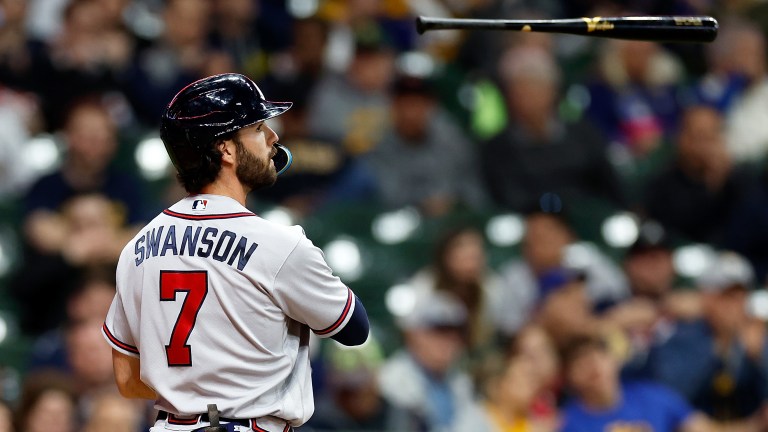 We took the day off yesterday because I needed a mental break. We've had a rough week, so I have a fresh set of eyeballs on today's picks.
I only have two picks today, but I love them both.
2022 MLB Regular Season Record: 78-66 (54%) +6.41 units
Subscribe to my New Gambling/Fantasy Baseball Podcast: Not Gambling Advice.
Kansas City Royals @ Cleveland Guardians: 6:10 PM EST
Daniel Lynch (LHP, Royals) [2-3, 3.92 ERA, 1.41 WHIP, 39 IP, 37 K, 17 BB]
Cal Quantrill (RHP, Guardians) [1-3, 3.42 ERA, 1.23 WHIP, 47.1 IP, 28 K, 19 BB]
We head to Cleveland for the second game of a three-game set between division foes. The Guardians won 7-3 after putting up four runs in the bottom of the eighth innings. This should be another great game today, as two of the better young pitchers take the mound.
First, there has been some significant line movement in this game. While 66% of bets are currently on the Guardians ML, about 95% of the money is on the Royals. We've seen the ML move from -145 in favor of the Guardians to -120. That should alert us that "sharp" bettors seem to have their eyes locked on the Royals. That line has gone too far for me not to take the Guardians, as I have them pegged as -135 favorites.
Many people are out on Cal Quantrill. He doesn't get high swing and miss numbers, and the walks are certainly concerning. Quantrill has had multiple seasons defying these numbers, as he's one of the most undervalued pitchers to back.
The problem is that the Guardians haven't given him much run support lately. In his last three starts, he's thrown 19.1 innings, allowing seven earned runs to give him a 3.29 ERA. The Guardians lost all three games, putting up a combined four runs.
Quantrill has not only pitched better at home his entire career, but he has plenty of success against the Royals. He threw five innings on April 10th of this year while allowing two runs against them in a 17-3 win. Last year, he threw on four separate occasions, tallying 20.2 innings, going 3-0 with a 3.05 ERA.
Through 89 PA against the Royals roster, he holds a .287 xwOBA, a .214 opponent batting average, and a .393 xSLG. Everyone will point to the 4.38 xERA and the higher FIP and xFIP, but as I said, Quantrill has a way of beating these projections start over start.
Daniel Lynch will get the ball for the Royals, and he's probably the best pitcher the Royals have right now. That's not saying a lot, but I prefer him to Brady Singer right now, although Singer could turn in a better career.
Lynch is also a pitcher due for regression based on the numbers. He holds a 3.92 ERA but works with a 4.30 xERA, a 4.03 FIP, and a 4.66 xFIP. He also hasn't been great against the Guardians.
In a small sample of 35 PA against the Guardians' current roster, he's pitched to a .414 xwOBA, a .345 opponent batting average, and a .474 xSLG. In three starts last year, he was 0-1 with a 7.24 ERA in 13.2 innings.
The Guardians' struggles against lefties are apparent. They have performed as one of the worst, if not the worst, teams against left-handed pitching. Not all lefties are created equal, and with past success against Lynch, I think they get it done.
Taking the Guardians through the first five innings is a solid bet, but I'd rather play the full game money line. This year, the Royals bullpen has been dreadful, rocking the second-worst bullpen ERA in the majors at 4.85. They also have the third-worst FIP and the fourth-worst xFIP.
The Royals have played five straight games without an off-day, and the bullpen has been used extensively.
I think the Guardians get out to a slim lead early and finish it off late. Quantrill has thrown as least six innings in his last six starts, and a bullpen follows him with the sixth-best ERA, ninth-best FIP, and the eighth-best xFIP.
The Pick: Cleveland Guardians ML (-120)
___________
Atlanta Braves @ Arizona Diamondbacks: 9:40 PM EST
Charlie Morton (RHP, Braves) [3-3, 5.28 ERA, 1.53 WHIP, 44.1 IP, 41 K, 20 BB]
Humberto Castellanos (RHP, Dimondbacks) [3-2, 5.22 ERA, 1.34 WHIP, 39.2 IP, 27 K, 10 BB]
We head to Arizona for the second game of a three-game set. The Diamondbacks won yesterday's matchup after a solid start from Zac Gallen. The Diamondbacks got to Spencer Strider in his first start, which could be expected with a rookie pitcher on the road. The opposite will happen today, as we have 38-year-old Chuck Morton on the mound.
Charlie Morton has had a rough year so far. His 5.28 ERA is way above his career average, but the WHIP being so high is concerning. He has the highest walk rate since 2016, and he's coming off back-to-back rough starts.
A positive note on Morton is that his command is improving. He's only allowed one walk in three straight starts. Although he suffered a rough outing against the Phillies, the Braves have covered the spread in three of his last four starts but won all four.
Morton's fastball velocity and curveball spin are still elite, and while the Diamondbacks have hit righties well this year, I expect that to regress to career averages.
The reason I love the Braves so much is their matchup against Humberto Castellanos. The book seems to be out on the Braves. They have been terrible against high-velocity right-handers with high strikeout rates. Nobody performs that well against those pitchers, but the Braves have the highest strikeout rate in the majors. They are far below average at hitting those types of pitchers.
Humberto Castellanos is a righty, but he relies on soft contact as he does not have strikeout stuff. He throws a lot of strikes, but he's in the sixth percentile in whiff rate and the 14th percentile in K rate. These are the types of pitchers that the Braves mash.
Castellano's sinker is not a good pitch. It's his most-used pitch at 32.3%, but opponents have a .340 batting average against it. He deploys it primarily to right-handed bats, and the Braves lineup is full of them. His best pitch is the slider, holding opponents to a .205 batting average. Again, the problem is the Braves lineup is right-handed dominant. His third offering is the curveball, which opponents have also crushed to a .323 batting average. Guess what? He throws that pitch primarily to right-handers.
The Braves have a -160 money line, but the spread is at -105. Usually, we should see a plus line for that spread, but they aren't in this case. I believe that's for a reason, as the Braves should get to Castellanos, then beat up on a bottom-five bullpen in ERA, FIP, and xFIP. The Braves bullpen has the best FIP in baseball and ranks ninth in ERA and xFIP.
After losing yesterday, I think the Braves will come back with a vengeance and stomp all over the Diamondbacks.
The Pick: Atlanta Braves -1.5 (-105)
________________
I've written up a quick guide with critical terms and helpful tips.