Analysis
MLB Best Bets: Predictions, Odds for Rockies vs. Reds, Angels vs. White Sox, Braves vs. Rangers (5/1/22)
Three MLB Best Bets for May 1, 2022.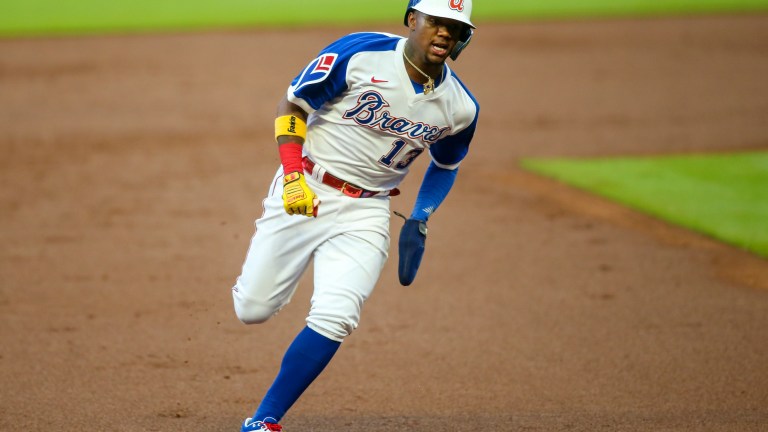 Back on the winning side! We had a perfect 2-0 day yesterday after the Giants, and Red Sox took care of business. We had the Giants spread, and they won 9-3. We had the Red Sox through the first five innings, and they edged it out 1-0. The Red Sox ended up losing the game, but thankfully Eovaldi blanked the Orioles to give us the win. We have three more MLB Best Bets today, plus a bonus pick on my Twitter.
Peter's 2022 MLB Regular Season Record: 46-24 (66%) +21.59 units
Subscribe to my new Gambling/Fantasy Baseball Podcast: Not Gambling Advice.
Colorado Rockies ML (-150)
Reiver Sanmartin (LHP, Reds): [0-3, 10.91 ERA, 1.85 WHIP, 15.2 IP, 10 K, 7 BB]
Kyle Freeland (LHP, Rockies): [0-3, 6.16 ERA, 1.68 WHIP, 19 IP, 17 K, 6 BB]
This afternoon, the Rockies are going for the sweep against the Reds, and I think they get it. Freshly extended Kyle Freedland gets the nod for the Rockies, while the 6'2, 160 pound Reiver Sanmartin will start for the Reds. This is Sanmartin's first trip to Coors Field, and it is going to be a rude awakening for the left-hander. The Reds have struggled against left-handed pitching dating back to last season, which hasn't changed in 2022.
Sanmartin was hit hard in his last start. He gave up nine runs in just three innings against the Padres, resulting in his third loss of the season, and his ERA skyrocketed. Kyle Freedland has not had the best start to the season as he also has an 0-3 record. But he is in a perfect position to notch his first win of the season. The Reds are averaging 3.15 runs, which is third-worst in the majors. With that said, Freeland's numbers against the Reds are not ideal.
Through 60 PA against the Reds' current roster, he has a 7.07 FIP, a .393 opponent batting average, and a .470 wOBA. When we dig deeper, those numbers aren't all that bad. Reds' hitters have a .317 xWOBA, a .255 xBA, and a .427 xSLG. The Reds beat up on Freeland last year in Cincinnati, but I think they'll have a tougher time today with a weaker lineup.
Also, the Reds have been one of the worst hitting teams against left-handed pitching over the last two seasons. The Reds have lost 16 of their previous 17 games, and Reiver Sanmartin will not be the man who stops the bleeding this afternoon; he is only going to exacerbate it. He gave up nine runs to the Padres, and he has surrendered 19 runs in his last 15.2 innings. This will be his first start against the Rockies, so none of their hitters have faced him yet. The Rockies have crushed lefties this season, posting a .820 OPS versus a .729 OPS against right-handed pitching.
Additionally, the Rockies have won six of their previous eight games at Coors Field. They're always a threat to score in bunches. They've scored five runs or more in five of their last seven games. Even with Kris Bryant on the IL, I have to roll with the Rockies to get the season sweep on the money line today. It's a lot of juice, but I think it's worth it. If you're scared off of it due to the price, the spread is also a very solid pick at +120.
Los Angeles Angels ML (-115)
Michael Lorenzen (RHP, Angels): [2-1, 2.93 ERA, 0.98 WHIP, 15.1 IP, 12 K, 6 BB]
Dallas Keuchel (LHP, White Sox): [1-2, 9.00 ERA, 2.40 WHIP, 10 IP, 7 K, 6 BB]
This afternoon, the Angels take on the White Sox in game three of their four-game series. This game features a starting pitching matchup of two guys trending in the opposite direction. The Angels took the first game 5-1, while the White Sox took game two 4-0. After a tough day on offense for the Angels, I think they bounce back in a big way against Dallas Keuchel.
Michael Lorenzen has looked fantastic in his first few starts, pitching to a 2-1 record with a 2.93 ERA. He doesn't have great numbers against the White Sox, but he worked out of a bullpen role and wasn't the same pitcher he is this year. Through 37 PA against the White Sox current roster, he has a 6.02 FIP, a .348 xWOBA, and a .387 xSLG. His results aren't great, but most of the contact is softer, highlighted by an average exit velocity of just 81.5 MPH. The White Sox crush left-handed pitching but haven't had much success off righties. They have a .821 OPS against lefties but a .554 OPS against right-handed pitching.
Dallas Keuchel, on the other hand, looks like his best days are behind him with a 1-2 record and a 9.00 ERA through his first four starts of 2022. The Angels don't have sparkling numbers against Keuchel, but I see some regression for him. Through 120 PA against this current roster, he has a 4.66 FIP, a .257 opponent batting average, and a .337 wOBA. On the surface, that's pretty solid. But the xWOBA is .365, the xBA is .274, and the xSLG is .479. That implies the quality of contact against Keuchel is strong, and he may have been lucky against the Angels in previous starts.
Mike Trout is 17-48 against Keuchel, while Anthony Rendon is 4-14. The Halos rank 4th in the league in home runs, and they own the highest team slugging percentage in baseball. I think they get to Keuchel early and often.
Taylor Ward, Mike Trout, and Ohtani have all been hitting the ball hard, and when this team is healthy, they are a real problem for the rest of the league. The White Sox are in disarray, unable to keep up with ailments that hindered their lineup and bullpen. Dallas Keuchel is no longer the pitcher who won 20 games in 2015. He doesn't seem like the pitcher who found early success with the White Sox in 2020, either. He does not have swing and miss stuff anymore as that powerful sinker that put batters away does not have the same bite it once did. Today, I do not see the Angels failing to capitalize on Keuchel's mistake pitches. Lorenzen has been highly effective in 2022, and he only is going to get better as he continues to adjust to a full-time starting pitcher role.
There are too many advantages for the Angels for us not to take them on the money line at -115 and would take it up to -125.
Atlanta Braves ML (-125)
Kyle Muller (RHP, Braves): First Start of 2022
Tayloe Hearn (LHP, Rangers): [0-2, 7.47 ERA, 1.98 WHIP, 24.1 IP, 17 K, 5 BB]
The Braves are looking to win the series against the Rangers today as both ballclubs will be sending lefties to the mound. Taylor Hearn has been less than exceptional to begin his 2022 campaign. Kyle Muller starts for the first time this year, but I'm loving the Braves after a 3-1 loss yesterday. I think they come back in a big way today, especially with how good the Braves are against left-handed pitching.
The Braves are going to score early in this game. Especially with Acuña Jr back, I expect them to be a lot more aggressive at the plate and on the basepaths. Ozzie Albies was a sparkplug for this Braves offense when Acuña was out. He leads the Braves in home runs and is much better from the right side. Now he has even more protection around him in a very formidable lineup that features himself, Matt Olson, Austin Riley, and a healthy Ronald Acuña Jr. Neither of these starting pitchers have faced these opposing lineups much. Taylor Hearn has only ever faced Matt Olson, and he is 1-7 against Hearn, but that one hit was a two-run homer.
Kyle Muller doesn't have a ton of experience, but he's a solid young pitcher. The Rangers have been solid against lefties this year, so I'm not expecting a great start. I'm so sold on the Braves' ability to crush Hearn and beat up on one of the worst bullpens in the game. I doubt Muller goes beyond four or five innings, but I don't think it will matter. He'll hand it off to one of the better bullpens in baseball. That Braves bullpen is rested and lethal after Spencer Strider handled all the work yesterday.
Hearn has battled control issues in the early part of the season, and this potent Braves lineup will make a pitcher pay for their mistakes. I do not trust Taylor Hearn to give the Rangers five strong innings. I think the Braves bats get to Hearn early, and he'll be hitting the showers before the fourth inning. I am riding the Braves Moneyline today and would take it up to -130.
____________________________
I've written up a quick guide with critical terms and helpful advice if you choose to tail my daily picks. This daily column is updated every day between 9:00 AM – 12:00 PM EST.