Analysis
MLB Best Bets: Predictions, Odds for Red Sox vs. Orioles, Nationals vs. Giants (4/30/22)
Two MLB Best Bets for April 30, 2022.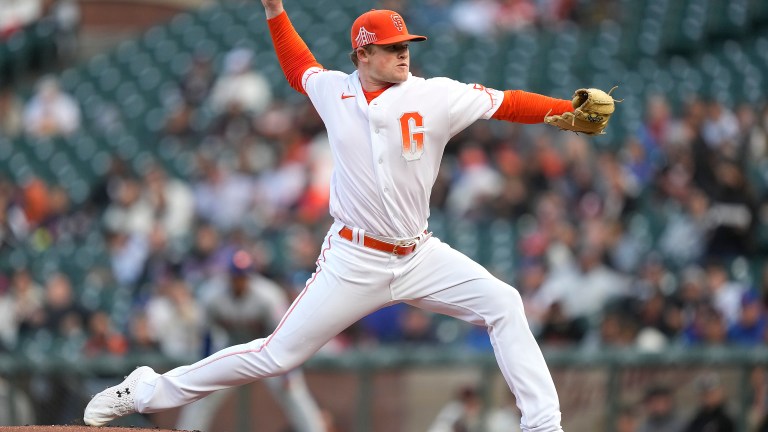 We went 2-2 yesterday, which put us down 0.6 units on the day. We haven't had very many losing days lately, but it happens every so often. I think I had the right plays; they didn't go our way. The Giants lost to the Nationals on a travel day, and Madison Bumgarner shut down a Cardinals offense on the road even though the numbers told us otherwise. We learn from it and move forward today with two MLB Best Bets.
Peter's 2022 MLB Regular Season Record: 44-24 (65%) +19.59 units
Subscribe to my new Gambling/Fantasy Baseball Podcast: Not Gambling Advice.
San Francisco Giants -1.5 (-110)
Joan Adon (RHP, Nationals): [1-3, 6.98 ERA, 1.66 WHIP, 19.1 IP, 16 K, 10 BB]
Logan Webb (RHP, Giants): [2-1, 2.96 ERA, 1.11 WHIP, 24.1 IP, 17 K, 5 BB]
This afternoon, the Giants begin game two of their three-game series against the Nationals. San Francisco has to turn the page after a 14-4 loss in a game where they gave up 22 hits. We were in the first five innings of that game and got crushed. The Nationals bats off a travel day got to Alex Wood early, but I don't think they do the same with Logan Webb today. On the flip side, the Nationals will throw out Joan Adon, who, in my opinion, is the worst starting pitching option currently in a big-league rotation. This exact matchup happened a week ago in Washington, and the Giants won 12-3. Now at home, the score could get even worse for the Nats.
Logan Webb will be tasked to quiet the National's bats, precisely who the Giants want toeing the rubber in this bounce-back affair. Last year, Logan Webb emerged as a star, especially pitching at Oracle Park. Last season, Webb had a 1.96 at home, going 6-0 in 12 starts. On the road, he was 5-3 with a 4.08 ERA. Those splits have carried over into this season, with Webb posting a 1.29 ERA at home through two starts and a 5.23 ERA in as many starts on the road.
He'll face a Nationals lineup he fared well against in his first start, and his overall numbers are solid. Through 36 PA against the Nationals' current roster, he's rocking a 3.31 FIP, .233 xWOBA, and a .298 xSLG. The average launch angle against Webb is -3.8, with an average exit velocity of 81.6 MPH. Expect Webb to keep the ball on the ground, ultimately limiting this Nationals lineup. Juan Soto, Josh Bell, and Nelson Cruz are a combined 0-9 with two strikeouts.
Opposing Webb will be National's rookie: Joan Adon, who has struggled to begin his 2022 campaign. In 17 plate appearances against the current Giant's hitters, Adon has a .445 xWOBA, a .333 AVG against, and a 6.43 FIP. The Giants faced him last week at home, scoring five runs in four innings. Now they'll get him on the road, where he allowed six earned runs in his lone start outside of Washington. He features a 93 MPH fastball and not much else. I don't even understand why he's in the big leagues if we are being sincere. Maybe he proves me wrong today, but my guess is he doesn't.
Not only that, there is a clear bullpen advantage here. The Giants have the third-best bullpen ERA in baseball at 2.30, and their four best relievers didn't pitch today. The Nationals have the 15th best bullpen ERA, and they don't have any stand-out performers we should be worried about. Logan Webb will cool off the National's bats, and the Giants are going to be eager to make this a 1-1 series. I think San Francisco will jump out to an early lead, and it is only going to grow as the game develops. I am rolling with the Giants -1.5 today with confidence.
Boston Red Sox First 5 Innings -0.5 (-115)
Nate Eovaldi (RHP, Red Sox): [1-0, 3.32 ERA, 1.11 WHIP, 21.2 IP, 24 K, 3 BB]
Spenser Watkins (RHP, Orioles): [0-0, 2.77 ERA, 1.23 WHIP, 13 IP, 5 K, 7 BB]
The Red Sox began game two of their four-game series against the Baltimore Orioles this afternoon after winning a 3-1 yesterday. Nathan Eovaldi will match up against Spencer Watkins, and I'm taking the first five innings to isolate this starting pitching matchup.
Eovaldi has fared quite well against current Orioles hitters. Nasty Nate has lived up to his name in 104 PA against the Orioles' current roster. He's rocking a 1.54 FIP, .232 xWOBA, and a .257 xSLG. The contact quality against Eovaldi is poor; the Orioles team has just eight extra bases in 97 AB against Eovaldi. Eovaldi threw three different times against the Orioles last season. In those three starts, he threw 16.1 innings while only allowing three earned runs. In his lone start at Camden Yards last year, he threw six shutout innings while striking out seven and allowing four hits. Eovaldi is coming off a nice start against the Blue Jays, who feature a far better offense than the Orioles.
Spenser Watkins has not faced the Red Sox's current hitters nearly as much as Eovaldi. Through 25 PA against the Red Sox current roster, he has a 6.53 FIP, .352 xWOBA, and a .466 xSLG. The average exit velocity off Watkins from Red Sox hitters is 92.9 MPH. That's fast, the fastest across baseball with at least 25 PAs against the opposing roster today. This year, Watkins is rocking a 2.77 ERA, but his xERA is 5.23, and his FIP is even higher at 5.94. He's due for some significant regression, and I think it comes today.
Baltimore is playing prime Orioles baseball, dropping five games in a row. After allowing 27 runs in a three-game thrashing at Yankee Stadium earlier this week, the pitching staff is out of sorts. The Red Sox will be ready to put up an early crooked number against Watkins, who had a 9.00 ERA through seven innings against them last season. I like the Red Sox's first five-run line at -115 and would take up to -125.
____________________________
I've written up a quick guide with critical terms and helpful advice if you choose to tail my daily picks. This daily column is updated every day between 9:00 AM – 12:00 PM EST.