Analysis
MLB Best Bets Today: Predictions, Odds for Red Sox vs. Athletics, Nationals vs. Reds for June 3, 2022.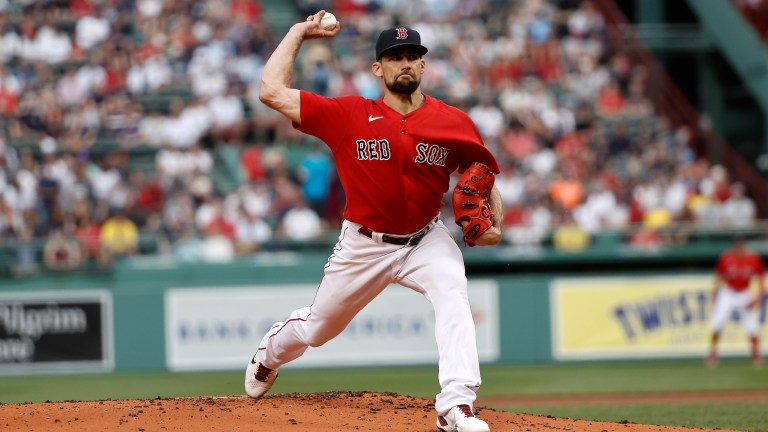 The tides are beginning to turn! A perfect 3-0 sweep yesterday felt good, and we are now 4-1 in June.
I said the Cardinals were the biggest trap on the board, and we were a part of the 7% who went with the Cubs. We took them through the first five innings and on the money line, and they easily won both.
We took the under in Giants vs. Marlins, which also easily hit. Both pitchers cruised while the bullpen did enough to shut the door. The total for the game was seven, and the final score was 3-0.
Today, the slate is a rough one, so I'm sticking to these two picks.
2022 MLB Regular Season Record: 83-68 (55%) +9.11 units
Subscribe to my New Gambling/Fantasy Baseball Podcast: Not Gambling Advice.
Boston Red Sox @ Oakland Athletics: 9:40 PM EST
Nathan Eovaldi (RHP, Red Sox) [2-2, 3.77 ERA, 1.12 WHIP, 57.1 IP, 59 K, 9 BB]
James Kaprilian (RHP, Athletics) [0-2, 5.93 ERA, 1.35 WHIP, 27.1 IP, 21 K, 11 BB]
We head to Oakland for the first game of a three-game set. The Red Sox just split a series with the Reds at home, and Oakland was swept at home against the Astros. Both teams had an off day to prepare for this one, and I see a clear advantage on one side.
Nathan Eovaldi will toe the rubber for the Red Sox, who's due for a good start. He has been susceptible to the home run ball, already allowing 16 on the year. That's the way to beat Eovaldi, as he's still holding a 3.77 ERA. Nobody on the A's has more than five home runs, and they are the worst slugging offense in the league.
The Red Sox offense is starting to roll, especially in the last two weeks. Since May 18th, the Red Sox are the number one road offense against right-handed pitching. Their 159 wRC+ ranks first, but they also have a 13.5% walk rate that leads baseball during that span. Kaprillian's issue has been his command, as he's already allowed 11 walks in 27 innings.
The Oakland offense is the worst in baseball against right-handed pitching. They sit dead last in OPS, and in the previous two weeks at home, they have the 20th ranked offense against right-handed pitching.
Eovaldi's primary weakness has been the long-ball, but the A's rank last in slugging percentage against righties, and the ballpark they play in is enormous. It ranks last in offense park favor, according to baseball savant. Not only that, according to ballparkpal, we should see a 23% decrease in home runs.
Kaprielian has had his issues at home, while Eovaldi has been solid on the road. In 11.2 innings at home, Kaprielian holds a 7.71 ERA versus a 4.60 ERA on the road. Eovaldi has a 2.97 ERA on the road through 30 innings while sporting a 4.67 ERA at home.
I'm expecting five shutout innings from Eovaldi, and I believe the Red Sox put up at least two runs against Kaprielian, as he's allowed at least two runs in his last four starts.
The Pick: Boston Red Sox First 5 Innings -0.5 (-110)
_____________
Washington Nationals @ Cincinatti Reds: 6:40 PM EST
Josiah Gray (RHP, Nationals) [5-4, 5.08 ERA, 1.36 WHIP, 51.1 IP, 54 K, 25 BB]
Mike Minor (LHP, Reds) [First Start of Season]
This isn't the most entertaining game in the world, but I see a clear edge to one side. The Reds trounced the Nationals 8-1 yesterday behind a fantastic performance from rookie Graham Ashcraft. Joan Adon couldn't find the plate, and the Nationals bullpen didn't do him any favors on the back-end.
Not only am I fading the public in this spot, but it's also a call-to-action for the Washington Nationals. It's no secret they've been bad, really bad. They've lost four straight, and they've only scored one run in their last three games. That has to change soon, and I think a matchup against Mike Minor coming off an injury is the perfect get-right game.
While Minor hasn't faced the Nationals in a while, he has faced a couple of players on the Nationals' current roster, and it hasn't been pretty. Through 49 PA against the Nationals' current roster, he holds a .349 opponent batting average, a .464 xwOBA, and an incredibly high .685 xSLG.
This production has come from Cesar Hernandez and Nelson Cruz, who is 11-23 (.478) with five doubles and two home runs. Juan Soto has been ice cold lately, and I think this is the spot where he can break out of it. Josh Bell was better against lefties last year but has struggled so far against them. I think he could also turn the ship around today.
It isn't easy to put a lot of praise on this Nationals team, but the Reds haven't been much better. They've been streaking lately, but they have a more challenging task with Josiah Gray.
Gray's results have been rough so far, but he's at his best on the road this season. His home/road splits are staggering this year, and we can play that to our advantage. He's 3-0 in four starts on the road, recording a 2.42 ERA in 22.1 innings. At home, he's 2-4 with a 7.14 ERA in 29 innings.
Gray has been incredibly effective against right-handed hitters (.658 OPS), while lefties have had a field day against him (1.057 OPS). Luckily for Gray, the Reds lineup is predominantly right-handed outside Joey Votto and Mike Moustakas.
Neither bullpen is outstanding, as they each rank in the bottom ten of bullpen ERA. The Reds have won two in a row just three times this season. With the total at 10, this line tells me it's anyone's game. Considering the public has also come in on the Reds, and the line hasn't moved, I'll be taking the other side.
The Pick: Washington Nationals ML (+118)
______________
I've written up a quick guide with critical terms and helpful tips.