Analysis
MLB Best Bets Today: Predictions, Odds for Rangers vs. Guardians, Padres vs. Mets for June 8, 2022.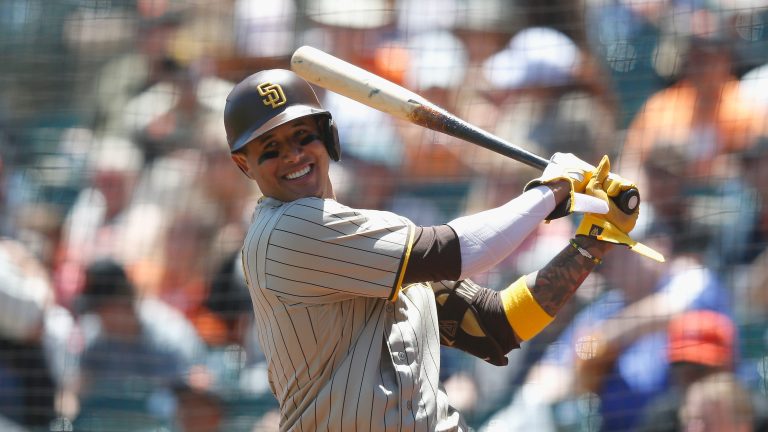 Tough day yesterday, but it wasn't all bad. We only suffered a 0.55 Unit loss, but it could have been better.
We took the Guardians ML with Cal Quantrill on the mound, which hit with ease. Our leading man came through again, and we thank him for it.
We took the Giant's spread against German Marquez and the Rockies, which did not go well. It started great, but the Giants' bats went cold after a three-run first inning, and the Rockies came back to win it.
We sprinkled 0.5 Units on the Cardinals as a big road dog, and they were up 2-1 with two outs before a Taylor Walls walk-off home run sent the Cardinals and us packing.
We have two more picks today; let's get back in the green.
2022 MLB Regular Season Record: 89-73 (55%) +10.45 units
Subscribe to my New Gambling/Fantasy Baseball Podcast: Not Gambling Advice
Texas Rangers @ Cleveland Guardians: 7:10 PM EST
Dane Dunning (RHP, Rangers) [1-3, 4.11 ERA, 1.27 WHIP, 61.1 IP, 63 K, 20 BB]
Shane Bieber (RHP, Guardians) [3-3, 3.12 ERA, 1.15 WHIP, 60.2 IP, 62 K, 16 BB]
We start in Cleveland for a three-game set's third and final game. The Guardians won the first game of the doubleheader yesterday, but the Rangers won the second. They won 6-3 and now face off in a deciding matchup.
Shane Bieber will get the ball for the Guardians, who hasn't looked like the 2020 AL CY Young award winner but still has produced solid results. Bieber is coming off excellent back-to-back starts, throwing 15 innings while only allowing three runs. That was against the Tigers and Orioles, so he'll have a tougher matchup with the Rangers.
A matchup against the Rangers isn't that tough, though. They have the fifth-worst OPS against right-handed pitching this season. They've been slowly heating up, but not to a point where this lineup scares me. Since May 18, three weeks from today, they rank 15th in wRC+ against right-handed pitching and 19th on the road against righties.
In a limited sample of 29 PAs, Bieber has performed well against this current Rangers lineup. He holds a .179 opponent batting average, a .207 xwOBA, and a .308 xSLG with an absurd 48% strikeout rate. Most of that has come against Mitch Garver and Kole Calhoun. These two usually hit between the 3-5 spots in the lineup.
Bieber's made pitch is the slider, which he throws north of 40% of the time. Corey Seager and Marcus Semien have struggled against the slider all year (-4 RV, -3 RV).
Bieber's home ERA is high, but I expect those numbers to normalize. While he's always been slightly better on the road, he's never had any real problems pitching at home. His ERA at home is skewed due to a blow-up start against the Blue Jays.
Facing Bieber will be Dane Dunning, who is becoming a solid option for the Rangers. Like Bieber, Dunning has some severe home/road splits, but his are much more telling.
Dunning has a 4.91 ERA this year on the road versus a 3.53 ERA at home. Last season, he had an ERA of 6.39 on the road versus a 3.09 ERA at home.
In a small sample of 17 PA against the Guardians' current roster, Dunning has gotten demolished. He holds a .467 opponent batting average, a .542 xwOBA, and an .824 xSLG. Jose Ramirez and Josh Naylor have done a lot of the damage, making sense as Dunning gets crushed by left-handed bats.
The Guardians money line is priced appropriately at -160 for this matchup. The Guardians are the better team with home-field advantage. Considering the money line is a tad expensive, I'd prefer to isolate these starters and take the Guardians through the first five innings.
The Pick: Guardians First 5 Innings -0.5 (-105)
1.05 Units to win 1 Unit
_______________
New York Mets @ San Diego Padres: 9:40 PM EST
Chris Bassitt (RHP, Mets) [4-3, 3.74 ERA, 1.17 WHIP, 65 IP, 68 K, 21 BB]
Sean Manaea (LHP, Padres) [2-3, 3.77 ERA, 1.11 WHIP, 62 IP, 68 K, 21 BB]
We head to San Diego for a three-game set's third and final game. The Padres beat the brakes off the Mets yesterday, winning 7-0 behind an excellent performance from Yu Darvish. The Padres were losers of the first game, as the Mets handled them easily 11-5.
Today will be the deciding match between two of the better teams in baseball.
Sean Manaea will get the ball for the Padres, who's been overall impressive this year. While his ERA of 3.77 is a bit high, his xERA at 3.49 is solid, and he's rocking a 27.1% strikeout rate, the highest since 2019.
The Mets have had issues with left-handed pitching all season long. They are one of the best teams in baseball against right-handers, but lefties give them trouble. They rank in the middle of the pack in OPS, but they have a couple of issues that ensued yesterday.
Starling Marte is most likely headed to the IL with a quad injury, and Pete Alonso was removed from last night's game after an injury to his hand.
Marte will not play, and it's doubtful Alonso returns today as well. Those were the big right-handed bats that could hit lefties. Without them, the lineup looks rather grim.
Francisco Lindor has plenty of success against Manaea, going 4-9 with two doubles and a home run. Lindor, however, has not been good from the right side of the plate this year, rocking a .675 OPS versus lefties and a .818 OPS vs. righties. Jeff McNeil has also been terrible against lefties.
The Met's bright spots will be Mark Canha, Brandon Nimmo, and Eduardo Escobar. While they have solid matchups today, I don't think it'll be enough to overcome this disadvantage with the starting pitcher.
Chris Bassitt will get the ball for the Mets today. He's been a saving grace for them as deGrom, Scherzer, and Megill have been on the IL. Here's my thing with Chris Bassitt.
Bob Melvin was Bassitt's manager for six years. Knowing this, I feel Melvin will give his players the best scouting report and chance to win against him. While the Padres have struggled against right-handed pitching, this could be the game where they break out of that funk.
They did get to Corbin Burnes just five days ago, and they beat up on Taijuan Walker yesterday. This offense needs some momentum to get going. The first four hitters in the Padres lineup have positive run values against cutters and sinkers, Bassitt's two most used pitched.
Bassitt has been susceptible to left-handed bats this season, and the Padres lineup is full of them. Profar, Cronenworth, Hosmer, Grisham, and Mazara are all capable of getting to him.
The Padres money line is priced at -140, which I believe is adequately priced, just a bit expensive for my taste. I prefer to isolate these starters and take the first-five run-line as an underdog. The Mets bullpen is pretty well-rested, and they have a knack for coming back late in games. If the Padres win this game, they'll be leading early. I'll take that +115 line for that reason.
The Pick: San Diego Padres First 5 Innings -0.5 (+115)
1.0 Units to win 1.15 Units
______________
I've written up a quick guide with critical terms and helpful tips.