Analysis
MLB Best Bets: Predictions, Odds for Phillies vs. Dodgers, Mets vs. Nationals for May 12, 2022.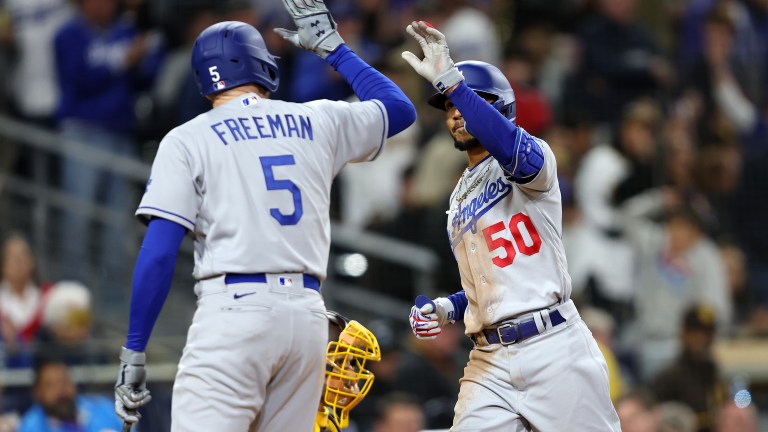 Yesterday was okay, I guess. We went 1-1, but our bonus pick on Twitter was unsuccessful. The bonus pick was for 0.5 U, and it wasn't official, but it still stings to see it falter. We took the Cardinals' spread yesterday, and they won easily.
The Mets were trounced through the first five innings, as the Nationals piled on eight runs before the second inning was over. We got teased by an early three-run lead by the Mets before the rug was pulled from under us.
Today, we move forward to get back in the green with three more MLB Best Bets.
Peter's 2022 MLB Regular Season Record: 59-40 (60%) +16.21 units
Subscribe to my New Gambling/Fantasy Baseball Podcast: Not Gambling Advice.
New York Mets @ Washington Nationals: 1:05 PM EST
Taijuan Walker: (RHP, Mets) [0-0, 4.91 ERA, 1.36 WHIP, 11 IP, 7 K, 4 BB]
Joan Adon: (RHP, Nationals) [1-5, 6.99 ERA, 1.66 WHIP, 28.1 IP, K, 9 BB]
The New York Mets take on the Washington Nationals in game three of their three-game series. The Nationals won the first game of the series 8-3, going over the posted total of eight. The total in this game is 8.5, and everything points to an even higher score this afternoon.
Taijuan Walker gets the ball for the Mets after making just three starts this year. All three have been against the Phillies, and in his most recent start, he allowed six earned runs in four innings. He'll face a Nationals lineup that is swinging some hot bats, but they also have plenty of success against Walker. In 60 PA against the Nationals' current roster, Walker has pitched to a 6.62 FIP, a .405 wxOBA, a .346 opponent batting average, and a .508 xSLG.
Eight different batters in the Nationals lineup are hitting at least .333 against Walker in their career's against him. Juan Soto and Josh Bell are a combined 5-15 with two doubles and a home run against him. Yadiel Hernandez, who's been on fire this season, is 2-2 with two walks against Walker.
Walker was also much worse on the road last year, rocking a 5.82 ERA versus a 3.46 ERA at Citi Field. The Nationals should get to him early before opening it up to a bullpen that has been pretty dominant this year. The Mets could win this game due to that fact, but the number of runs allowed by Walker should let this game go over.
Let's talk Joan Adon because he's a constant reoccurrence in my daily picks. The eye test and the numbers show he's one of the worst pitchers in the majors and, at 23 years old, should probably be in the minor leagues.
He'll face a Mets lineup that should get to him early and often. In a small sample of 22 PA, Adon has pitched to a 7.83 FIP, a .483 xwOBA, and a .668 xSLG. He faced the Mets already, allowing four runs in four innings of work. The opponent's batting average against him is .235 compared to a .342 xBA, and the wOBA is at .379. That indicates the Mets were punishing the ball, and even though they only scored four runs, Adon got lucky.
The Mets will be highly motivated after that embarrassing loss yesterday. With one of the best offenses in the league, they should get to Adon early and often. The same can be said about Walker, who hasn't looked healthy yet. His stuff has ticked down in velocity from last year, and his slider has dropped in spin and isn't getting as many whiffs as the previous year.
I'll take the over through the first five innings and the whole game. While the Mets bullpen has been strong all year, the Nationals bullpen sits at 15th in FIP and 20th in ERA.
Two Picks: New York Mets vs. Washington Nationals First 5 Innings Over 4.5 (-115)
New York Mets vs. Washinton Nationals Over 8.5 (-115)
_________________
Philadelphia Phillies @ Los Angeles Dodgers: 10:10 PM EST
Zack Wheeler: (RHP, Phillies) [1-3, 4.10 ERA, 1.25 WHIP, 26.1 IP, 25 K, 9 BB]
Tyler Anderson: (LHP, Dodgers) [3-0, 2.78 ERA, 0.97 WHIP, 22.2 IP, 22 K, 5 BB]
The Dodgers take on the Phillies in game one of a four-game set in Los Angeles. The Phillies continue their west-coast trip after taking two of three from the Mariners, while the Dodgers are coming off a surprising series loss against the Pirates in Pittsburgh. Both teams will travel without an off day to meet in sunny California.
Zack Wheeler toes the rubber for the Phillies today. He pitched once against the Dodgers last year, shutting them out through six innings. He's also thrown back-to-back shutout performances in his previous two starts. On the surface, it's dangerous to fade him in this spot, but against the Dodgers, I think he's in for a tough one.
A tough one by Wheeler's standards could be three runs, but I like the Dodgers to pull out a big win at home with this mess of a Phillies bullpen. Not only that, but Wheeler's pitch mix has considerably less velocity than last season. His fastball averaged 97.2 MPH last year, and this year it sits at 95.5 MPH. His sinker has lost over two MPH, and his slider isn't producing nearly the same whiff rate.
Wheeler has some bad advanced numbers against this Dodgers' current roster, and it's a large sample. In 166 PA against the Dodgers' current roster, he's pitched to a 7.17 FIP, a .336 opponent batting average, a .404 xwOBA, and a .570 xSLG.
The addition of Freddie Freeman he's this Dodgers' lineup a ton, especially in this matchup. Freeman is a career .438 hitter against Wheeler, going 21-48 with four doubles and two home runs. Gavin Lux, Justin Turner, and Cody Bellinger are a combined 12-24 with five home runs and a double.
Let's talk about those back-to-back shutouts from Wheeler because it could easily be argued he found his groove after a rough start. Those two starts were against the Rockies and Rangers at home. The Rockies can't hit outside of Coors Field, and the Rangers on the road against a righty is one of the worst matchups in the bigs right now. Those two starts didn't inspire a ton of confidence from me, especially now that he'll be pitching on the road today.
Wheeler is currently rocking a 21.00 ERA on the road. That doesn't really matter, however, due to the small sample. But he is following the same trend as last year, rocking a 2.38 ERA at home versus a 3.35 ERA on the road.
The Dodgers have also feasted off right-handed pitching this year, rocking a .746 OPS and a .246 batting average versus a .223 batting average and a .650 OPS against lefties.
Tyler Anderson will get the ball for the Dodgers and don't look now, but the Dodgers may have found a diamond in the rough. He's been excellent this year, and his 2.90 xERA indicates he's not due for regression, at least at the moment. He's a crafty left-hander with solid numbers against the Phillies in his career.
Through 37 PA against the Phillies' current roster, he's rocking a 2.09 FIP, a 2.91 xwOBA, a .403 xSLG, and a .343 opponent batting average. The wOBA is .382, and the xBA is .252, indicating he's had lousy luck against this Phillies lineup.
The Phillies have been slightly worse against left-handed pitching this year, and after Anderson, they'll face a top-five bullpen in FIP and ERA this season.
This year, the Phillies are 5-8 on the road, while the Dodgers are 10-2 at home. The Dodgers are also on an incredible trend at the moment. They sit with a 20-9 record and are also 20-9 ATS. They have either lost the game or won by at least two runs. Considering this trend, I'm much more inclined to take the +150 spread rather than the -140 money line.
The Pick: Los Angeles Dodgers -1.5 (+150)
__________________________
I've written up a quick guide with critical terms and helpful tips.