Analysis
MLB Best Bets Today: Predictions, Odds for Milwaukee Brewers vs. San Diego Padres, Boston Red Sox vs. Chicago White Sox for May 25, 2022.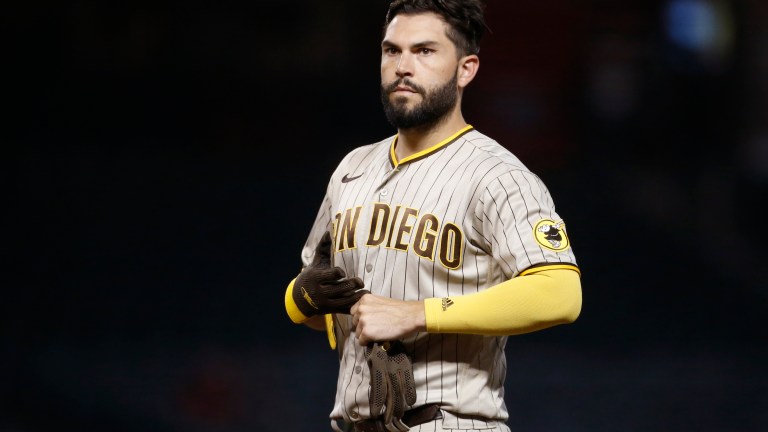 We went positive yesterday! We were so close to a perfect sweep, but the Diamondbacks couldn't pull through the first five innings.
A 2-1 day where we are up 0.65 units is always a positive, especially when the two winners were easy victories.
The Astros pummeled the Guardians through the first five innings, putting up seven runs in the first half of the game.
The under in Rays vs. Marlins got off to a rocky start after Jesus Sanchez dove after a line-drive to center field that resulted in an inside-the-park home run. Shane McClanahan dominated, and the game ended up finishing 4-0.
The slate is a bit weird today, so I'm just focusing on two MLB Best Bets.
2022 MLB Regular Season Record: 75-59 (56%) +11.06 units
Subscribe to my New Gambling/Fantasy Baseball Podcast: Not Gambling Advice.
Milwaukee Brewers @ San Diego Padres: 4:10 PM EST
Aaron Ashby: (LHP, Brewers) [0-3, 3.49 ERA, 1.38 WHIP, 28.1 IP, 34 K, 17 BB]
Yu Darvish: (RHP, Padres) [4-1, 3.91 ERA, 1.13 WHIP, 46 IP, 37 K, 11 BB]
We head to San Diego for the final game of a three-game set. The series is tied 1-1 after the Padres took game one, and the Brewers won 4-1 yesterday. These are two of the best teams in the National League, so we are certainly in for a good one.
Aaron Ashby will toe the rubber for the Brewers, and while he hasn't won a decision yet, he's been very effective. His only issue is commanding his disgusting pitch arsenal. He's mostly slider, sinker, and changeup, and all of those pitches could be considered plus.
There are some minor issues with Ashby I've been seeing. He's throwing slower than last year as he's transitioned to a full-time role as a starter. He's not getting the same amount of whiffs, and his walk rate has jumped almost five percent.
He'll face a Padres lineup that has dominated left-handed starters this year. They have the sixth-best Team OPS against left-handers and the fourth-best OBP. Ashby has never faced the Padres before, so we don't have any matchup data.
Considering the patient approach from the Padres against left-handers, if Ashby continues to struggle with his command, they should be able to piece together a few runs off him.
Ashby also may not pitch very long, as he's sprinkled in starts throwing up to 5.2 innings, but he only went an inning in a bullpen role in his last appearance.
Ashby has been worse on the road throughout his career, and it's spilled over into this season. While most of his innings have come on the road, in 21 innings, he's allowed 11 earned runs and 13 walks to give him a 4.71 ERA. He has not allowed a run at home through seven innings.
Following Ashby will be a bullpen unit that's 12th in ERA. This bullpen will be without Josh Hader, as he's away on bereavement. The lineup will also be without Willy Adames and Hunter Renfroe, who remain on the IL.
Yu Darvish will get the ball for San Diego, one of the more polarizing pitchers in baseball. One never truly knows what version of Darvish will show up, but I think we'll get the elite version today.
Dating back to last season, Darvish prefers pitching at Petco Park. In three starts at home this year, he's thrown 19.2 innings while only allowing two earned runs. Last season, his ERA on the road was 5.54, and his ERA at home was 3.38.
Darvish has faced the Brewers a couple of times in his career and faired pretty well. Through 80 PA, he's pitched to a 4.08 FIP, a .250 opponent batting average, a .348 xwOBA, and a .390 xSLG.
Kolten Wong is the only hitter above a .300 BA against Darvish in their careers. He's on a major slide at the moment, rocking a .352 OPS in the last seven days.
Behind Darvish will be a bullpen that ranks 13th in ERA with no significant injuries.
As stated above, this seems to favor the Padres in more than a few ways. If this game was in Milwaukee, I might feel a different way. I'll take the Padres to win outright with Ashby's command issues on the road and Darvish's success at home, coupled with injuries on the Brewers' side.
The Pick: San Diego Padres ML (-125)
______________
Boston Red Sox @ Chicago White Sox: 8:10 PM EST
Rich Hill: (LHP, Red Sox) [1-1, 3.90 ERA, 1.27 WHIP, 30 IP, 23 K, 8 BB]
Lucas Giolito: (RHP, Red Sox) [2-1, 2.84 ERA, 1.23 WHIP, 31.2 IP, 44 K, 11 BB]
We travel to Chicago for the second game of a three-game set. Last night, the Red Sox dropped a bomb on the White Sox, crushing them 16-3. The Red Sox bats are heating up big-time, and they demolished a CY Young candidate in his stadium. The offense should continue today, but I don't see a lopsided victory for either team.
Lucas Giolito will get the ball for the White Sox, who's been solid since he returned from the Il on April 24. His 2.84 ERA is impressive, but regression is coming soon. He's allowing a lot of hard contact, resulting in the worst hard-hit rate of his career since his rookie season.
His fastball and changeup command has been spotty, resulting in a below-average walk rate. He's getting plenty of whiffs, but the Red Sox are not missing the barrel now. They have a 19.7% K rate since May 11, seventh-best in baseball in that span.
Giolito has faced the Red Sox before, and it wasn't pretty. Through 46 PA against the Red Sox's current roster, he's pitched to a 6.98 FIP, a .325 opponent batting average, a .344 xwOBA, and a .439 xSLG.
Following Giolito will be a White Sox bullpen that has struggled this season. They have the eighth-worth bullpen ERA. Even if the Red Sox don't get to Giolito, they can pile on this bullpen as they showed last night.
Rich Hill will get the ball for the Red Sox, who's been mildly effective this year. Rich Hill is much better against left-handed hitters but should struggle against a dominant right-handed lineup.
This White Sox team has beaten up on left-handed pitching all year. They have the third-best batting average and OPS against southpaws this season.
The White Sox love facing Rich Hill. Through 44 PA against the White Sox's current roster, he's pitched to a 7.66 FIP, a .225 opponent batting average, a .353xwOBA, and a .523 xSLG.
Following Hill will be a below-average Red Sox bullpen that shouldn't scare anyone. They rank 17th in ERA, and without Whitlock back there, it looks even grimmer. One of their best relievers is Jake Diekman, who is another southpaw.
This line is too low for me not to take the over. We saw this line open at 8.5 or 8, depending on the book, and it has dropped to 7.5. We see more money pile in on the over so that we could be looking at a trap. I want to be perfectly honest about that.
Nothing is telling me this game will go under. If this is a trap, so be it. I'll take the over with how hot the Red Sox bats are coupled with the White Sox's ability to beat up on lefties and the below-average bullpens.
The Pick: Red Sox vs. White Sox Over 7.5 (-110)
________________
I've written up a quick guide with critical terms and helpful tips.