Analysis
MLB Best Bets: Predictions, Odds for Marlins vs Nationals, White Sox vs. Royals (4/27/22)
Three MLB Best Bets for April 27, 2022.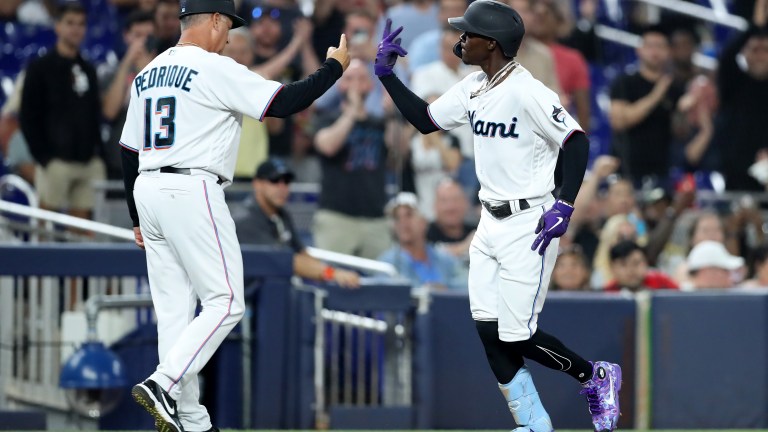 Tough day yesterday. We went 1-2, but we were inches from another 3-0 day. The over in the Twins vs. Tigers' first five innings came up a run short, and the whole game went over. The Blue Jays beat the Red Sox in the bottom of the tenth but didn't cover the spread. The Blue Jays bet was lucky; however, Goerge Springer tied it up late with a two-run bomb. Thankfully, the Mets won, so we only went down 1.25 units. Not ideal, but we'll be better today.
Peter's 2022 MLB Regular Season Record: 38-20 (66%)
Subscribe to my new Gambling/Fantasy Baseball Podcast: Not Gambling Advice.
Marlins vs. Nationals First 5 In Under 4 (-110), Under 7.5 Full Game (-110)
Pablo Lopez (RHP, Marlins): [2-0, 0.52 ERA, 0.75 WHIP, 17.1 IP, 17 K, 3 BB]
Erick Fedde (RHP, Nationals): [1-1, 6.75 ERA, 1.65 WHIP, 13.1 IP, 14 K, 5 BB]
Pablo Lopez and Eric Fedde matchup in game 2 of this three-game series after a 5-2 Marlins win in yesterday's game. If you've been following since last year, this is the cheat code game. This is quite literally an entrance into the matrix, as Erick Fedde has this strange thing of always dominating the Marlins. It's incredible the success he's had against this team, and he matches up against Pablo Lopez, who's at the top of his game. I'm not only taking this under through the first five innings, but I'm plenty confident enough to take the whole game as well.
Pablo Lopez has been nothing short of CY Young material to begin his 2022 season. Tonight, he'll face one of the weakest lineups in baseball. Through 60 PA against the Nationals' current roster, he's pitched to a 4.68 FIP, a .360 xWOBA, and a .498 xSLG. Those numbers aren't ideal, but let's dive into who has done the damage. It's all Juan Soto. Soto is 8-19 with five extra-base hits, but the rest of the offense hasn't done much. If Pablo can limit the home run from Juan Soto, the Nationals may not score at all. I think he'll be able to, as Soto is off to a slow start, and he's been especially bad hitting in his home ballpark so far. Lopez is pitching like an ace at the moment, and the Nationals haven't scored more than three runs in a game since April 16.
Eric Fedde struggled in his last outing, but he's been incredible against the Marlins in his career. In 2021, he faced them four times, going 2-0 with a 1.61 ERA through 22 innings. In 2020, he met them once, throwing six shutout innings. Even going back to 2019, he threw five shutout innings in one start against them. This is a new roster, but Fedde at home has their number.
Let's look at the current roster. Through 69 PA, Fedde is rocking a 4.85 FIP, a .190 opponent batting average, a .331 xWOBA, and a .486 xSLG. Those numbers don't scream domination, but history repeats itself, and I'm on the side of history. It's not only due to this pitching matchup. Both offenses do not scare me in the slightest, and there is a weather factor involved.
Nationals Park ranks as the second-worst environment for run-scoring tonight. A 12% decrease in potential runs scored and a 29% decrease in possible home runs hit according to ballparkpal. The wind will be blowing inward from left field at 13 MPH, and the temperature is projected in the high 40s. These ballpark factors, paralleled with Fedde's success against the Marlins and Lopez's dominant start to the 2022 season, make me feel confident in the first five under and the whole game under.
Chicago White Sox vs. Kansas City Royals Under 7 (-110)
Zack Greinke (RHP, Royals): [0-1, 2.25 ERA, 1.19 WHIP, 16 IP, 2 K, 3 BB]
Dylan Cease (RHP, White Sox): [2-1, 3.38 ERA, 1.25 WHIP, 16 IP, 19 K, 7 BB]
This total is low for a reason. We have what I project to be one of the best pitchers duals of the day, as Dylan Cease takes on Zack Greinke at Guaranteed Rate Field.
Let's start with neither of these two offenses has gotten it going so far. The Royals beat the White Sox yesterday 6-0, marking just the third time this year they put up six runs in a game. The Royals are tied with the Reds with 49 runs scored on the season, which is dead last in baseball. The White Sox are just one run ahead of the Royals for second to last in baseball. Luis Robert returns from a groin injury today, which should help, but overall, both these teams are grasping for straws.
Dylan Cease could win the CY Young this year. He's one of the best pitchers in the American League, and he's better at home. This year, he's rocking a 1.59 ERA at home versus a 4.35 ERA on the road. Very tiny sample so far this year, but he had a 3.18 ERA at home last year compared to a 4.69 ERA on the road. Not only that, he's been excellent against Kansas City. In two home starts last year against the Royals, he threw 11.2 innings while allowing just four hits and one run. Through 158 PA against the Royals' current roster, he's pitched to a 3.64 FIP, a .318 xWOBA, and a .380 xSLG. He should dominate this Royals offense today.
Zack Greinke is having an excellent April, and I think it continues today. He was great in April last year, rocking a 3.44 ERA, but he's been even better this season. Greinke was a better road pitcher (3.45 ERA) than at home (4.87). Kauffman wasn't his home stadium last season, but in 2019 and 2017, he was better on the road. He's started all three games at home this season, so this will be his first test. He has been solid against the White Sox's current roster as well. Through 101 PA, he's pitched to a 4.28 FIP, a .308 xWOBA, and a .433 xSLG. Yasmani Grandal is the only hitter with any real success off Greinke, but he's been dreadful to start the year. With a day game after a night game, there is also a chance he doesn't play in this one.
There is another weather factor to this game as well. According to ballparkpal, Guaranteed Rate Field ranks the third worst ballpark for run-scoring today. We have projected temperatures in the low 40s with 8-12 MPH winds blowing. They project 9% fewer runs and 14% fewer home runs than average. Combine the weather, the inept offenses, and the starting pitching matchup; I'm very confident that this game will go under.
__________________________
I've written up a quick guide with critical terms and helpful advice if you choose to tail my daily picks. This daily column is updated every day between 9:00 AM – 12:00 PM EST.