Analysis
MLB Best Bets: Predictions, Odds for Mariners vs. Astros, Phillies vs. Rangers (5/4/22)
Three MLB Best Bets for May 4, 2022.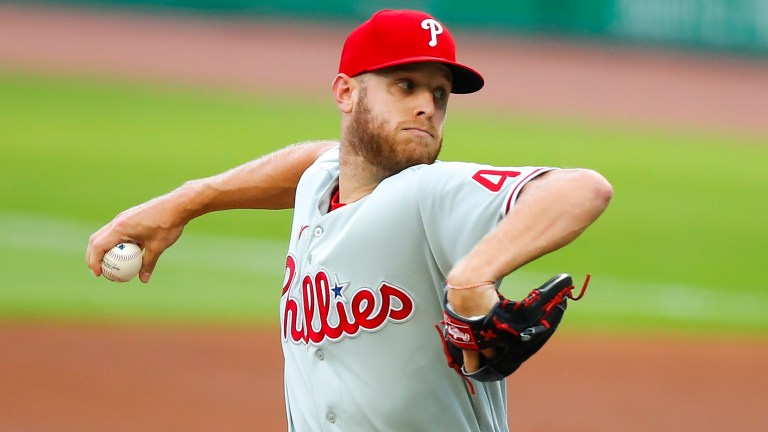 Yesterday wasn't entertaining. We went 1-2 and were completely wrong about the Angels and Rockies. We took Angels to win on the money line, and Michael Wacha shut them out. We took the Rockies to win through the first five, and German Marquez got blown up early. We took the White Sox through the first five at +110, which at least saved us from catastrophe. We'll be better today with three more MLB Best Bets.
Peter's 2022 MLB Regular Season Record: 50-30 (62.5%) +18.54 units
Subscribe to my new Gambling/Fantasy Baseball Podcast: Not Gambling Advice.
Philadelphia Phillies First 5 Innings -0.5 (-120), Phillies -1.5 (+115)
Martin Perez (LHP, Rangers): [0-2, 3.00 ERA, 1.00 WHIP, 21 IP, 16 K, 5 BB]
Zack Wheeler (RHP, Phillies): [1-3, 5.79 ERA, 1.39 WHIP, 18.2 IP, 18 K, 8 BB]
Yes, I want two picks in this game. Not only will I be taking the Phillies through the first five innings on the run line, but I also like the entire game run line. This is a two-game series in Philadelphia, where the Rangers took the first game 6-4. The Rangers have now won three in a row, but I think I know why. The Rangers are not a good team, yet they've been feasting against left-handed pitching all year. They faced back-to-back lefties and beat a 22-year-old right-hander at Globe Life Field. The Rangers this year have a .771 Team OPS against lefties while rocking a .571 OPS against righties. The Phillies are similar but more well-rounded. They demolish lefties (.764 OPS) and have found success against righties (.713 OPS).
Today, the Rangers find themselves on the road against one of the best right-handers in the game. The Phillies face off against a left-hander that's due for regression, and after a loss yesterday, the Phillies will come to play.
Martin Perez gets the ball for the Rangers, and he's off to a great start in 2022. He's been especially lethal in his last two starts, throwing 13 innings and only allowing one earned run. He got beat up in his first two starts by teams that crush lefties and beat down on two teams that don't hit lefties very well. This matchup against the Phillies should be reminiscent of his first two starts, as the Phillies have already had success off Perez.
Through 106 PA against the Phillies' current roster, he's pitched to an 8.34 FIP, a .428 xwOBA, and a .629 xSLG. The Phillies' opponent batting average against Perez is .293, but the xBA is even higher at .312. Five hitters in the Phillies lineup are hitting over .300 against him, and Alec Bohm is 5-7 in his career. I think the plethora of righty power bats get to Perez early and often before he turns it over to a mediocre bullpen.
Zack Wheeler has not been off to a good start. But he finally looked like himself, allowing just two hits and no runs in his last start. His velocity is down from last year, so that's something to monitor. He's typically in the high 90s, but he's been mostly 95-96 MPH. I don't think that should affect him much today, as he's pitching in his home environment against a team that hasn't been able to sniff a right-hander.
I mention being at home because Wheeler has been better at Citizens Bank Park since signing with the Phillies. His ERA at home is 2.87, while his road ERA is 21.00. Way too small a sample, but last year he had a 2.38 ERA at home versus a 3.35 ERA on the road. He's only faced a few Rangers hitters in his career, so we don't have much advanced data. Corey Seager is 3-5 against him, but he can't shoulder the offensive load by himself.
I love the Phillies through the first five for this starting pitching matchup, but I also love the value on the spread. The Phillies typically lose outright or cover the spread. They have 11 wins so far this year, and they are 10-1 covering the spread. If they win, they win big. This matchup favors the Phillies in every direction. Home field advantage, starting pitcher advantage, offense advantage, advantageous home/road splits, motivation coming off a loss, everything. I'm riding the Phillies to the freaking moon.
Houston Astros First 5 Innings -0.5 (-135)
Matt Brash (RHP, Mariners): [1-2, 6.88 ERA, 1.82 WHIP, 17 IP, 16 K, 13 BB]
Justin Verlander (RHP, Astros): [2-1, 1.73 ERA, 0.69 WHIP, 26 IP, 28 K, 4 BB]
We have an early start in Mariners vs. Astros, as rookie Matt Brash takes on veteran Justin Verlander at 2:10 PM EST at Minute Maid Park. The first five innings has a bit more juice than I'd like, but I think it's a safe play considering the matchup problems for the Mariners.
Matt Brash toes the rubber for Seattle, and he's not off to a great start. His stuff is excellent; he has one of the nastiest sliders with a mid-high nineties fastball. The problem with that is he's had trouble not only commanding within the strike zone but controlling the ball at all. So far, he has 13 walks in 17 innings, and that's not a good recipe against the Astros. Brash pitched well against them at home, allowing two runs in five innings.
His ERA looks good against them, but his FIP is 8.45, and his xwOBA is .410. Even if we only see two runs scored off Brash, that should be enough for Verlander. I have a rookie pitcher on the road, struggling with command, facing an offense that's seen him before, and is bound to get going. Yeah, Brash is in trouble today.
Justin Verlander gets the ball for Houston, and he's been nothing short of dominant in his return from injury. He's great against everyone, but he's been especially lethal against the Mariners. In 56 PA against the Mariners' current roster, he's rocking a 2.73 FIP, a .211 xwOBA, and a .243 xSLG.
Here's how each hitter has fared against Verlander. I want to write it out; you tell me where the offense will come from today:
JP Crawford: 0-7 with 3 K's
Adam Frazier: 1-7
Jesse Winker: 1-7 with 2K's, HR
Toro/Kelenic/Murphy/Rodriguez/Suarez: 0-18 with 10K's.
I will easily side with the Astros at home here. I don't know where the offense will come from with Seattle. When you consider Brash's walk issue, the Astros could luck into some early runs without even swinging the bat. I'm willing to take the Astros through the first five at any value below -145.
______________________
I've written up a quick guide with critical terms and helpful advice if you choose to tail my daily picks. This daily column is updated every day between 9:00 AM – 12:00 PM EST.