Analysis
MLB Best Bets Today: Predictions, Odds for Cubs vs. Reds, Rangers vs. Athletics for May 26, 2022.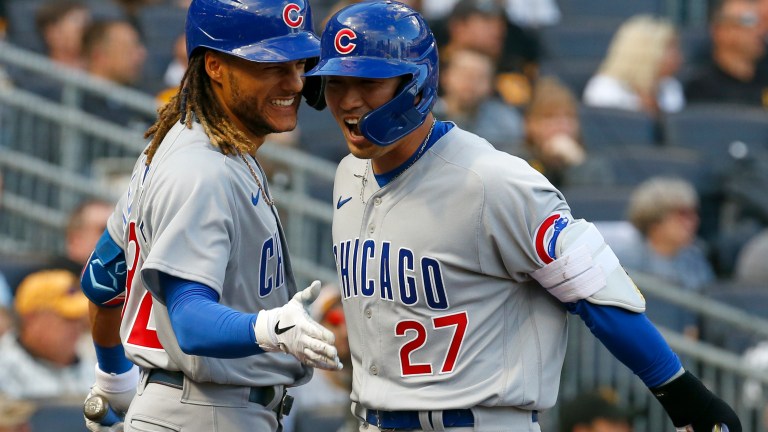 We had a rough one yesterday. An 0-2 day isn't what we are after.
We took the over in the White Sox vs. Red Sox game, which proved to be a trap. I wrote in the article yesterday that every stat pointed towards the over, yet we had a reverse line movement towards the under. I walked straight into that one, unfortunately.
We took the Padres to beat the Brewers, and we should have isolated the first five innings. I had faith the Padres bullpen could hold the lead after they went up 1-0, but the Brewers scored two runs and came away with the win.
I have two plays today that I love, plus an underdog play. The underdog is for the value, so you'll find that pick on my Twitter.
Let's get back in the green today.
2022 MLB Regular Season Record: 75-59 (56%) +11.06 units
Subscribe to my New Gambling/Fantasy Baseball Podcast: Not Gambling Advice.
Chicago Cubs @ Cincinnati Reds: 12:35 PM EST
Justin Steele: (LHP, Cubs) [1-4, 3.82 ERA, 1.42 WHIP, 33 IP, 38 K, 17 BB]
Hunter Greene: (RHP, Reds) [1-6, 5.49 ERA, 1.47 WHIP, 39.1 IP, 50 K, 22 BB]
We head to Cincinnati for the fourth and final game of the series. The Cubs have won two of three so far, but the Reds won last night's matchup 4-3. This is the early game on the slate, and with how these pitchers match up, I'll be taking the under.
Neither of these offenses is very good. The Reds have scored the second-fewest runs in the National League, while the Cubs have only two players with an OPS over .800. Rafael Ortega is not in the lineup today.
Justin Steele will get the ball for the Cubs, who has been better than his 3.82 ERA indicates. His 2.95 xERA tells us that he's been able to limit hard contact. He ranks in the 98th percentile in barrel rate and the 90th percentile in xSLG. While Steele's fastball doesn't reach higher than 94 MPH, it has a lot of spin that gives it that rising action all pitchers are looking for.
Steele faced the Reds last year, but that was a different lineup. In that game, he threw five innings while allowing three runs. That lineup featured Jonathan India, Nick Castellanos, and Eugenio Suarez, who are either injured or not on the Reds anymore.
The current Reds can't hit a left-handed pitcher right now. They have the worst OPS in baseball against lefties this year and the worst slugging percentage. OPS included slugging, but it's essential that the slugging percentage is so low for this under.
Hunter Green will toe the rubber for the Reds, and he's been incredible as of late. In his last two starts, he's thrown 13 innings while only allowing two earned runs. He threw a no-hitter through seven innings against the Pirates on May 15, and they lost. His command also looked better in his last start, only allowing two walks in six innings.
Green's only issue is command. If he throws strikes, he should have a great day against a Cubs lineup that struggles against righties. The Cubs have the 19th ranked Team OPS vs. righties, and the 21st ranked slugging percentage.
Willson Contreras is still nursing a hamstring injury, and while he is in the lineup, it's doubtful he's 100%
Following each starting pitcher will be a great bullpen versus a mediocre one. The Cubs have a 3.22 bullpen ERA, and the peripheral stats back up that performance. The Reds have the third-worst bullpen ERA, but the peripheral stats show us that's a bit inflated by a few bad performances.
We should see some lousy weather as well. This game could look similar to the Red Sox and White Sox game from yesterday, where the bad weather slows these offenses down. I'd still take the under if the weather wasn't an issue. It's just a bonus.
The Pick: Cubs vs. Reds Under 9 (-115)
________________
Texas Rangers @ Oakland Athletics: 9:40 PM EST
Martin Perez: (LHP, Rangers) [3-2, 1.64 ERA, 1.01 WHIP, 49.1 IP, 38 K, 12 BB]
Franke Montas: (RHP, Athletics) [2-4, 3.55 ERA, 1.01 WHIP, 50.2 IP, 55 K, 13 BB]
We head to Oakland for the first game of a four-game series between these division foes. This should be a fantastic pitcher's duel, as both of these starters have solid matchups, and they've been stellar this year.
Martin Perez gets the ball for Texas today, and he's been unhittable this year. He's coming off a complete-game shutout against the Astros, and in May, his ERA is 0.64. While Perez has never shown this ability in prior years, his 2.49 xERA, which is in the 91st percentile, shows us this is legit, at least so far.
The command is critical for Perez, and he's been fantastic in that department. He's rocking the lowest walk rate of his career, and his xSLG is in the 91st percentile. He's not giving up free passes, and he's not allowing hard contact. That's a recipe for success.
Perez hasn't allowed a run yet on the road. Through 22 innings, opponents are hitting .194 against him and only have 14 hits with no runs.
Frankie Montas takes the mound for Oakland today, and he should see even better results than what he's shown so far. His 2.89 xERA places him in the 78th percentile in baseball. He's throwing his splitter more than ever, which has been incredibly effective as a wipe-out pitch and how he can steal a strike. He's increased his ground-ball rate to 48.5%, the second-highest of his career.
Both of these pitchers shoved against the opposing offenses already this season. They faced each other back on April 23, and that game ended 2-0. Montas threw seven innings, allowing two earned runs. Perez threw six shutout innings with five strikeouts.
Following these two starters will be two solid bullpens in the upper half in bullpen ERA.
The Rangers have the fourth-worst Team OPS against right-handed pitching and the fifth-worst slugging percentage. Oakland ranks 16th in Team OPS and slugging against right-handed pitching, but they have a .563 OPS hitting at the Collesium.
It's supposed to be cold in Oakland tonight with wind gusts from 15-20 MPH. Ballparkpal has this game as the most affected game of the day, calling for a 9% decrease in runs and a 17% decrease in home runs.
The money line for this game favors the A's, which tells me this will be a close, low-scoring game. I'll take the whole game under at seven at -120, and if 6.5 shows a positive line, I would take that as well.
The Pick: Rangers vs. Athletics Under 7 (-120)
________________
I've written up a quick guide with critical terms and helpful tips.