Analysis
MLB Best Bets Today: Predictions, Odds for Braves vs. Marlins, Diamondbacks vs. Cubs, Nationals vs. Brewers for May 22, 2022.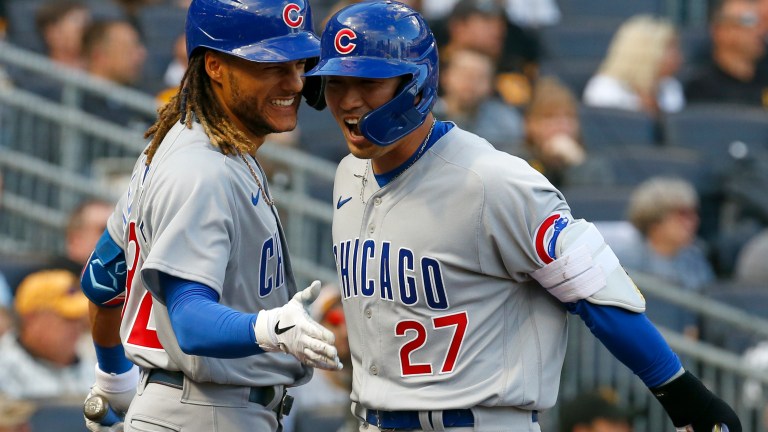 I knew the luck would turn our way. On Saturday, we were so unlucky that a perfect sweep was what we got and what we deserved.
We took the Twins through the first five innings, and the score was closer than the sweat of it. The Twins took an early lead, and Joe Ryan finished it off for the victory.
We took the Braves through the first five innings, and truthfully, I never gave up hope even as we were down to our last strike. It was 0-0 with two outs and two strikes on William Contreras, and he hit an opposite-field bomb to give us the 1-0 win. Hernandez was due to allowing a home run; it just took 4.2 innings to happen.
It's a new day, and I have three more picks to end the week positively. We are 9-4 this week, so I'm getting riskier with these today.
2022 MLB Regular Season Record: 71-53 (57%) +13.86 units
Subscribe to my New Gambling/Fantasy Baseball Podcast: Not Gambling Advice.
Arizona Diamondbacks @ Chicago Cubs: 2:20 PM EST
Merrill Kelly: (RHP, Diamondbacks) [3-2, 3.27 ERA, 1.27 WHIP, 44 IP, 40 K, 15 BB]
Wade Miley: (LHP, Cubs) [1-0, 2.70 ERA, 1.10 WHIP, 10 IP, 7 K, 5 BB]
We head to Chicago for the fourth and final game of the series after the Diamondbacks won the first three games. The Cubs have now lost four straight, while this is the start of a three-game win streak for Arizona. I don't see the Cubs getting swept in four games, especially when they have the starting pitching advantage.
The Cubs have struggled this year. They are 15-24 on the year sitting in fourth place behind the Pirates in the NL Central. The Diamondbacks have been a nice story, sitting at 21-21, also in fourth place in the NL West.
The Cubs, however, have been pretty unlucky. Although they've won six fewer games than Arizona, they have a -3 run differential than the Diamondbacks at -21. The Cubs are better than their record, while the Diamondbacks are worse than their record shows.
A part of that early success is because of Merrill Kelly. In April, he posted a 1.27 ERA, allowing one run or less in four of his five starts. That production, however, has started to normalize to his career norms.
In May, he had three starts, throwing 15.2 innings and allowing 12 earned runs to give him a 6.89 ERA. He pitched well against the Rockies at home but then allowed three runs in five innings to the Marlins and got destroyed by the Dodgers in his last start.
Merrill Kelly had a 4.44 ERA this year, and I don't see many changes in his arsenal from last season. He's also been much worse on the road this year and last year, posting a 5.18 ERA in 2021 and a 5.40 ERA on the road this season.
He hasn't faced the Cubs this year, but he has some experience against their current roster. Through 31 PA, Kelly has posted a 4.77 FIP, a .192 opponent batting average, a .300 xwOBA, and a .302 xSLG. Those numbers are pretty solid, but I think the Cubs can get to him with how bad he's been on the road.
Wade Miley will take the ball for the Cubs, and while he's no flamethrower, he's been very effective these past few seasons. In 2021, he was electric, rocking a 3.37 ERA in 28 starts. He had a rough 2020 but posted an ERA under four in 2019. In his last start, he's coming off a one-hit seven innings shutout against the Pirates, and I think he carries over that momentum today.
The Diamondbacks can't hit a left-handed pitcher. They have the fourth-worst OPS and the worst batting average in baseball against lefties. Wade Miley is a crafty left-hander who's dominated them before.
It's a small sample, but in 25 PA, Miley has held them to a 1.59 FIP, a .130 opponent batting average, a .201 xwOBA, and a .187 xSLG. Most of this sample is from Jordan Luplow, 2-13, with four strikeouts against Miley. Luplow is their best bat against lefties, so I like seeing he hasn't had much success off him.
This line seems a bit fishy to me. I think the Diamondbacks should be favored here, yet they are +105 underdogs. The line at -120 for the Cubs screams a win for them, especially in the final game of a four-game series where they lost the first three.
Arizona has the third-worst bullpen ERA in baseball, while the Cubs sit with the seventh-best bullpen ERA this season. I like the Cubs on the money line up to -125.
The Pick: Chicago Cubs ML (-120)
____________
Washington Nationals @ Milwaukee Brewers: 2:10 PM EST
Aaron Sanchez: (RHP, Nationals) [2-3, 7.94 ERA, 1.68 WHIP, 22.2 IP, 12 K, 6 BB]
Freddy Peralta: (RHP, Brewers) [3-1, 3.53 ERA, 1.09 WHIP, 35.2 IP, 48 K, 12 BB]
We head to Milwaukee for a three-game set's third and final game. The Brewers took the first two games by a combined score of 12-1, as the Nationals haven't been able to hit anything lately. Since they put up 13 runs on May 14, they have scored nine runs in their past six games. I bet you know where I'm going with this.
Freddy Peralta will get the ball for Milwaukee, who has been solid this year but has been turning it up as of late. In April, he got off to a rocky start, posting a 5.00 ERA through four starts. In May, he keeps getting better and better. He's allowed just one run in 12.2 innings over his last two starts.
Josh Bell and Juan Soto, the two hitters we have to worry about, are a combined 2-15 with four strikeouts against Peralta in their careers.
Although the Nationals have these gaudy offensive numbers on the road, I don't put that much stock into it. The Nationals were on a tear earlier this season, and it's still early in the year. If a .750 OPS on the road scares you, a .636 OPS during the day should alleviate that concern. We are left with a lousy offense if one discounts both of those stats because it's early.
The Brewers, on the other hand, have a reasonably potent offense, but without Willy Adames, it doesn't scare me all that much.
This offense will face Aaron Sanchez, who's been dreadful to start the year. I don't have full faith he'll turn it around, but his 4.66 xERA seems to think so. He's getting batters to chase, and he's not walking many batters, but the problem is hard contact.
This year he's allowed four home runs in 22 innings and ranks near the bottom in hard-hit rate.
Here's my thing, it's supposed to be cold. As the weather heats up along the east coast, it's supposed to be around 54 degrees in Milwaukee at game time.
Generally, that can slow down some hitters' ability to create harsh contact.
I don't see the Nationals scoring much, if at all, against Peralta and the Brewers bullpen. I also don't see the Brewers going crazy offensively against the Nationals.
That leads me to the under, considering I think this game will end close to 6-7 runs. I'll gladly take the under 8.5.
The Pick: Nationals vs. Brewers Under 8.5 (-110)
_________
Atlanta Braves @ Miami Marlins: 1:40 PM EST
Ian Anderson: (RHP, Braves) [3-2, 3.75 ERA, 1.33 WHIP, 36 IP, 25 K, 18 BB]
Sandy Alcantara: (RHP, Marlins) [3-2, 2.49 ERA, 1.11 WHIP, 50.2 IP, 42 K, 20 BB]
We travel to Miami for the third and final game of a three-game set between these division foes. The Braves won the first two games by a combined score of 9-6, as each of these games has been hard fought. We barely squeaked out a win with the Braves yesterday, but I think the luck will be on the Marlins' side today.
Ian Anderson gets the ball for Atlanta, who's been a bit inconsistent in the early goings of this season. He has a strange pattern going. He started the year allowing five earned in less than two innings. He then turned in an excellent start against the Padres.
He's done this now in every start. A nice outing followed by a rougher outing. He pitched well against the Brewers in his last start; see where I'm going here?
Now, can we count on that to keep happening? Nobody knows for sure, but we do know that the Marlins have had success off Anderson in the past. On April 23, Anderson allowed six hits, three runs, and two earned runs against the Marlins while walking three.
In a large enough sample of 97 PA, Anderson is working with a 4.97 FIP, a .291 opponent batting average, a .322 xwOBA, and a .404 xSLG. In their careers, seven hitters in the Marlins lineup are hitting at least .273 against Anderson. Jesus Sanchez owns him, going 5-6 with two doubles and a home run. Jazz Chisholm is also 5-13 with two doubles and a home run.
The Marlins have been fantastic against righties this year, rocking a .739 Team OPS, which places them seventh in baseball. They also have the third-best batting average against right-handed pitching in the league.
We tailed Kyle Wright yesterday because they have struggled against high velocity and sinkerballers. Anderson is a groundball pitcher but is rocking the lowest GB% of his career. His fastball sits in the first percentile in spin, and the velocity is down from 94.6 to 93.5 MPH.
Today, the Braves have to deal with Sandy Alcantara, who's been phenomenal in his last two starts. In his previous 15 innings, he's allowed just two earned runs and five hits while producing 26 groundball outs. The 98 MPH sinker is humming now, and I don't see the Braves getting to him.
The Braves are objectively a better team against left-handers. They have a primarily right-handed lineup, and Ozzie Albies is much better from the right side of the plate. The stats back that up, and they haven't been able to touch Sandy in the past.
He hasn't faced them this year but has plenty of past success. Through 116 PA against the Braves' current roster, he's rocking a 2.93 FIP, a .243 opponent batting average, a .280 xwOBA, and a .331 xSLG.
Marcell Ozuna is 4-7 with two doubles against him, but the rest of the lineup hasn't had much luck. Adam Duvall and Austin Riley are a combined 3-24 with ten strikeouts.
The Marlins are the lesser team to the Braves, but after two losses, I think the Marlins come in highly motivated to win. With that said, the Marlins bullpen is prone to blow-ups, and the value of the first five innings is too good not to take.
I see the most significant edge in the starting pitching matchup, so I'll isolate it for the value.
The Pick: Marlins First 5 Innings -0.5 (+115)
__________________________
I've written up a quick guide with critical terms and helpful tips.