Analysis
MLB Best Bets: Predictions, Odds for A's vs. Tigers, Marlins vs. Diamondbacks, Rays vs. Angels for May 10, 2022.
Three MLB Best Bets for May 10, 2022.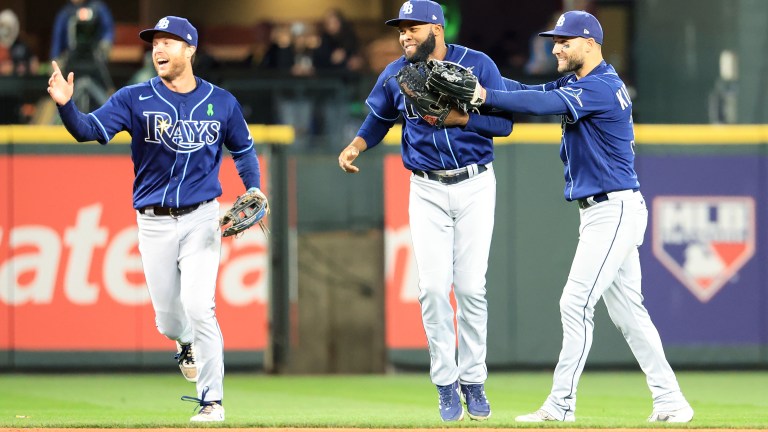 I just walked us into ongoing traffic yesterday. I went 0-3 on my MLB Best Bets yesterday. That's just the second time I went a day without winning a bet this year, and it hurt my soul.
No excuses for yesterday; it just didn't work out. I wouldn't have changed anything if given another chance. I trust my numbers, and the numbers showed those were the plays in my eyes. We look to write the wrongs of yesterday with three more picks.
I also see some opportunity for a bonus pick today. Follow me on Twitter for the release.
Peter's 2022 MLB Regular Season Record: 56-37 (60%) +16.69 units
Subscribe to my new Gambling/Fantasy Baseball Podcast: Not Gambling Advice.
Miami Marlins @ Arizona Diamondbacks: 8:10 PM EST
Jesus Luzardo: (LHP, Marlins) [2-2, 3.08 ERA, 1.06 WHIP, 26.1 IP, 35 K, 12 BB]
Madison Bumgarner: (LHP, Diamondbacks) [1-1, 1.50 ERA, 1.13 WHIP, 24 IP, 15 K, 11 BB]
The Arizona Diamondbacks will host the Miami Marlins for game two of their three-game series at Chase Field. On the bump for the Marlins will be Jesus Luzardo, who we had the privilege of interviewing earlier in the year. He is not as charming on the mound in the eyes of opposing batters as he was for us. He has been challenging to hit all year, striking out 35 batters in just over 26 innings pitched. Opposing Luzardo will be the three-time world champion, Madison Bumgarner.
Something that continues to blow my mind is Madison Bumgarner is younger than Merril Kelly. That has nothing to do with the pick, but that doesn't sit right with me.
Bumgarner has had a fantastic start to the year. He hasn't allowed more than two runs in a start so far, but he did have his weirdest outing in his last start against the Marlins. He allowed a first-inning home run to Jon Berti, then spat with the first base umpire, and was thrown out of the game. Dan Bellino, the umpire, got a bit touchy on his hand, and Bumgarner is not that guy.
Regardless, this is a battle of two teams that can't hit left-handed pitching this year. The Marlins' two talented young players, Jesus Sanchez and Jazz Chisholm, drop off a cliff against lefties. Jesus Aguilar, Avisail Garcia, Miguel Rojas, and Jacob Stallings are right-handed bats with reverse splits. They have all hit righties much better than lefties this year. Jon Berti, who hit that first-inning home run off Bumgarner, is out of this game. Weirdly enough, the Marlins didn't disclose what kind of injury, but he'll be out nonetheless.
In 75 plate appearances, Bumgarner has a .240 wOBA, a .197 average against, and a 3.46 FIP against current Marlins starters. The last time Bumgarner faced the Marlins, he was ejected after just one inning; I have no doubt he will come back fired up and ready to shove the baseball in the strike zone all night. They don't call him Mad Bum for nothing.
Yes, the offenses for both of these teams have shown a sign of promise as of late. However, both of these starting pitchers have been very effective to begin their 2022 campaigns. Luzardo has a 3.08 ERA on the year but an even more impressive 2.25 ERA when he has pitched on the road. In 16 innings of road work, Luzardo has only allowed four earned runs in three starts.
Jesus Luzardo has been exceptional this year against left-handed bats. He's holding lefties to an absurdly low .105/.150/.105 slash line. The Diamondback's lineup is littered with lefties, explaining why they are the worst team in baseball against left-handers all year.
Not only that, but the Marlins feature one of the better bullpens in the game. They hold a 2.90 ERA as a team so far. The Diamondbacks don't have a good bullpen, ranking 26th in bullpen ERA. That's the only thing that makes me slightly nervous, but it's not like the Marlins bring much firepower on offense. Joe Mantiply and Mark Melancon will be available, which should be enough to dampen this Marlins offense.
You may be wondering why the line is this high. It's one of the higher totals of the day. According to ballpark pal, the weather is expected to be humid and hot. That bodes well for hitters, and the prediction calls for an 11% boost in runs. The weather won't get me off this under, especially considering it's at 8.5.
With a .566 OPS versus LHP, the Diamondbacks rank dead last in that category, while the Marlins are not much better at .642, which is 20th in the majors. I've seen this line at 8 or 8.5; take the 8.5 for the possibility of it hitting that specific 8 number.
The Pick: Marlins vs. Diamondbacks Under 8.5 (-118)
___________
Detroit Tigers @ Oakland A's: (Game 1): 1:10 PM EST
Tarik Skubal: (LHP, Tigers) [1-2, 3.04 ERA, 1.16 WHIP, 26.2 IP, 29 K, 3 BB]
Frankie Montas: (RHP, A's) [2-2, 3.44 ERA, 0.93 WHIP, 36.2 IP, 37 K, 9 BB]
This afternoon, the A's take on the Tigers in Game 1 of a doubleheader to begin the Tuesday baseball slate. I wish every game on this slate could be as exciting as this matchup. All jokes aside, there is a pick in this game that I love, and it is under 6.5.
It is not a flashy pick, but it makes a lot of sense with Frankie Montas taking the bump against Tarik Skubal. The total is at 6.5 for a reason; it'll be a struggle in game one for runs. I don't normally like betting on doubleheaders, but this one caught my eye.
It is limited sample size; Tarik Skubal has had (insert Borat voice) great success against these Oakland A's hitters. In 18 plate appearances, Skubal has a .164 wOBA, a .071 average against, 2.47 FIP, and a .247 xSLG. Oakland has not been efficient at any point this season in getting runs across the plate. They rank 25th in runs scored, 29th in hits per game, and 29th in team batting average.
The A's previous nine games averaged just 2.1 runs per game, resulting in a dismal 1-8 record. Looking to make that record 2-8 in their last ten games will be Frankie Montas, who has been a bright spot in a cloudy Oakland A's 2022 season. In 45 plate appearances against the Tigers' current roster, Montas has a .246 wOBA, a .171 average against, 2.39 FIP, and a .374 xSLG. Although Oakland will be the home team, it's important to note this game will be played in Detroit.
The last time he faced the Tigers on the road, he threw 6.2 innings while allowing three runs and striking out seven. If he can turn in a similar start against a worst Tigers offense than last year, this game should go comfortably under.
The Tigers' bats have also been ice cold lately. In their three-game series, they were swept by the Astros, plating just four runs in three games, including a shutout on Sunday. The Tigers' bats were silenced with another shutout on Monday night. The Tigers have now gone 24 innings without scoring and have dropped six straight games. With both of these offenses laboring, two quality starters taking the hill, and both teams' bullpens ranking inside the top-10 in ERA, this game screams under. I've seen this line anywhere from +105 to -105. Do some line shopping and get that +105 before it creeps into negative territory.
The Pick: Tigers vs. A's Under 6.5 (+105)
_________________
Tampa Bay Rays vs. Los Angeles Angels: 9:38 PM EST
Corey Kluber: (RHP, Rays) [1-1, 2.36 ERA, 1.05 WHIP, 26.2 IP, 25 K, 6 BB]
Reid Detmers: (LHP, Rays) [2-2, 3.44 ERA, 0.93 WHIP, 36.2 IP, 37 K, 9 BB]
This is not a play I'm sure crazy about by the numbers, but when I saw this crazy line movement from last night coupled with the bet percentages on either side, I'm willing to go with it.
Last night, the Rays opened up as +100 underdogs against the Angels. This morning, that line cropped to -110, and then it jumped again to as high as -120. I grabbed it at -110 early this morning but would take it at -120. According to Vegas Insider and the Action Network, the Rays get about 70% of bets while taking 88% of the money. That means the big boys are on this one early and often, and I'm willing to join them.
I typically won't jump on line movements like this unless I see tangible things in the game I can attack.
Both teams have gotten off to solid starts to begin the year, each well over a .500 record through 30+ games. Corey Kluber will be getting the nod for the Rays. He has had an excellent bounce-back season from injury. In five starts, Kluber is 1-1 with a 2.36 ERA, and he has been brilliant in his last two starts, giving only one earned run in 12 innings.
Through 50 PA against the Angels' current roster, he's pitched to a 5.70 FIP, a .314 wOBA, and a .476 xSLG. When we dig deeper, we see that Trout and Ohtani haven't had any success against Kluber. They are 3-for-23 with six strikeouts against him in their careers. Two of those hits were home runs; however, that's why you might see the xSLG and FIP a bit higher.
Reid Detmers has never faced the Rays before, but he does not look like a starter going deep into games yet. The Angels bullpen is nothing special, ranking 15th in the league in total ERA. The Rays have also proven they are ready to attack any relief pitcher.
The Angels have been good at home (11-6), but the Rays have been just as good on the road (9-5). The Rays will look to attack Reid Detmers early and often as they have hit left-handed pitching well to begin the 2022 season (.744 OPS vs. .699 OPS against righties).
Corey Kluber should also continue to build off his last two starts as he will look to paint corners and keep the Angels' formidable lineup off balance. The Rays will then turn to their crafty bullpen to help them secure this game. The line has moved from +100 to -120 for the Rays; I am riding with Vegas on this one.
The Pick: Tampa Bay Rays ML (-110)
__________________________
I've written up a quick guide with critical terms and helpful advice if you choose to tail my daily picks. This daily column is updated every day between 9:00 AM – 12:00 PM EST.