Analysis
MLB Best Bets: Predictions, Odds for Angels vs. Red Sox, Nationals vs Rockies, White Sox vs. Cubs (5/3/22)
Three MLB Best Bets for May 3, 2022.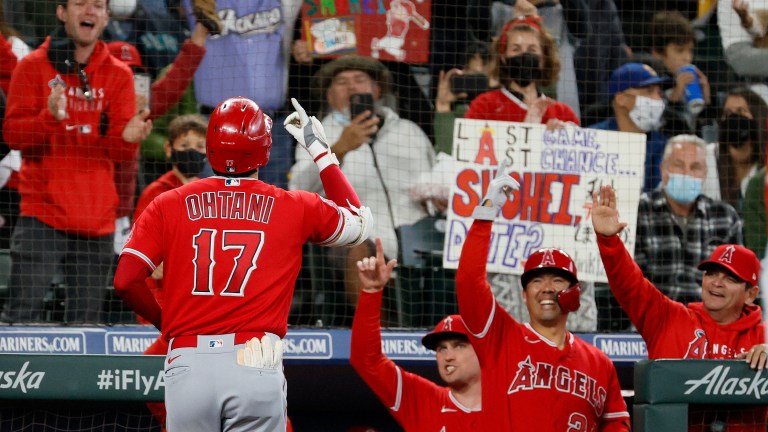 Really shocked at how bad my performance was yesterday. We won our first play of the day after the Cardinals beat the Royals through the first five innings. But we lost both under in the Diamondbacks vs. Marlins game. We took the NRFI, and David Peralta hit a two-run bomb to wipe that out quickly. We took the whole game under, which lost in the seventh inning. I still felt it was the right play based on the numbers, but it happens sometimes. We'll pick up the pieces today.
Peter's 2022 MLB Regular Season Record: 49-28 (64%) +19.74 units
Subscribe to my new Gambling/Fantasy Baseball Podcast: Not Gambling Advice.
Colorado Rockies First 5 Innings -0.5 (-110)
Erick Fedde (RHP, Nationals): [1-2, 6.00 ERA, 1.56 WHIP, 18 IP, 19 K, 8 BB]
German Marquez (RHP, Rockies): [0-1, 5.57 ERA, 1.52 WHIP, 21 IP, 14 K, 4 BB]
The Rockies and Nationals are set to begin game one of their three-game series at Coors Field tonight. Apologies in advance to Eric Fedde as he is in for a rude awakening at the hands of these Rockies' bats. Not only that, but German Marquez takes the mound for the Rockies, who's been one of the best performers at Coors Field in their franchise history. They signed him to a five-year extension, and I like his matchups against this Nationals lineup today.
Let's talk Erick Fedde because we loved him against the Marlins in his last start, but he allowed two runs over 4.2 innings. That was one of the best starts you'll get from him this year, as he matches up much better against them. Not so much here, especially pitching in Colorado for the first time since 2021, where he threw just one inning in a relief role and gave up a run in the process. His last start at Colorado was in 2018 when he allowed four runs over four innings. He has barely any experience at Coors, which is a good thing for the Rockies, but he also doesn't have success off the current roster. Through 27 PA, Fedde is pitching to a 6.06 FIP, a .428 xwOBA, a .417 opponent batting average, and a .573 xSLG. Fedde is the perfect arm to get the Rockies bats going early.
German Marquez has also struggled to start the year. In his most recent start against the Philadelphia Phillies, he got roughed up to the tune of seven runs (four earned) on seven hits while only fanning one batter in 3.2 innings.
However, he is in a prime position to have a bounce-back outing. He is better in Coors than anywhere else, but this Nationals lineup also doesn't match up well. Through 85 PA, Marquez is rocking a 4.10 FIP, a .301 xwOBA, a .241 opponent batting average, and a .381 xSLG. The leadoff hitter, three-hitter, and four-hitter in the lineup for the Nationals are a combined 2-for-32 against Marquez in their career. That's Cesar Hernandez, Nelson Cruz, and Josh Bell. Juan Soto should be fine, but I'm not sure how else they manufacture runs.
The Rockies have consistently performed well at home and are well-rested in this game. They honored the great Kobe Bryant by outscoring the Nationals 24-8 throughout their three-game series. While Washington had a solid matinee game against the Giants this weekend, based on what this team has done so far, I doubt their success will continue over to game one. Also, I do not trust Eric Fedde at all, especially on the road at Coors Field. I expect the Rockies' bats to take care of business early and Marquez to have a bounce-back outing. I am rolling with the Rockies through the first five innings.
Chicago White Sox F5 Innings -0.5 (+110)
Michael Kopech (RHP, White Sox): [0-0, 1.42 ERA, 0.95 WHIP, 19 IP, 18 K, 9 BB]
Drew Smyly (LHP, Cubs): [1-2, 2.79 ERA, 1.09 WHIP, 19.1 IP, 13 K, 3 BB]
It is our first all-Chicago matchup of 2022!
Kopech gets the nod for the White Sox against Drew Smyly and the Cubs. The Cubs haven't seen Michael Kopech yet, while the White Sox bats only wake up for left-handed pitching. The White Sox won 3-0 yesterday against a left-hander, and I think they carry that momentum over in this one against Smyly, who I believe is due for regression after an excellent April.
The White Sox are starting to get going. They nearly mounted a five-run comeback against the Angels on Sunday, then shutout them out yesterday. I think they carry over some of that confidence in this series against their intra-city rivals, who have now lost four series in a row. The White Sox have been very good against left-handed pitching, winning 43 of their last 63 games versus a lefty starter. The White Sox have been one of the worst teams in baseball against righties this year (.569 Team OPS) but one of the best against lefties (.799 Team OPS). Smyly's advanced numbers against the White Sox's current roster are solid, but some of those ABs came from pitchers. Jose Abreu is 6-11 with two doubles and a home run, and Leury Garcia is 4-11 with a double and home run.
Both Kopech and Smyly have had strong starts to the season, but Smyly has looked a lot more vulnerable in his last two starts. Yes, the White Sox have had a slow start, but they're a legitimate title contender; they will figure things out sooner rather than later. Kopech has only allowed three earned runs all season, and he'll do enough to keep the Sox in a prime position to win through the first five innings. I'd take the White Sox through the first five innings to -105.
Los Angeles Angels ML (-120)
Noah Syndegaard (RHP, Angels): [2-0, 2.12 ERA, 0.82 WHIP, 17 IP, 11 K, 4 BB]
Michael Wacha (RHP, Red Sox): [2-0, 1.77 ERA, 0.93 WHIP, 20.1 IP, 17 K, 9 BB]
The Red Sox and Angels begin game one of a three-game set at Fenway Park. Finally, the Angels look healthy, and everything seems to be coming together. Syndergaard is off to a great start, the offense is rolling, and the bullpen is one of the better back-end units in the game. They'll face Michael Wacha, who's enjoying an excellent first month. Like Smyly, I see some regression here, and I think this will be his worst start this season.
It's lovely seeing Mike Trout and Company sitting atop the AL West standings. Not only for how much I praised them over the off-season, but the best player in baseball has a shot at the playoffs!
One big reason for this is the pitching prowess of Noah Syndergaard. He looks to be worth every penny of his one-year, $21 million contract he signed with the Halos this off-season. He doesn't have a ton of experience against the Red Sox, but it's been solid in limited time. Through 38 PA, Syndergaard has a 4.05 FIP, a .305 xwOBA, and a .326 xSLG. JD Martinez is 3-for-5 against him, but no other Red Sox has three career hits against him. The Red Sox offense hasn't been great to start either, ranking 10th out of 15 teams in the AL in runs.
On the other side of the diamond, Michael Wacha has looked fantastic to begin his 2022 campaign. A lone bright spot in what has been a disappointing start for the Red Sox. While he does have very good advanced numbers against the Angels roster (3.52 FIP, .256 xwOBA, .287 xSLG), it's only in 25 AB. Five of those ABs came from pitchers, and both Mike Trout and Anthony Rendon are a combined 5-for-13 with two extra-base hits. Michael Wacha had an ERA over five last year, and although he has a 1.77 ERA currently, his xERA is 3.55. I don't think the Angels blow him up, but I think they do enough for him not to last longer than five innings.
This is a case of two teams trending in the opposite directions. The Red Sox lost their four-game series against the Orioles, while the Angels won seven of their last nine games. The Red Sox do have a quality starter in Wacha on the mound, but Wacha also has not sustained an ERA below 4.75 in his last three big league seasons.
Syndergaard also has a much better pitching arsenal compared to Wacha. The Angels lineup has continued to produce runs every game (except when facing potential AL Cy Young winner Dylan Cease). I think the collection of Taylor Ward, Ohtani, Trout, and Rendon will be giving Wacha a difficult time tonight, while Syndergaard will keep the Boston bats at bay. I am going with the hotter team in this one, and that's the Angels ML up to -130.
______________________
I've written up a quick guide with critical terms and helpful advice if you choose to tail my daily picks. This daily column is updated every day between 9:00 AM – 12:00 PM EST.