Analysis
MLB Best Bets: Predictions, Odds for Rockies vs. Marlins, Guardians vs. Twins for June 23, 2022.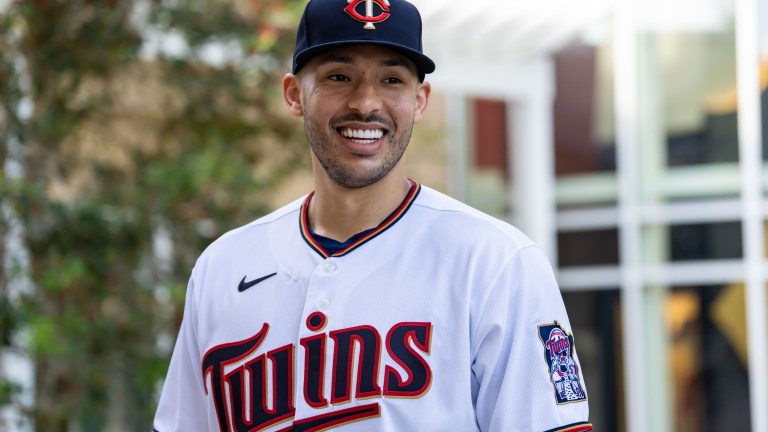 ANOTHER SWEEP. What a day yesterday was! We went 3-0 on our MLB Best Bets yesterday, and now we have hit our last six bets.
The only real sweat was the Braves game last night. I saw how depleted the Giants bullpen was and felt the Braves would be able to get to them in the later innings. They did precisely that, with an unbelievable come-from-behind win in the bottom of the ninth inning.
As I've said all season, the MLB season is a rollercoaster. Don't blindly tail these, as Thursdays are always challenging in baseball. Do your research, and play with caution, as anything can happen.
With that said, I am still confident in these two MLB Best Bets today. Let's stay in the green.
2022 MLB Regular Season Record: 109-85 (56%) +16.82 units
Subscribe to my New Gambling/Fantasy Baseball Podcast: Not Gambling Advice
Colorado Rockies vs. Miami Marlins: 12:10 PM EST
Kyle Freeland (LHP, Rockies) [3-5, 4.46 ERA, 1.40 WHIP, 72.2 IP, 48 K, 23 BB]
Braxton Garrett (LHP, Marlins) [1-2, 4.85 ERA, 1.54 WHIP, 13 IP, 10 K, 4 BB]
The Rockies begin game three of their series against the Marlins, hoping to avoid a sweep. I think they will do just that this afternoon. The Rockies are sending lefty Kyle Freeland to face the Marlins' lineup that struggles against left-handed pitching. On the opposite side, we have Braxton Garrett, a young lefty going up against a Rockies squad that's only prayer on offense is against a southpaw.
Freeland hasn't been electric this year as he sports a 4.46 ERA through 73 innings. But he carries a matchup and a veteran advantage against Marlin's starter: Braxton Garrett. Freeland has also been better lately, going 2-0 with a 3.15 ERA in his last three starts.
Freeland hasn't faced the Marlins yet this season, but he has pitched against them. In a small sample of 33 PA, he's rocking an 18.2% K rate, with a .353 xwOBA, a .219 xBA, and a .534 xSLG. Much of that production comes from Jesus Aguilar, who will be dangerous in this matchup. The remaining Marlins lineup is a combined 2-18 against Freeland in their careers.
Freeland doesn't like pitching at Coors Field. He pitched much better on the road last season, and that's carrying over to this season. He's rocking a 5.32 ERA at home through 45.2 innings but just a 3.00 ERA in 27 innings on the road. His strikeout rate is also much higher at home.
Since June began, the Marlins rank 23rd in wRC+ against southpaws. Over the entire season, the Marlins have a 68 wRC+ against lefties while the Rockies sit at 103. That's a big difference. The Marlins have the worst OPS in baseball against southpaws at .617 this season.
In Braxton Garrett's three starts of the 2022 season, he has factored into the decision all three times, going 1-2 with a 4.85 ERA in just less than 14 innings. The Rockies have so many right-handed bats that crush lefties, and righties this year have a .881 OPS against him.
This doesn't matter that much, but I thought it was at least relevant enough to put in this article. The Marlins have a .685 OPS as a team in day games and a .730 OPS in night games. The Rockies have a .737 OPS during the day and a .718 OPS at night. This game starts at 12:10, so we have at least a slight edge for the Rockies.
The Rockies have not been shy about being aggressive in the box against an unproven pitcher and putting up a crooked number. There is plenty of value in the first five innings, but I've seen this Rockies offense be able to piece together runs against this shaky Marlins bullpen. I'm rolling with the Rockies as the underdog in this one.
The Pick: Colorado Rockies ML (+135) Play to +125
1.0 Units to Win 1.35 Units
____________
Cleveland Guardians vs. Minnesota Twins: 1:10 PM EST
Zach Plesac (RHP, Guardians) [2-4, 4.41 ERA, 1.28 WHIP, 67.1 IP, 44 K, 15 BB]
Devin Smeltzer (LHP, Twins) [3-1, 3.52 ERA, 1.15 WHIP, 38.1 IP, 19 K, 11 BB]
We head to Cleveland for the final game of a three-game set. This whole series has been widely entertaining, as each game has come to the very end, each time favoring the Guardians. They won 6-5 in game one and 11-10 in yesterday's game. I'll be on the other side today, but I don't want to mess with more late-game heroics from the Guardians.
This is all about the splits.
Devin Smeltzer has been going through it lately. He was fantastic in May, putting up a 1.50 ERA which included a five-inning performance against the Guardians where he only allowed three hits and one earned run. I don't expect Smeltzer to shut them out, but he is up against one of the worst teams against southpaws this year.
The Guardians have the second-worst OPS in baseball this season against lefties. When we shorten the sample to just the month of June, they sit at 27th in wRC+. Smeltzer has also performed much better at home this season. He has a 2.00 ERA in three starts at home and a 4.87 ERA in 20.1 innings.
Smeltzer's ERA is still pretty impressive at 3.52, and his 3.80 xERA sits in the 51st percentile. I'm not here to tell you he's some ace, but with this matchup, I think he can hold the Guardians to two runs.
Zach Plesac takes the bump for the Twins, and he should be in for a rough one. He's always struggled on the road, dating back to 2020. That trend continues this year, as he's thrown 35 innings at home with a 3.34 ERA versus 32 innings on the road with a 5.57 ERA.
The Twins mash right-handed pitching. They have the third-best OPS in baseball against them this season, and they've also been crushing them lately. In the last two weeks against right-handed pitching at home, they have a 193 wRC+, which ranks first in all of baseball. If we widen the sample to the entire month of June without home-field advantage, they sit at number two in wRC+ at 139.
With all these advantages pointing the Twins' way, I have to tail them through the first five innings. After seeing what this Twins bullpen has done the past few days, I'm in no way following the money line. I do think they win, but give me the better value through the first five innings, where I see the significant discrepancy.
The Pick: Minnesota Twins First 5 Innings -0.5 (-105)
1.05 Units to Win 1 Unit
____________
I've written up a quick guide with critical terms and helpful tips.