Analysis
MLB Best Bets: Predictions, Odds for Rockies vs. Diamondbacks, Royals vs. Tigers for July 2, 2022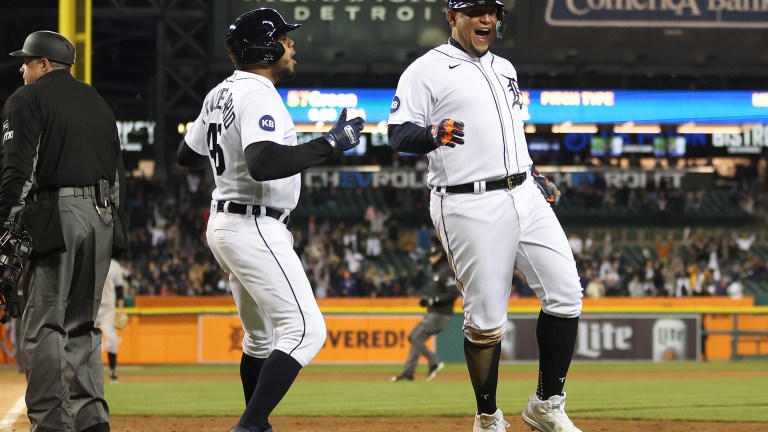 We won our only pick yesterday, but I can't lie, I thought it was a loss by the sixth inning. We took the under in Marlins vs. Nationals at 9.5 yesterday, and they scored nine runs in the first six innings.
I had to sweat out three straight innings of bad bullpens but we ultimately came through with the win.
Today, I have two MLB Best Bets for you plus a bonus pick in our Chalkboard Group Chat. We are now 1-0 in July, let's keep the train moving.
2022 MLB Regular Season Record: 119-96 (55%) +16.39 units
Subscribe to my Gambling/Fantasy Baseball Podcast: Not Gambling Advice
Detroit Tigers vs. Kansas City Royals: 4:10 PM EST
Kris Bubic (LHP, Royals) [1-5, 7.45 ERA, 1.89 WHIP, 38.2 IP, 33 K, 23 BB]
Beau Brieske (RHP, Tigers) [1-6, 4.55 ERA, 1.26 WHIP, 63.1 IP, 43 K, 20 BB]
We head to Kansas City for the second game of a three-game set. A couple of days ago, we hit our biggest underdog pick of the year. That pick was the Tigers over the Giants with Rony Garcia opposing Carlos Rodon on the road. One of the big reasons we went with the Tigers was their ability to hit left-handed pitching. Kris Bubic is a far cry away from Carlos Rodon, and the Royals' offense against right-handed pitching ranks as one of the worst in baseball.
We've seen some interesting line movement in this game. The Royals opened as -125 favorites and now find themselves as the underdog at -105. One might expect to see 90%+ of the money on the Tigers, but according to Vegas Insider and the Action Network, only around 65-70% of the money has come in on the Tigers. With a massive shift in line, it's clear that the money being put on the Tigers is highly respected, and I agree with their logic today.
The Tigers have every advantage in this game. They are playing at home, motivated by a loss, the better offense, the better starting pitcher, and the bullpen advantage.
The Tigers cannot hit a right-handed pitcher this year. I could go through the stats, but being shut out by Brad Keller should be enough to convince you. They are staunchly different against left-handed pitching, however, holding the second-best wRC+ (152) against southpaws in the last two weeks. This has been a trend the entire year for the Tigers, as they hold a Team OPS that's 100 points higher against lefties.
Let's not sugarcoat this, Kris Bubic is one of the worst pitchers in the sport. His xERA sits in the fifth percentile in baseball and he has no real command of the strike zone. He walks batters at a 12.5% rate which is in the 8th percentile, and when he does throw strikes, they often hang in the middle of the zone. Bubic faced the Tigers earlier this season, throwing four innings and allowing one run. The Tigers' offense has improved since then, and his overall numbers against the current roster aren't great.
In 89 PA, Bubic holds a .368 xwOBA, a .283 xBA, and a .474 xSLG. Four players in the Tigers lineup are hitting over .300 against Bubic, and the Royals' best reliever, Scott Barlow, threw 24 pitches yesterday. It's unlikely that we'll see him, and the Royals still have the fourth-worst bullpen ERA in baseball.
Opposing Bubic will be Beau Brieske, who's had troubles keeping the ball in the ballpark. Lucky for him, Comerica Park is one of the biggest ballparks in the league, and the Royals have hit the fourth-fewest home runs this season. Brieske has also performed much better at home this season, rocking a 2.76 ERA in 29.1 innings versus a 6.09 ERA on the road through 34 innings.
Both teams has an off day before yesterday's game, and the Tigers didn't use any of their best arms. The Tigers have the most underrated bullpen in the league, rocking the third-best bullpen ERA in the league.
I think the first five innings are a safe bet, but I'd rather play the full game because of that fantastic bullpen. Go Tigers!
The Pick: Detroit Tigers ML (-115)
1.15 Units to Win 1 Unit.
____________
Arizona Diamondbacks vs. Colorado Rockies: 9:10 PM EST
Dallas Keuchel (LHP, Diamondbacks) [2-5, 7.93 ERA, 2.15 WHIP, 36.1 IP, 27 K, 23 BB]
Austin Gomber (LHP, Rockies) [3-7, 6.55 ERA, 1.49 WHIP, 67.1 IP, 52 K, 22 BB]
Dallas Kuechel toes the rubber tonight against Austin Gomber and the Rockies in a Cy Young-level pitching matchup. All jokes aside, this game will be filled with run-scoring opportunities, and I think the Rockies will be taking better advantage of them tonight than the Diamondbacks.
The Rockies lineup is back to full strength with the insertion of Kris Bryant back in the three spot. They also crush left-handed pitching, batting a ridiculous .298 against lefties the entire season. As much as I respect Dallas Keuchel for still showing up to work every day, believing he can get big league hitters out, that is simply not going to happen. He currently ranks in the sixth percentile for strikeout rate and has a career-high walk rate this season at 12.4%. Now he is getting the nod at Coors field against one of the best teams against left-handed pitching. It is a recipe for disaster for Mr. Keuchel.
I'm ready to be hurt by Dallas Keuchel again. We faded him in his first start back against the Tigers, and we did end up losing that pick. It wasn't because Keuchel pitched well, it's just that the Arizona offense put up 11 runs in the game and ended up taking the win.
The Rockies' offense should destroy Keuchel. They are one of the best teams in baseball this season against left-handed pitching, and they've been crushing them lately. In the last two weeks, the Rockies have a 160 wRC+ with a .348/.416/.567 slash line.
I know Austin Gomber has not been much better this season. But, he is less than one year removed from a 2.09 ERA season at Coors Field. This also wasn't over a minuscule amount of innings, and this ERA accumulated over 47.1 total innings in 2021. He has also been gaining a bit more confidence since he was sent back to the bullpen.
He went 2.2 innings surrendering only one run on two hits in his last outing against Minnesota. The Diamondbacks also struggle against left-handed pitching, hitting .223 average with a .653 OPS against them this season. In the past two weeks, Arizona ranks 25th in wRC+ against left-handed pitching. Arizona is averaging 4.3 runs per game in their 35 road games, while Colorado is averaging 5.71 runs per game in their 41 home games so far.
This is not just a fade on Dallas Keuchel, this is a fade of his pitches at Coors Field. The two most affected pitches in Coors Field due to the altitude are sinkers and changeups. Pitches with more horizontal movement don't move as much due to the thinner air. Dallas Keuchel's two most used pitches are the sinker and the changeup, which he throws a whopping 72% of the time combined.
I recommend reading this article about how Coors Field affects each individual pitch.
The Pick: Colorado Rockies First 5 Innings -0.5 (-115)
1.15 Units to Win 1 Unit
____________
I've written up a quick guide with critical terms and helpful tips.