Analysis
MLB Best Bets: Predictions, Odds for Reds vs. Giants, Red Sox vs. Guardians, Rockies vs. Twins for June 24, 2022.
Three MLB best bets for June 24th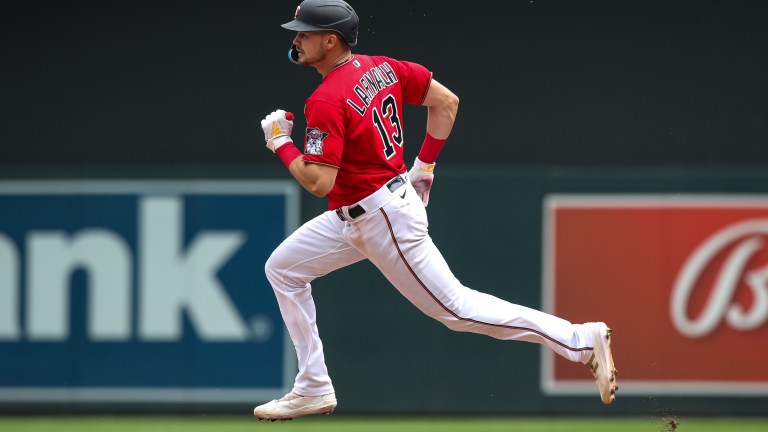 Unfortunately, the seven-game win streak ended last night, as the Rockies lost 3-2 to the Marlins.
The Twins won through the first five innings, as the Guardians are still struggling against left-handed pitching. This is something to watch this season, as the Guardians are much worse against left-handers than we thought they'd be.
The Rockies, on the other hand, were such a disgrace yesterday. They had 12 hits and left 21 runners on base. They ended with a total of two runs. What a joke.
It's okay though, we made it out even on the units. We are 8-2 this week, and I have three more MLB Best Bets for you today.
2022 MLB Regular Season Record: 110-86 (56%) +16.82 units
Subscribe to my New Gambling/Fantasy Baseball Podcast: Not Gambling Advice
Boston Red Sox vs. Cleveland Guardians: 7:10 PM EST
Nick Pivetta (RHP, Red Sox) [7-5, 3.31 ERA, 1.09 WHIP, 81.2 IP, 82 K, 29 BB]
Cal Quantrill (RHP, Guardians) [4-4, 3.77 ERA, 1.26 WHIP, 71.2 IP, 44 K, 23 B
Happy Cal Quantrill day for those who celebrate, as I certainly do.
We head to Cleveland for the first game of a three-game set. This should be a close one, as two talented pitchers will battle it out at Progressive Field.
Let's start with Nick Pivetta for the Boston Red Sox. He's been phenomenal in the month of June, tossing 27 innings over four starts, while only allowing six earned runs on 31 strikeouts. When we look at who he faced during that span, it gets slightly less impressive. 15 of those innings came against the Oakland A's, the worst offense in the league against righties. Four of those six earned runs came against the Angels, but he did just have a fantastic start against the Cardinals.
With all of that said, he put up a fantastic May as well, posting a 2.11 ERA through 38 1/3 innings. He's turning the corner, but there is room for concern today against the Guardians.
The Guardians cannot hit a left-handed pitcher, as stated yesterday. They were shut out by Devin Smeltzer, but they have a better matchup against Pivetta, even though Pivetta is the better pitcher. Pivetta works off mostly three pitches; fastball, slider, and curveball. The Guardians are one of the best fastball/slider-hitting lineups in the league by run value, especially against right-handers.
Since June began, the Guardians have the 10th-best wRC+ in baseball with a minuscule strikeout rate of just 15.7%, lowest in baseball during this span. In this same span, the Red Sox rank 15th in wRC+ against right-handed pitching with a 20.6% K rate.
While Nick Pivetta hasn't faced the Guardians in a few years, the Red Sox saw Quantrill last season. They faced him twice, once at Fenway and once at Progressive Field. In his start in Fenway, he got roughed up for five earned runs in six innings. In his start in Cleveland, he threw seven innings while only allowing one earned run.
Over the last two seasons, Quantrill has pitched better at home. This year, he has a much higher strikeout rate and walk rate at home along with a 3.16 ERA and 3-0 record against a 4.41 ERA and a 1-4 record on the road.
Pivetta has reverse splits, meaning he's actually better against left-handed hitters. Luckily for the Guardians, they are a mostly right-handed lineup that has performed well against his pitch arsenal. Quantrill on the other hand is better against right-handed bats, and Boston is also mostly right-handed.
The bullpen advantage leans towards the Guardians. While the Red Sox had an off-day, they'll have their unit ready to go. The Guardians have the third-best bullpen ERA in the sport compared to the Red Sox sitting at 14th. The most valuable bullpen arms for the Guardians, Sam Hentges, Emmanual Clase, Bryan Shaw, and Eli Morgan will all be available after not pitching yesterday.
You know what I'm going to do. I'm going to tail Cal Quantrill against the Red Sox. Let's see what happens.
The Pick: Cleveland Guardians ML (+110) Play to +100
1.0 Units to Win 1.1 Units
____________
Cincinatti Reds vs. San Francisco Giants: 10:15 PM EST
Graham Ashcraft (RHP, Reds) [3-1, 3.51 ERA, 1.17 WHIP, 33.1 IP, 19 K, 7 BB]
Alex Cobb (RHP, Giants) [3-2, 5.62 ERA, 1.46 WHIP, 41.2 IP, 49 K, 13 BB]
We head to San Francisco for the first game of a three-game set. There is a play in this game that I am all over and it surrounds these two starting pitchers. I love both of their matchups today and this first five under should be lower than what is posted.
Let's start with Alex Cobb, the unluckiest pitcher in baseball. I'm not being hyperbolic here, he is undoubtedly dealing with the worst luck possible, and it's reflected in the numbers. His 5.62 ERA is terrible, but his 2.25 xERA ranks in the 96th percentile in baseball. That has to normalize at some point, and it should happen today.
Cobb has been getting destroyed with runners on base. It's an incredible phenomenon that we haven't been able to figure out. The good thing here is I don't see many runners reaching base off Cobb today. While the Reds can certainly score at home, they have one of the worst road offenses in baseball and struggle against right-handed pitching.
Cobb faced them once this season, throwing six innings and allowing two runs. That was in Cincinnati, the ultimate hitter's park, and now he'll switch over to his home ballpark, where he's performed better this season.
The Reds are coming off a hard-fought series against the Dodgers and now have to travel up to San Francisco without an off-day. The Reds sit at 21st in wRC+ against right-handed pitching since June began. This should tick down today, as Cobb is at his most effective against right-handed bats, and the only lefties in the lineup are Joey Votto and Mike Moustakas.
Opposing Alex Cobb will be Graham Ashcraft, who has had plenty of success in his rookie campaign, especially with keeping the ball of the sweet spot of the bat. He ranks in the 91st percentile in barrel rate and the 95th percentile in average exit velocity. It's hard to square him up with his pitch arsenal.
He faced the Giants earlier this season, and it was arguably his best start of the season. He threw 6.1 innings while only allowing four hits on no earned runs. This isn't a fluke, the Giants are not very good at hitting the cutter or the slider by run value.
Those are the two main pitches Ashcraft throws and I'm expecting another great outing from the right-hander. Since the month of June began, the Giants haven't been able to hit right-handed pitching at home. They have a 77 wRC+ in this span, ranking 27th in baseball.
I think both pitchers come out and allow one run or less. This should be a low-scoring game through the first five innings, but I'd prefer not to deal with the Reds' terrible bullpen or a Giants bullpen that had to throw eight innings yesterday.
The Pick: Reds vs. Giants First 5 Innings Under 4 Runs (-110)
1.1 Units to Win 1 Unit
____________
Colorado Rockies vs. Minnesota Twins: 8:10 PM EST
German Marquez (RHP, Rockies) [3-5, 6.16 ERA, 1.55 WHIP, 73.0 IP, 66 K, 24 BB]
Dylan Bundy (RHP, Twins) [4-3, 5.17 ERA, 1.31 WHIP, 54 IP, 44 K, 10 BB]
We head to Minnesota for the first game of a three-game set. Neither team has an off-day in between as the Rockies will travel from Miami to Minnesota, but the Twins were able to sleep in their own beds last night and will face one of the worst pitchers in baseball this season.
I'll make this short and sweet. German Marquez's fastball is one of the worst pitches in the sport by run value and he'll face the number one home offense against right-handed pitching in the month of June in terms of wRC+ (173). This is a recipe for disaster for Marquez, and the Twins should jump out to an early lead.
Opposite of Marquez will be Dylan Bundy, who coming off his best start of the season. He'll face a Rockies offense that ranks 27th in wRC+ (69) in the month of June on the road.
I have the better pitcher, better offense, home-field advantage, better defense, and the Rockies are one of, if not the, worst road team in baseball.
Let's not deal with juiced money lines or dealing with either bullpen. This is perfect matchup for the Twins, and I'm playing them through the first five innings.
The Pick: Minnesota Twins First 5 Innings -0.5 (-110)
1.1 Units to Win 1 Unit
____________
I've written up a quick guide with critical terms and helpful tips.