Analysis
MLB Best Bets, Predictions, Odds for Red Sox vs. Blue Jays, Giants vs. Brewers, Phillies vs. Rockies for April 25, 2022
Three MLB Best Bets for April 25, 2022.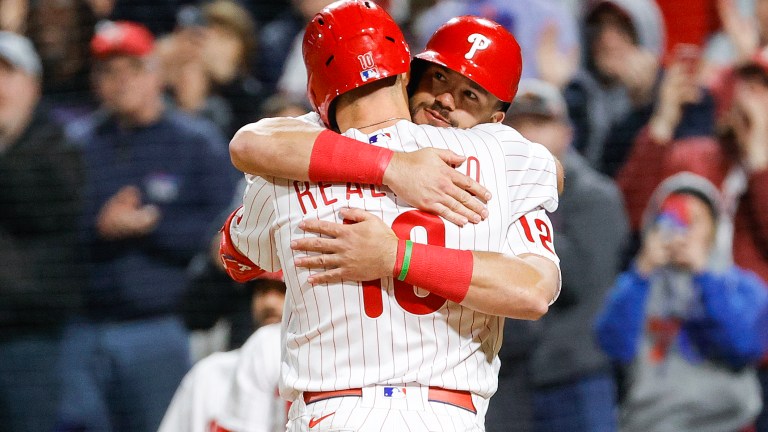 Yesterday marked our second consecutive perfect day, going 3-0 after a 2-0 day on Saturday. Today, there are only seven games to choose from, but I have three plays that I love this Monday.
Peter's 2022 MLB Regular Season Record: 34-18 (65.4%)
Subscribe to my new Gambling/Fantasy Baseball Podcast: Not Gambling Advice.
Philadelphia Phillies First 5 Innings -0.5 (-130)
Kyle Freeland (LHP, Rockies): [0-2, 7.71 ERA, 1.79 WHIP, 14 IP, 10 K, 5 BB]
Kyle Gibson (RHP, Phillies): [1-1, 3.57 ERA, 1.02 WHIP, 17.2 IP, 19 K, 5 BB]
The Phillies host the Rockies after dropping two games to the Brewers. Luckily for the Phillies, they don't have to travel anywhere, while the Rockies have to travel from Detroit to Philadelphia without an off day. The Rockies have gotten off to a hot start; however, they are far more successful at home than on the road. They did take two of three from the Tigers on the road, but they have a rough matchup today against these Phillies.
Kyle Freeland is looking for his first win of the season even though he was successful against the Phillies in his first start of 2022. He threw five innings, allowing six hits and two runs at Colorado. However, in his career against Philly, he has a 1-1 record, pitching to a 4.26 ERA in five starts. Freeland's advanced numbers indicate that Phillies' hitters have also been a bit unlucky against Freeland. Through 77 PA against the Phillies' current roster, he has a 5.38 FIP, .360 xWOBA, and a .453 xSLG. The Phillies have been excellent this year off left-handers with their .851 OPS.
The Phillies will go with Kyle Gibson, who also faced the Rockies last week. Gibson turned in a quality start against the Rockies with his line of 6.0 innings; three earned runs, and three strikeouts. Neither he nor Freedland factored into the decision in a game the Phillies lost. Gibson has had plenty of success against the Rockies beside his past start. In 85 PA against the Rockies' current roster, he has a 2.95 FIP, .246 xWOBA, and a minuscule .235 xSLG. I'm expecting an excellent outing for Gibson against an offense that's far worse on the road.
The Rockies have produced many runs in their hitter-friendly confines of Coors Field. But they are not as efficient when they are on the road. In their three-game series in Detroit, they only plated nine runs in three games. And Freeland, who the Dodgers and Cubs tattooed, will be in for a rough outing against a Phillies team that has not had to travel in the past week. The Rockies had to get on a flight from Detroit and must immediately get ready to face a Phillies lineup fired up after getting the whole Angel Hernandez experience last night. Today, they will come out hungry and put one on the Rockies in the first five innings.

Furthermore, Kyle Gibson has been nearly perfect at home this season. He pitched seven strong innings in his lone home start, allowing only two hits, zero runs, and striking out ten against the Athletics. The Phillies have the upper hand tonight, and they will evidence that advantage early and often.
Toronto Blue Jays ML (-120)
Nathan Eovaldi (RHP, Red Sox): [0-1, 3.24 ERA, 1.56 WHIP, 8.1 IP, 5 K, 5 BB]
Jose Berrios (RHP, Blue Jays): [1-0, 2.79 ERA, 0.93 WHIP, 9.2 IP, 8 K, 3 BB]
Toronto, I bet against you yesterday, and Jeremy Pena hit a walk-off home run to save me. Today, I'm on your side, as I believe this matchup is a bit more lopsided than what the current line is showing.
The Toronto Blue Jays welcome the Boston Red Sox for the series opener tonight at Rogers Centre. The Blue Jays emerged victorious in the series against the Red Sox just last week in Boston and have won seven of the previous ten matchups. In a relatively big name matchup, Jose Berrios gets the start against Boston's Nathan Eovaldi.
Nathan Eovaldi is an outstanding pitcher, but he should have trouble with today's Blue Jays lineup. Through 96 PA against the Blue Jays' current roster, Eovaldi has a 6.01 FIP, .330 xWOBA, and a .450 xSLG. In Eovaldi's last start against the Jays in Canada, he was laughed out of the game, allowing seven earned runs in 4+ innings. Eovaldi was a worse pitcher on the road in 2021, and his 2022 stats tell us much of the same. Bo Bichette and Loudres Gurriel Jr are hitting a combined 9-22 against Eovaldi with two home runs and four runs batted in.
Despite Berrios having a 6.35 ERA to begin the season, he was formidable against the Red Sox in his last start. He pitched six innings while only allowing one run and took home the win. Berrios has also had success against key members of Boston's starting lineup. He's held Xander Bogaerts and Jackie Bradley Jr. to a combined .143 batting average over 28 career at-bats. In 123 PA against the Red Sox's current roster, he's pitched to a 3.38 FIP, .310 xWOBA, and a .422 xSLG.
The Blue Jays are the better team at home with the better matchup. I don't see the Red Sox on short rest beating a team that has had their number over their last ten games. I'm taking the Blue Jays with confidence, and I'd take this line up to -130.
San Francisco Giants ML (+175)
Sammy Long (LHP, Giants): [0-0, 0.00 ERA, 0.64 WHIP, 4.2 IP, 4 K, 1 BB]
Corbin Burnes (RHP, Brewers): [1-0, 2.37 ERA, 0.79 WHIP, 19 IP, 22 K, 4 BB]
This one is a bit risky, but I'm feeling dangerous. It'll be challenging to convince you to go against Corbin Burnes, the NL CY Young award winner in 2021 and easily one of the best pitchers in baseball. He's also pitching at home against an underwhelming left-handed pitcher for the Giants. So what gives?
Hear me out. The Brewers are one of if not the worst team in baseball this season against left-handed pitching. Sammy Long isn't expected to pitch very long, but if he can deliver 2-3 innings of shutout baseball, he'll hand it off to one of the best bullpens. This year, the Brewers have a .545 OPS against left-handed pitching, a bottom-five team in baseball. The Brewers' offense doesn't scare me, and with the over/under at seven, this should be a close game with a minimal run scoring.
Corbin Burnes takes the ball for the Brewers, and he'll most likely pitch well in this matchup. It is interesting to note that he was worse at home last year than on the road. On the road, he was perfect, rocking a 7-1 record with a 1.94 ERA. At home, Burnes was 4-4 with a 2.85 ERA. Also, Burnes was better during the day last year than at night. In day games, Burnes was 3-1 with a 1.53 ERA. During night games, he was 8-4 with a 2.92 ERA. We see a little wiggle room for the Giants, as they will get him at home and during the night. The Giants are also a better offense this year against right-handed pitching.
Another reason I like the Giants today is the bullpens. The Brewers will need seven innings at least from Burnes before they hand it off to their bullpen. Both Josh Hader and Devin Williams have thrown the past two days, and Webb gave his Giants bullpen a rest yesterday.
I don't believe that the Giants should be +175 underdogs to anyone. They have shown an ability to beat up on anybody, and they have one of the deepest bullpens and lineups in the game. The Brewers haven't scored more than six runs in a game this year and face an arduous task today. Let's go, Giants!
___________________________
I've written up a quick guide with critical terms and helpful advice if you choose to tail my daily picks. This daily column is updated every day between 9:00 AM – 12:00 PM EST.